When the weather warms, many look forward to enjoying outdoor living spaces. There's a growing trend of moving the indoors outside—creating outdoor living spaces that directly emulate an indoor kitchen, family room or spa. Ultimately, your outdoor living space should be about creating a good environment where you, your family and your friends can connect, and one that enhances your lifestyle.
Here are a few style tips to think about as you seek to create the outdoor lifestyle that's right for you, courtesy of, Fiberon, a manufacturer of composite and PVC decking, railing and fencing.
Go for practical glamour: There are so many options for decorating an outdoor living space, so go for items that not only look good but will actually be used. Don't invest in a fancy wrought-iron side table that will get hidden in the corner of your deck; instead, put your budget towards bright outdoor throw pillows you can scatter around to make your space more comfortable and inviting.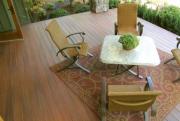 Investigate durable, lasting outdoor options: There are myriad choices now for outdoor living spaces, from furniture and décor to the actual decking and railing material itself. Take the time to investigate options thoroughly, considering not only your budget, but the way each option looks now, how it will endure over time, cleaning and maintenance, and any sort of associated warranties or guarantees. The last thing you want is wood patio furniture that falls apart after a season or a new deck covered with mold and stains by next summer.
Get online and create an "inspiration file": Do a Google image search on "decks." Visit magazine websites and home stores' online catalogs. Print or save the images you like into a file and take note of the specific elements that attract you to that image, then brainstorm how to replicate that environment in your own outdoor living space.
Fiberon has created an online "Inspiration Gallery" that showcases deck builders' creations. You can add these images in your own "Inspiration Book," a personalized reference gallery can even be shared with others. Visit www.fiberondecking.com and click the "Inspiration" tab.
Beautiful, durable decking can be the palette for creating your perfect outdoor living space. If you've decided that you'd rather spend more time enjoying than maintaining your deck, it's time to investigate composite and PVC options, including those with durable surface technologies that improve durability. With these surface technologies on Fiberon Horizon composite and Sensibuilt PVC decking, there are no worries about fading, stains or scratches as with some wood-alternative decking products. Plus, they're the only alternative decking products with a limited 20-year stain and fade warranty. The Horizons line now includes popular hardwood look options like Rosewood and Ipe.
If you create an outdoor living space that reflects your style and personality, you will enjoy relaxing in your backyard for years to come.