Garages are often thought of as dark, dingy places that collect dirt from your car and are difficult to keep clean. However, with a little bit of work, and the best garage floor, you can create an innovative garage that you will actually want to spend time in.
One of the most important parts of transforming your garage is flooring. Most garages have floors made of concrete that are traps for dirt. As your car comes in from outside, grime, mud, and salt that was on your tires get tracked onto your garage floors. And don't forget about oil drips, chemicals, and moisture. And the worst part is, there's no easy way to clean it and prevent stains and deterioration. However, there are a lot of garage floor options that can make a huge difference. To help you decide what type of flooring you should install in your garage, we've supplemented this guide with a Pinterest Board and dropped in some of our more useful comparison charts and product picks.
The three most common types of garage floors are garage floor tiles and garage floor mats; and garage floor coatings including paint and 2-part epoxy coatings.
Now here's how to select the best option for your garage floor makeover:
Best Garage Floors: Tiles and Mats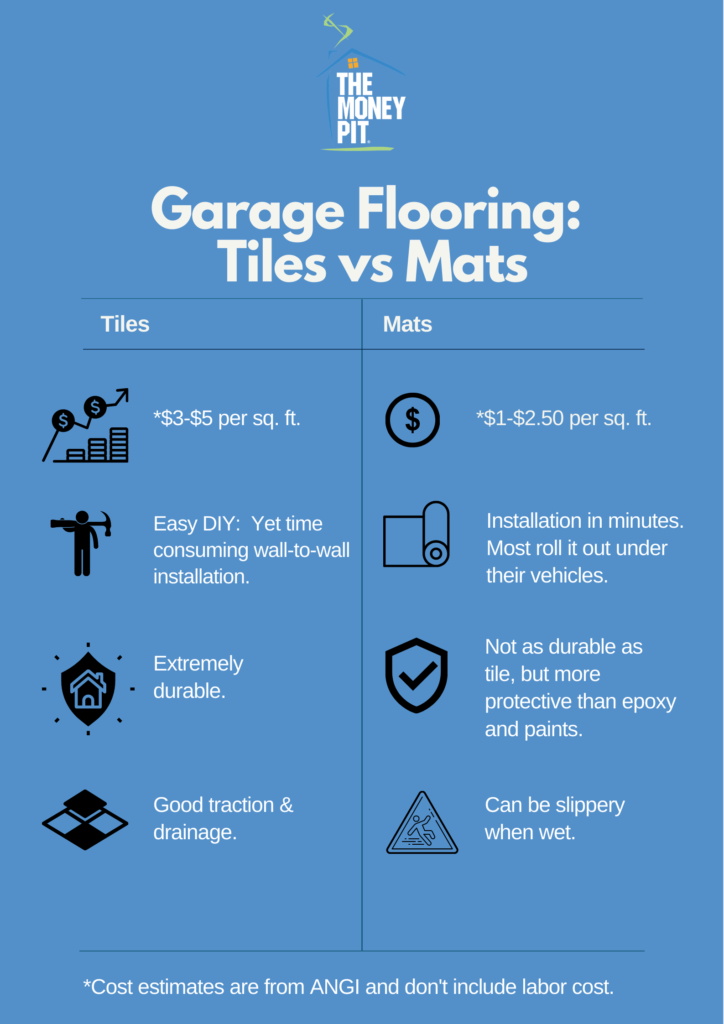 Garage floor tiles and mats are much tougher than coatings and far more attractive. They are super easy to install and go down on top of the old concrete floor. Other than a thorough sweeping, there is literally no prep required. We also like that garage floor coverings are available in a wide variety of styles, patterns and colors so, there's literally no prep required other than a thorough sweeping. These products can be more expensive than garage floor coatings, but they are easy to install by yourself and just as easy to take up should you decide to move to a new home!
Both Garage floor tiles and mats typically offer three patterns: diamond plate, coin or a smooth traction finish. Also, tiles are available as solid or self-draining, which can be handy if you expect your garage floor to be frequently wet.
Grid-Loc Vented series tiles handle harsh garage environments and allow drainage between tiles in wet environments. Available in 12 stunning colors, Tiles are resistant to oil, grease, antifreeze, and household chemicals. Backed by a $15-year warranty, these tiles are stain-resistant, odorless, slip-resistant, and UV stable. Just snap together adjacent garage tiles to form a beautiful and customizable garage flooring surface.
Grid-Loc Diamond series tiles are engineered to withstand the harshest garage environments available. They can handle extremely heavy vehicles and are resistant to oil, grease, antifreeze, and many other household chemicals. Tiles are also stain-resistant, odorless, slip-resistant, and UV stable. Installation is easy and they also come with an industry-leading 12-year warranty.
These 12×12 Nitro Tiles are the perfect multi-use floor tile for garages, storage sheds, basements or workshops. Available in 8 colors in a diamond, coin or vented pattern. Easy to install, these hard plastic tiles resist staining from oil, gas, and most household chemicals. Plus, they're impact-resistant easily handling heavy vehicles and backed by a 3-year warranty.
These come in a wide variety of patterns and colors and can add character to your garage. They are able to stand up to heavy loads and are made from heavy-duty plastic. They are easy to wipe clean, and resistant to chemicals. To install, you just need to line up the tiles and snap them together! One thing we really like about using garage floor tiles is that you can mix different tile colors to create attractive patterns.
Garage floor roll-out mats are a great option that can be installed in a matter of minutes. Mats can cover the entire garage floor surface or some prefer to have a mat that only covers the area under a vehicle. Like tiles, mats are easy to clean. Although garage floor mats are durable, they can still be damaged by sharp objects and hot temperatures. They can be slippery when wet, though, so if you live in a wet or snowy climate these might not be the best options.
Let your garage be the envy of the neighborhood with Diamond Nitro Rolls. Made of premium grade ultra-durable vinyl, these garage rolls are easy to install and designed from the ground up to add style to your garage. Available in various colors, these rolls are also backed by a 7-year warranty, the longest warranty ever offered for a vinyl garage roll.
Create an awesome garage with coin patterned Nitro Rolls. Available in a wide variety of colors, these rolls are made of ultra-durable vinyl that's designed to add style and value to your garage. They're perfect for a DIY installation. Each roll is backed by a 7-year warranty – the most extended warranty ever offered for vinyl garage flooring rolls.
Looking for a unique garage floor that's also backed by an industry-leading warranty? Textured Nitro Rolls is the garage flooring for you. Made with premium-grade virgin polyvinyl, these vinyl garage flooring rolls are ultra-durable and easy to maintain as they resist mold, mildew, and chemicals. It's also easy to move rolling objects like cabinets and chairs as this nitro roll has a smooth top, and are backed by a 7-year warranty.
Best Garage Floor Coatings: Paint, Stain or Sealers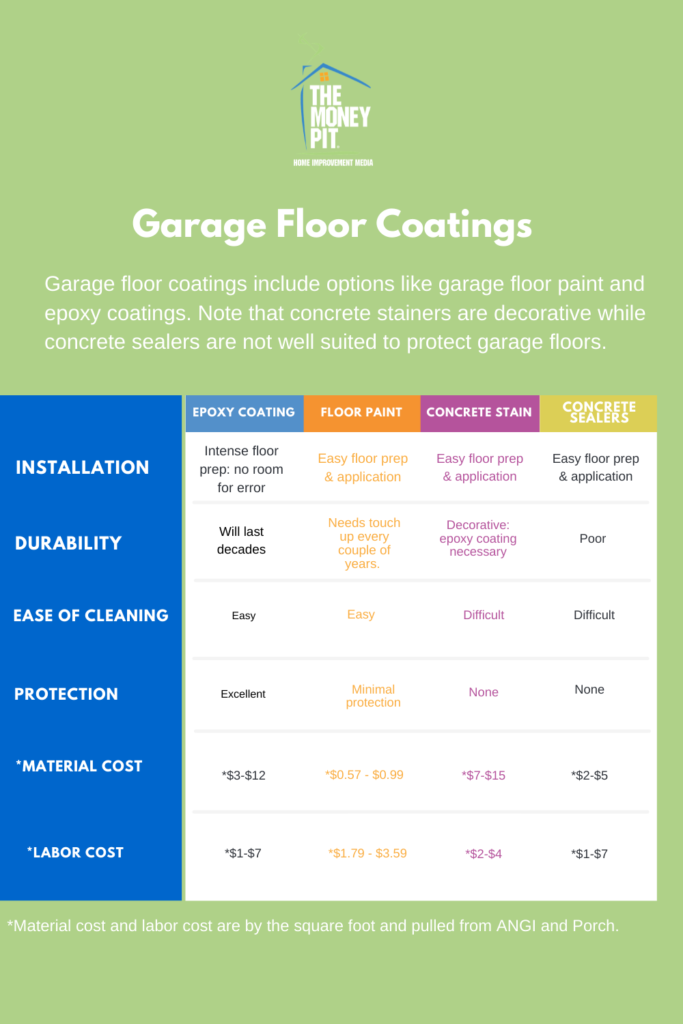 Garage floor coatings include a variety of garage floor options like garage floor paint and epoxy coatings, as well as concrete stains and sealants. These tend to be a less expensive solution, especially if you decide to do the project yourself. Coatings can protect against corrosive elements like road salt, stains from oil, and moisture damage, but if you have moisture beneath the concrete, a coating may not stick to the floor.
One important difference between garage floor coatings and using tiles or mats, is the need for surface preparation. Preparing the old surface to accept the new paint or coating can include everything from basic cleaning to renting a concrete grinder to literally grind away the old surface. Your prep will also require repair of any cracks in the concrete or other surface deterioration.
---
Coverings are garage floor options that are much tougher than coatings. They also tend to be more expensive. It's easy to install coverings by yourself, and there are a lot of options available:
The DaiHard MAX Industrial Strength Epoxy Floor Coating Kit adds a tough glossy high performance finish to your demanding interior concrete floors. It is a 100% solids epoxy formula that is superior to typical water-based epoxy products. DaiHard MAX epoxy system delivers beauty and outstanding durability normally required for heavy-duty commercial and industrial floors but in an economical, convenient package that's great for residential floors too.
3-gallon kit delivers an impact resistant super high gloss durable finish, ultra premium non cracking or chipping.
This Flake Epoxy decorative flooring kit is the perfect all-in-one solution that will transform your garage into the envy of your neighbors! The decorative color chips can be used in a variety of designs and applications to create a truly unique floor coating virtually anywhere.
We love epoxy coatings because they are far tougher than any other type of floor coating and will not chip or peel away. Epoxy can be easily wiped clean and will stand up to a lot of abuse, which is why this is by far the preferred coating to use. They're also available in a wider range of colors and many offer "color chips" that can be added to the surface which creates an attractive finish and helps hide the dirt. If you're looking for a glossy "showroom shine" you can also add a clear coat of epoxy to the surface for added protection and a spectacular look.
Keep in mind that epoxy is similar to a normal paint, with a key difference. Epoxy garage floor coatings come in two separate containers, with one being the base and the other the hardener. Once mixed, a chemical reaction occurs and the paint begins to harden. Because of this, you need to plan your project carefully. If you mix up too much at once, it's going to harden inside the can and become totally useless!
---
Garage floor paint (including 1-part epoxy) is the most inexpensive choice in garage floor coatings. It comes in latex or oil varieties and doesn't stand up nearly as well as two-part epoxy coatings. However, if you don't anticipate being in your home more than a few years, it might be a perfectly fine short term solution, even though it may need to to be touched up occasionally.
Good concrete floor paint is highly durable, easy to clean and won't scuff, fade, crack or blister easily, even from hot tires and other heavy activity.
Utilizes an Advanced Epoxy Ester Resin fortified formulation to deliver greater protection and durability. Create a gorgeous, showroom-quality finish that'll be easy to keep clean.
High-performance, high-build, superior protective coating that can be applied directly onto concrete surfaces without any acid etching. Outstanding adhesion to concrete surfaces and is scratch, chip, chemical and UV resistant, requiring no primer, basecoat, or topcoat.
Concrete stain is a decorative product that can improve the look of your garage floor. However, it does not provide a protective coating like the garage floor paints described above. Concrete stains react uniquely with the concrete and are best used on new concrete surfaces that have not absorbed dirt, oil or other debris. If you like the look of concrete stain, keep in mind that you will definitely need to add a protective coat on top of the stained surface, such as a clear epoxy finish to provide the durability a garage floor demands.
Concrete sealers are not designed to be a protective finish and therefore not recommended as an a garage floor coating. Sealers will reduce the absorption qualities of concrete, which can be helpful in some garage or exterior applications. However, sealers have literally no ability to stand up to normal wear and tear and hence won't provide any long term protection against dirt or spills. While applying a concrete sealers offer a clean look, they're not as tough as other options, and won't stand up to hard use.
---
---
---
Summary
Garages are a unique environment for a floor. While they are outside our main living areas, we still do plenty of living in them! Whether you use your garage for crafts, carpentry or are one of the few of us who actually use it for a car, any of these best garage floor options can make that space far more useful and easier to maintain!
After your floor is complete, you can finish the job with garage shelving units, a workbench, and light fixtures. Whichever one of these best garage floor options you choose, you'll have a more innovative garage in no time.
Affiliate Message: The Money Pit is a reader-supported site. We may earn a commission from the links in this article, which goes a long way in helping us create useful home improvement content for our readers. Rest assured we independently select each of the products in our guide.