In spite of varying pros and cons, there are several sustainable countertop materials to choose from, and they provide color, style and soothing peace of mind in the right applications.
Check out these choices for your kitchen escape: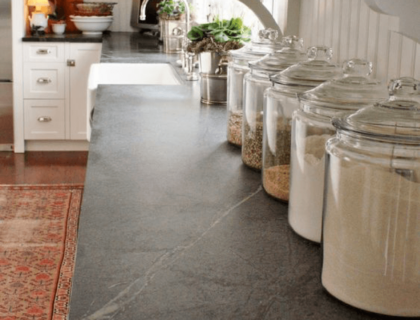 Stone
In solid or tile formats, natural stone is a beautiful, durable option. However, it's not a renewable material, and the mining and transport processes impact land, water and air quality. If you must choose stone, go for a selection as local and close-to-the-surface as possible, and properly seal it to repel germs and stains.
Solid surfacing
Long a popular countertop material, solid surfacing is now found in formulations using recycled plastics. What's more, it's easy to keep clean and beautiful, and is simple to customize.
Concrete
Concrete does involve environmental impacts through transport and the mixing of its ingredients of cement, aggregate and water. Otherwise, there's no off-gassing beyond the sealant that improves concrete's durability, and it can even have a second life as slab or aggregate. Concrete countertop installation does involve dust, which can be a health concern if not properly managed.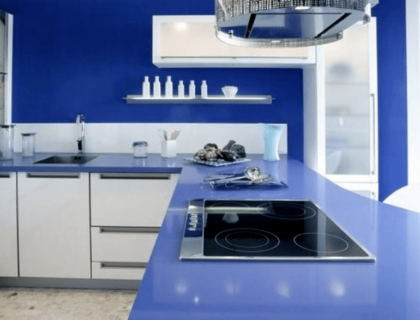 Laminate
Another longtime countertop choice is laminate, which can be made from recycled plastic and installed with formaldehyde-free substrate and nontoxic glues (mechanical fasteners are also an option). Laminate is also stain-resistant and easy to clean.
Ceramic tile
The clay that often becomes tile is a finite natural resource, so look for formulations that incorporate recycled post-consumer content and are locally sourced for a lighter carbon footprint. If you steer clear of imported tiles that may have radioactive or lead-based glazes, you can expect a low-to-no VOC countertop that actually supports indoor air quality.
Glass tile
Glass tile finds its best application in backsplashes and countertop detailing, and can contain up to 100 percent recycled content (some manufacturers' processes also involve less energy than conventional melting). Like ceramic tile, glass tile contributes to good indoor air quality and can later be recycled into another tile product.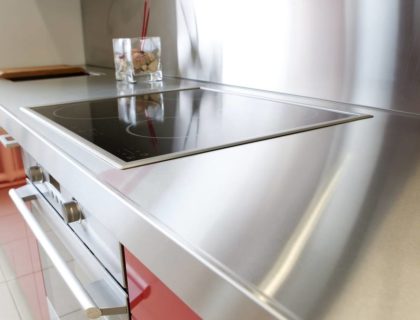 Terrazzo composites
Stylish, statement-making terrazzo is an aggregate of stone and glass chips, available in formulations that use non-VOC-emitting binders. It's durable, stain-resistant, and available in tile or slab form.
Stainless steel
A tough and easy-to-clean selection, stainless steel countertops can be made from salvaged metal or a composition of recycled content. Installation is done with mechanical fasteners rather than chemical-laden adhesives, and your stainless steel countertop can be reused for something else down the line.