There's no way around it—lush, green landscaping requires care and a steady supply of water. The good news is that you can adjust your outdoor plans for attractive results that combine curb appeal, color and affordable maintenance. Consider these easy ways to make a green space even greener.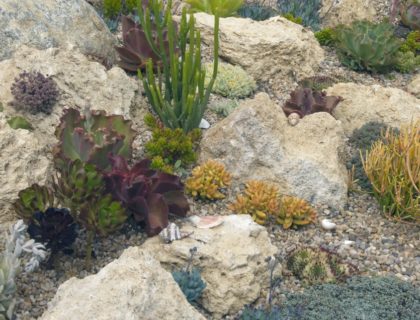 Reduce turf
The more lawn you have, the more water and time needed to maintain it. Transform turf from the majority of your landscaping to a design element by reducing the area devoted to it. You'll then be able to irrigate more efficiently and with a whole lot less water.
Work topography to advantage
When designing your landscape scheme, take into account the existing vegetation and topography of areas you plan to plant. Proper drainage is a positive, but extensive runoff can cause problems elsewhere on your property. Correct any grading issues that send water toward your home and other structures, and plant in phases to control irrigation patterns.
Create a xeriscape
Amp up natural beauty while ticking down water use with a xeriscape approach to landscaping. This use of indigenous, drought-tolerant plantings makes maintenance easy, provides a creative show of color, and attracts birds and butterflies to your outdoor habitat.
Irrigate with WaterSense
Work with a WaterSense-certified irrigation professional to design a sprinkler system that keeps things green while reducing water use by 15 percent or about 9,000 gallons annually. WaterSense-labeled irrigation controllers bring extra smarts to your yard and garden, acting like thermostats through use of local weather and landscape conditions to tailor watering to actual needs—a big water savings over traditional clock-set irrigation controllers.
Maintain watering systems
A lot of valuable water is lost when irrigation systems and components get out of tune. Don't rely on smart controllers to do all the work. Get the most out of your system by keeping an eye out for straying sprays, leaks and clogs, and repair them immediately.
Improve soil
Healthy soil absorbs and stores water for the benefit of your landscaping. Soil conditions can vary greatly within a backyard, so do some soil sampling and testing to find out which areas need a little help, and amend those zones with compost or sphagnum peat moss before planting or installing an irrigation system.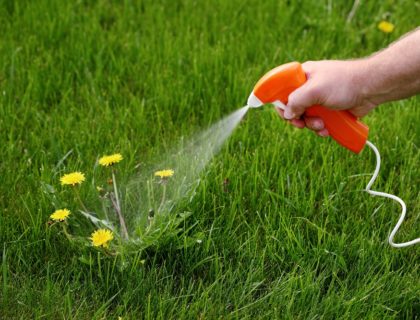 Use green weed control
Weeds don't have to be part of a natural approach to landscaping. Keep them at bay by covering any areas of bare soil with plants, wood chips or organic mulch. Spreading corn gluten meal over your yard in spring will prevent weeds from sprouting, and a dose of horticultural vinegar puts a stop to weeds attempting to grow through sidewalk and patio cracks.
Prune and maintain
Properly pruned, fertilized and weeded plants look better and need less water. And plantings that are well-suited to their environment will grow beautifully without the need for pesticides and other undesirable chemicals.