If you're renting a home or apartment, and wonder how you can make the temporary space your own, painting that apartment is the fastest way to add a personal touch.  Paint put syour stamp on a space that isn't really yours. It's not permanent, plus it's cheap and easy.
Follow a few guidelines for best results when you plan to paint a rental space:
Make sure to check with your landlord first. Some apartment leases only allow certain colors, or require that you repaint back to a neutral color before moving out. 
Remember that the more saturated (or darker) the color, the more coats it will take to paint it a light shade again. 
Once you get the go-ahead, be creative with colors or patterns to get the desired result. 
Make sure you cover carpets and other areas to avoid paint splatters or accidents that could cost you your security deposit.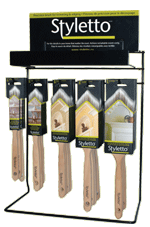 To take some time out of your prep work, try using a Styletto arrow-tipped paint brush. This unique brush gives you the edge you need for precision painting. Designed for cutting in around walls, ceilings, corners and moldings, Styletto brushes let you express your style with ease, and even make it possible to get into that corner where the walls and ceiling meet.