If you live in an older home, you might find yourself in a curtain rod conundrum…you may have plaster walls that crumble easily and don't take kindly to being drilled or nailed into. Or, say maybe you live in an apartment and your landlord strictly forbids drilling holes in the wall. Either way, you might be puzzling over how to hang window treatments or curtain rods without drilling holes that damage the walls.
The good news is you don't have to bear bare windows and forego curtains. This home improvement project is easy for renters and homeowners alike. There are a number of options for hanging curtain rods without using nails or screws or drilling holes in walls.
Quick n' Dirty: Adhesive Hooks
Special hardware for no-drill curtain rod brackets
If aesthetics aren't your main priority or you're on a strict budget, here's an idea: create your own curtain rod brackets. This easy DIY can be done by using adhesive cup hooks and a skinny curtain rod or dowel stick that's lean enough to nestle into the cradle of the hook. 3M's line of Command Hooks are great for apartment dwellers because they can be removed without leaving behind any sticky residue.
Not only will your walls remain damage-free, but you don't have to sacrifice style. These temporary hooks come in finishes like brushed nickel, pewter and satin nickel so you don't have to settle for white plastic holding your attractive window treatments.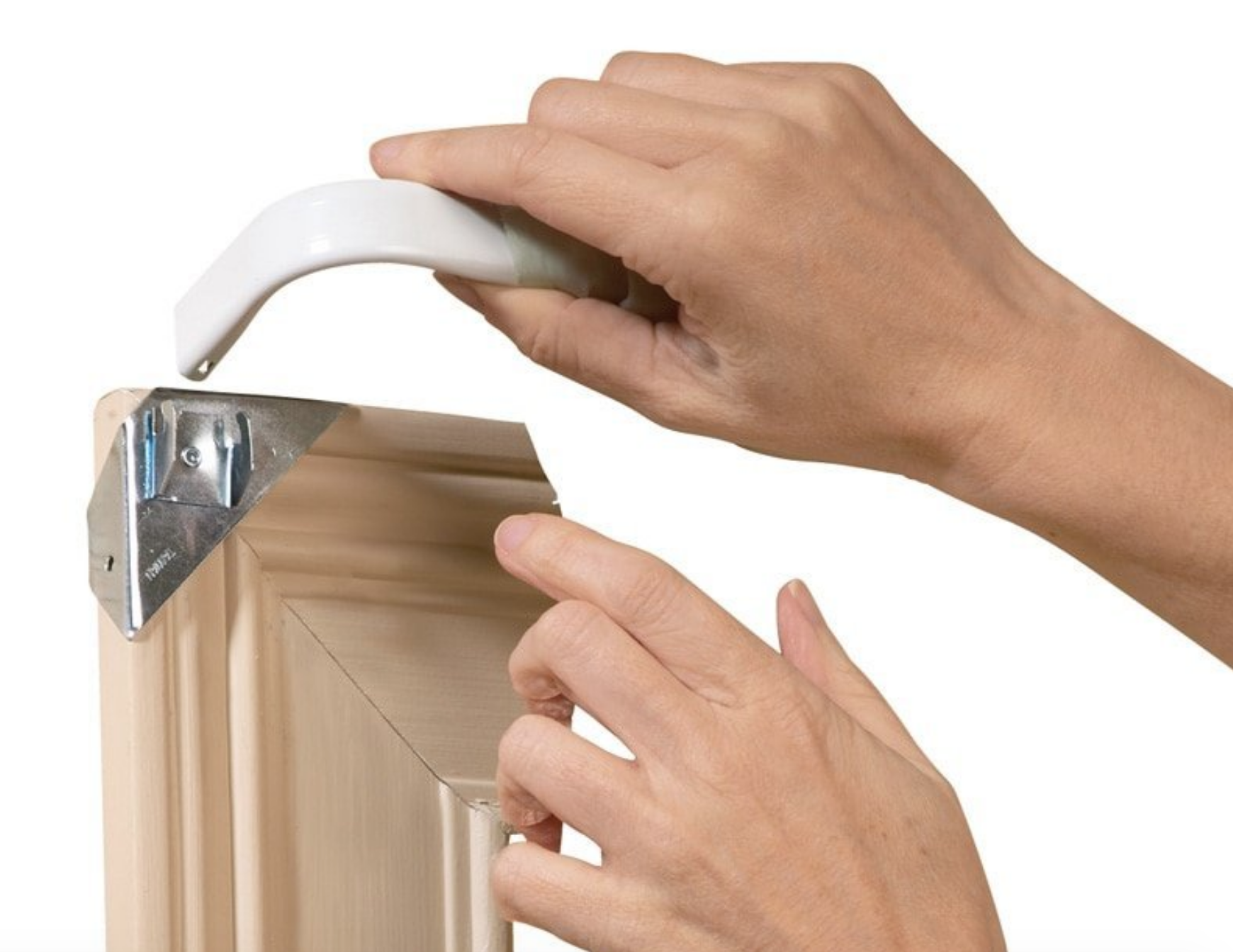 So you're looking for something a little fancier than plastic and adhesive. Clever curtain rod holders (like these ones from Walmart) exist that allow you to mount a curtain rod directly to the inside corners of your window trim, instead of on the wall. These smart rods require no tools at all, just the power of your hands with a twisting and locking mechanism.
Instant Curtain Rod Holders wrap around the top corners of your window molding. A small V-shaped piece slides behind the molding to secure the holder in place. Any standard adjustable curtain rod will fit right onto the curtain rod holder. There is a screw hole on the top and side of the holder in case you'd prefer to attach them more permanently. Instant Curtain Rod Holders come in a set for eight for around $19 on Amazon.
Know that curtain hardware doesn't have to cost a fortune. Kwik-hang curtain rod sets are best sellers for a reason at an average of $11.99.
Ready Hang brackets, on the other hand, allow for more creative possibilities because the height at which you hang your curtain rod is adjustable. They're great for taking advantage of a high ceiling.
The durable steel brackets are placed on the upper corners of your window molding, and a screw is tightened with an Allen wrench. Vertical extension rods slide up and down, allowing you to hang your curtain rod several inches above the top of your window.
They're also the only window corner bracket we know of that actually comes with the coordinating curtain rod.
Here at the Money Pit, we've tried the Ready Hang brackets-and-rod kit, and it works like a charm – easy installation, and a high-end look.
Ready Hang brackets and curtain rods come in four varieties, with different finishes and decorative finials, and sell for $39.99 – $49.99 each.
Hanging curtains from ceilings
If you can get away with making drill holes in your ceiling, know that you don't have to settle for window curtain rods. You might opt for one of the many ceiling-mounted curtain brackets out there. If you're dealing with a wide wall of windows, you might opt to hang a ceiling curtain track instead.
Hanging curtains from the ceiling doesn't need to be reserved for a window frame. They can create separation in a room as well, acting as a room divider. This is ideal for shared bedroom spaces, or even to separate living space from working space.
No-drill no-bracket options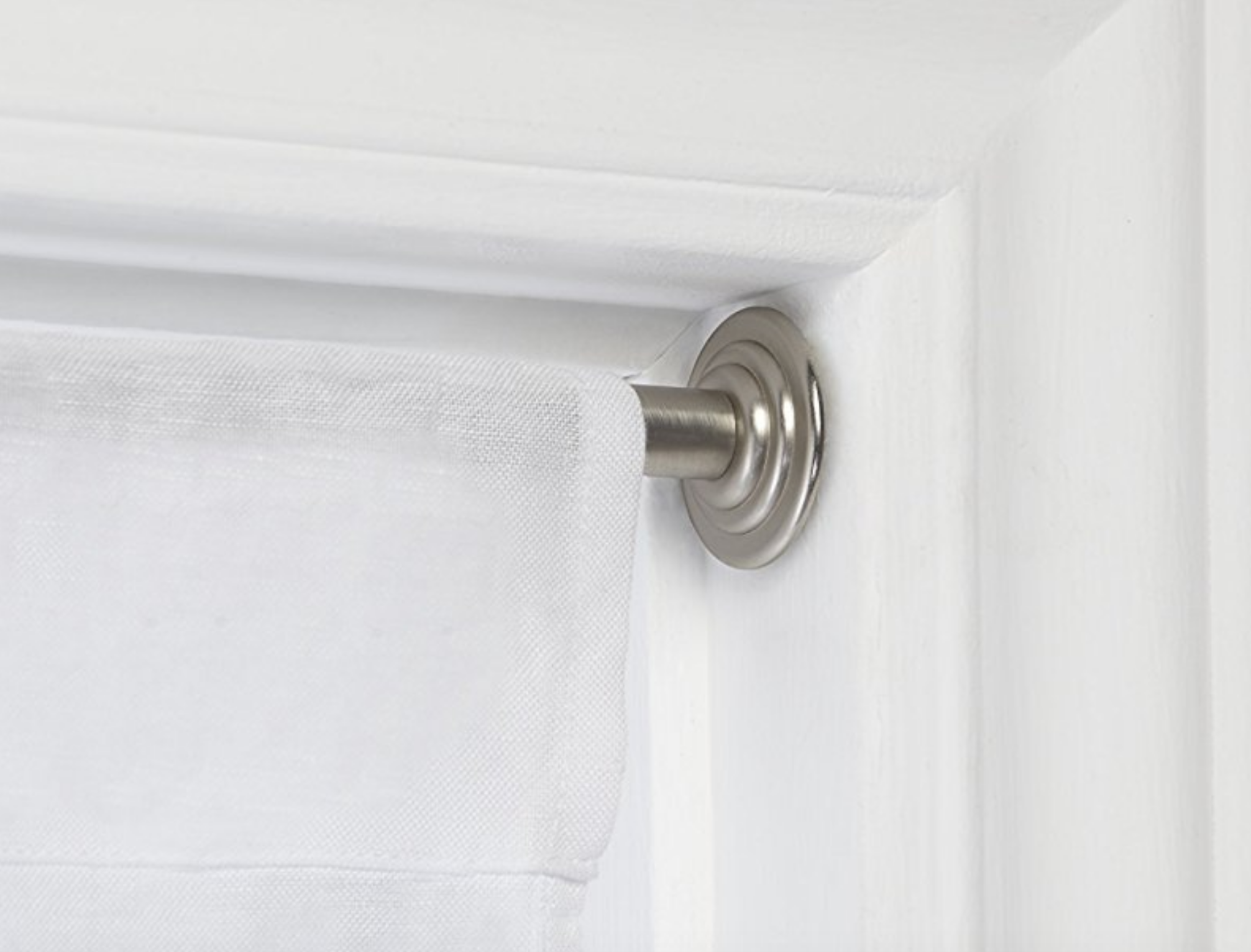 You could also skip the brackets altogether and try using a tension rod instead. Tension rods easily adjust to the width of your window and sit snugly between the two side jambs of the window — no hardware required.
You can position them anywhere in the window you want to, which means you can get creative with curtain combinations. Hang some valances on the top of the window in your kitchen, or go a little lower down the window frame. Use tension rods to create some cafe curtains with a tension curtain rod in the center of the window frame.
Even a shower curtain rod can work in a pinch! Some even come in stainless steel, making them look like they belong in the living room and not just a dormitory bathroom. Nix the plastic curtain rings that you associate with shower curtain rods — there are tons of fabric curtain options with built in rings with a metal finish.
Don't sacrifice style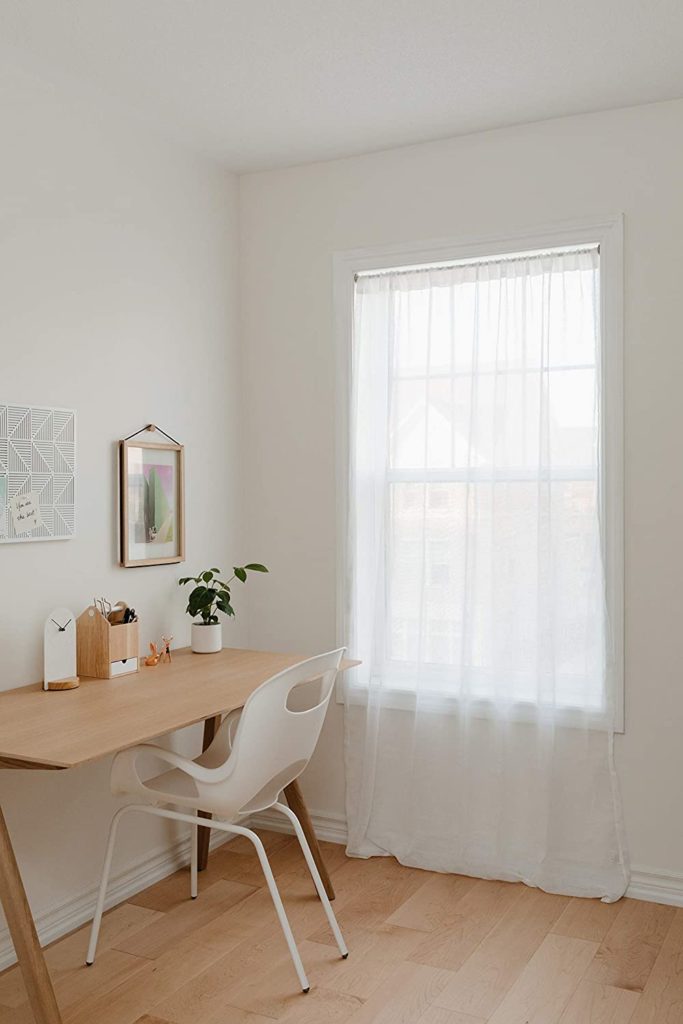 If you're having flashbacks to your grandmother's ugly white tension rods, never fear. Today, you can get tension rods in decorative finishes, like black and brushed chrome. Check out Umbra's variety of elegant tension rods for an attractive, no-drill curtain hanging option.
The right curtains can truly elevate your space. Want to make a room feel larger? Opt for dramatic drapery that goes to the floor. Light linen curtains can brighten a room and add an airy feel. Light sleepers swear by blackout curtains to block light and encourage the z's.
Stylish touches like ball finials, kenney hooks, and decorative woodwork can add some subtle flare to your home decor! Add some dimension with double curtain rod brackets, and add layers to your window dressings. Hang curtains with your unique style in mind!
When it comes to hanging curtain rods without putting holes in your walls, you have options – no drilling required!