Wall coverings can have the biggest impact on a room's décor scheme, both in terms of design and, if you're not careful, your wallet. Fortunately, tons of new affordable technologies and turnkey products. This makes it easier than ever to achieve professional looking, high-quality interior design results on a DIY budget. Here are some popular and affordable cheap wall covering options to consider for your wall-to-wall redo.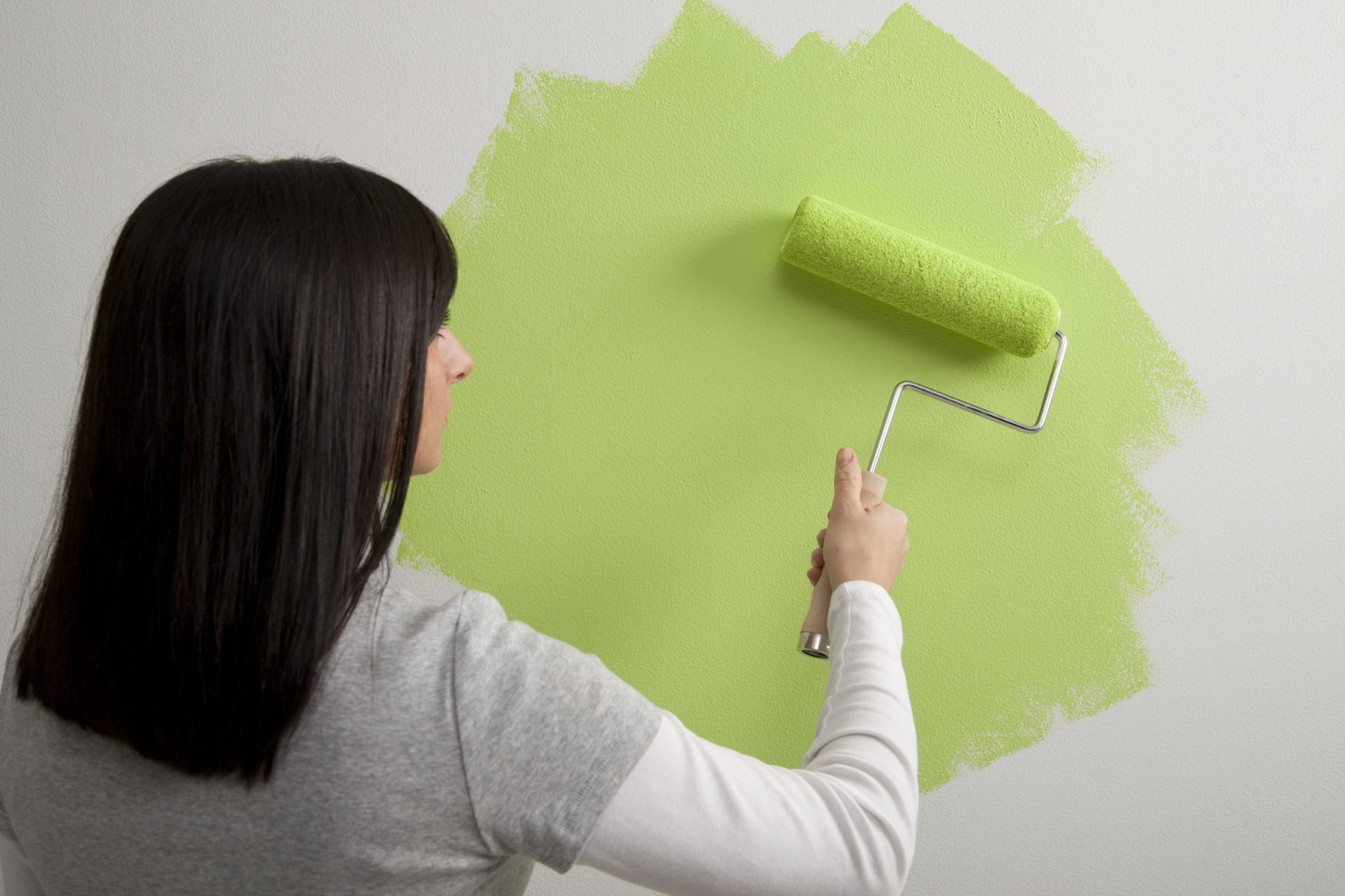 Paint: A time-tested wall covering
Paint is one of the most popular and affordable wall coverings of all. Painting a single accent wall can provide a fun pop of color. Stenciling also allows you to use far less paint, letting you ultimately spend less. Choosing a color for your accent wall can be daunting. Luckily some major paint brands have rolled out several tools that let you try before you buy, including online room visualizers, pre-coordinated color palettes, and, best of all, trial-size paint samples.
Paint samples are particularly fun for wall covering options. They allow you to paint a generous area of color on a piece of scrap board or directly on the wall. This lets you see the paint color in different types of light before you commit to the shade. Various combinations of direct sunlight, indirect sunlight and artificial light can transform a color. Large-scale swatches are the best way to ensure you'll enjoy living with your wall covering selection.
Solutions with stencils

And, if you're feeling artsy, give paint stencils a try! Stenciling is a wall look that gives personalized character to a regular paint job. Wall stencils are widely available and super easy to work with! You can choose from traditional patterns to dandelions to doilies! Choose a focus wall for your stenciled design. Or use stencils to craft a hand painted border around an entire room. You can stencil with a single or multiple paint colors. The easiest part is applying the paint. Skip the paint brush and just dab on the color using a sponge.
Wallpaper: Retro wall treatment option back on the rise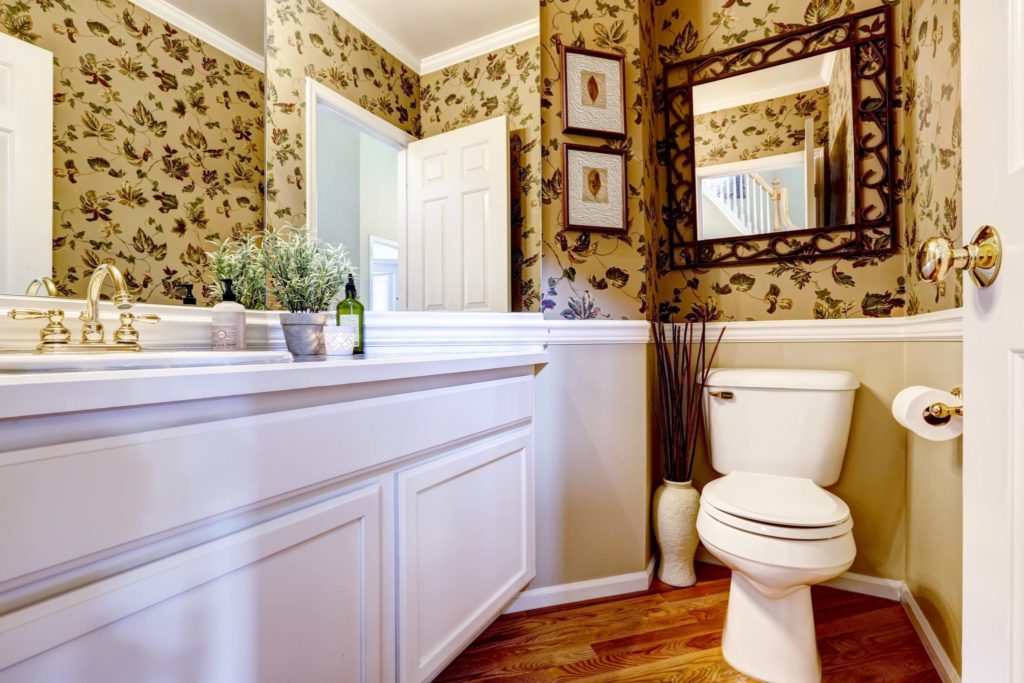 Wallpaper has only improved in terms of cost efficiency and application ease over the years. It's now become and excellent cheap wall covering option. It's also not just for your living room walls anymore. Funky patterns like damask, fauna, and even gilded abstract designs are being added to bathrooms. This is an easy way to liven up an otherwise forgotten space.
And remember those full-wall murals? They're back in style again, and thanks to digital technologies, they can have the look of personally commissioned artwork. Wall art doesn't have to be confined to a frame…it can be your entire wall covering!
For apartment dwellers, removable wallpaper options are renter-friendly and provide an easy DIY home improvement project. Choose from cheap peel and stick wallpaper and easy-change varieties; Don't be afraid to go for texture, and complement with borders and other embellishments.
Decals & stickers: Easy, removable cheap wall decor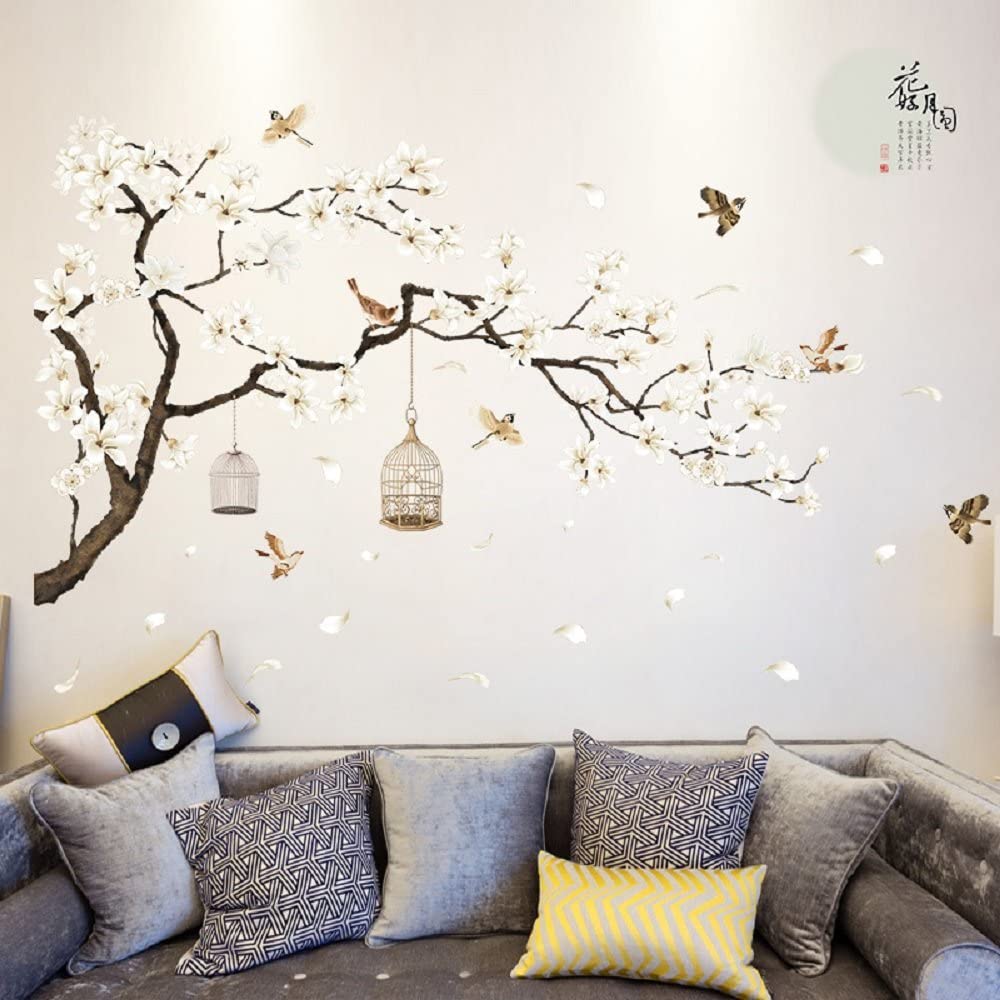 Wall stickers and decals have come a long way in recent years, giving renters an easy removable wall decor option. Stickers causes little to no damage while providing pops of color and endless pattern options. Use metallic confetti wall stickers in your child's playroom, or vinyl decals with words and phrases that bring you joy. Why not add some dimension with 3d wall panels with a faux brick or faux stone pattern? These large wall stickers can give you that exposed brick wall you've been wanting without costing a fortune.
Fabric: Not Just For Furniture
Get a fabulous feeling boudoir with fabric walls. Fabric walls can elevate your space and make you feel like you're in a Moroccan oasis. It can be tufted onto wooden panels or framed by molding and adhered straight to the drywall. Why not create an upholstered headboard to add a fabric accent wall in your bedroom? Use fabrics like velvet and faux leather for a luxe look that won't break the bank.
Wall Paneling: Beadboard, Wainscoting, Molding & Shiplap
Wall paneling was a decor standard with most homes built around the 1960's. If you're not a fan of your existing wood paneling walls, opt for white paint \. This color will brighten up the space and give these wood wall coverings new life.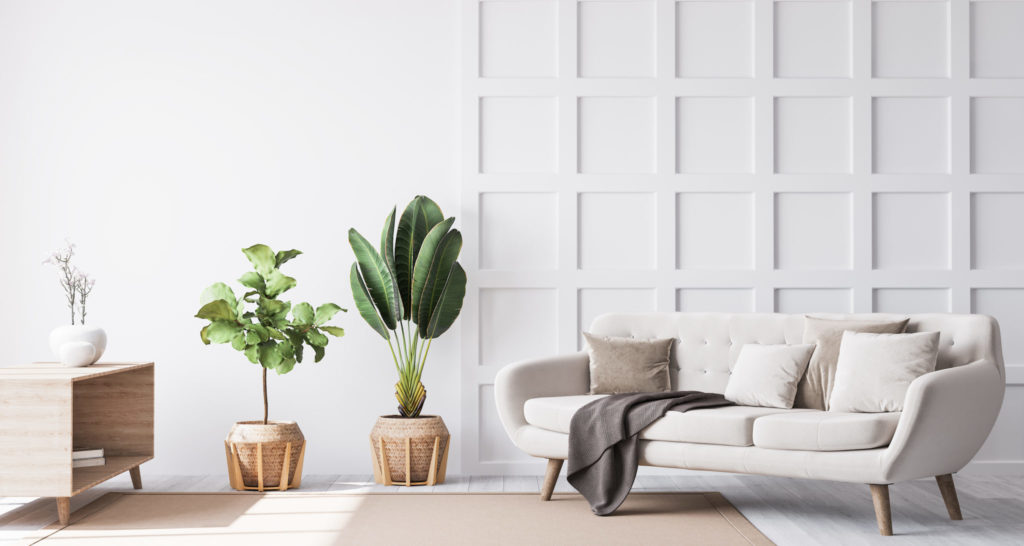 Painting wall paneling is a cheap alternative to removing the paneling from the drywall altogether, which is often difficult as the old paneling was frequently glued to the drywall. When painting old paneling, the most important first step is to apply a primer coat. Primers will bond to the sometimes shiny surfaces of the old paneling. This will assure the top coat doesn't peel and provide for a smooth finished appearance.
Wood on walls: Cheap wall covering that'll floor you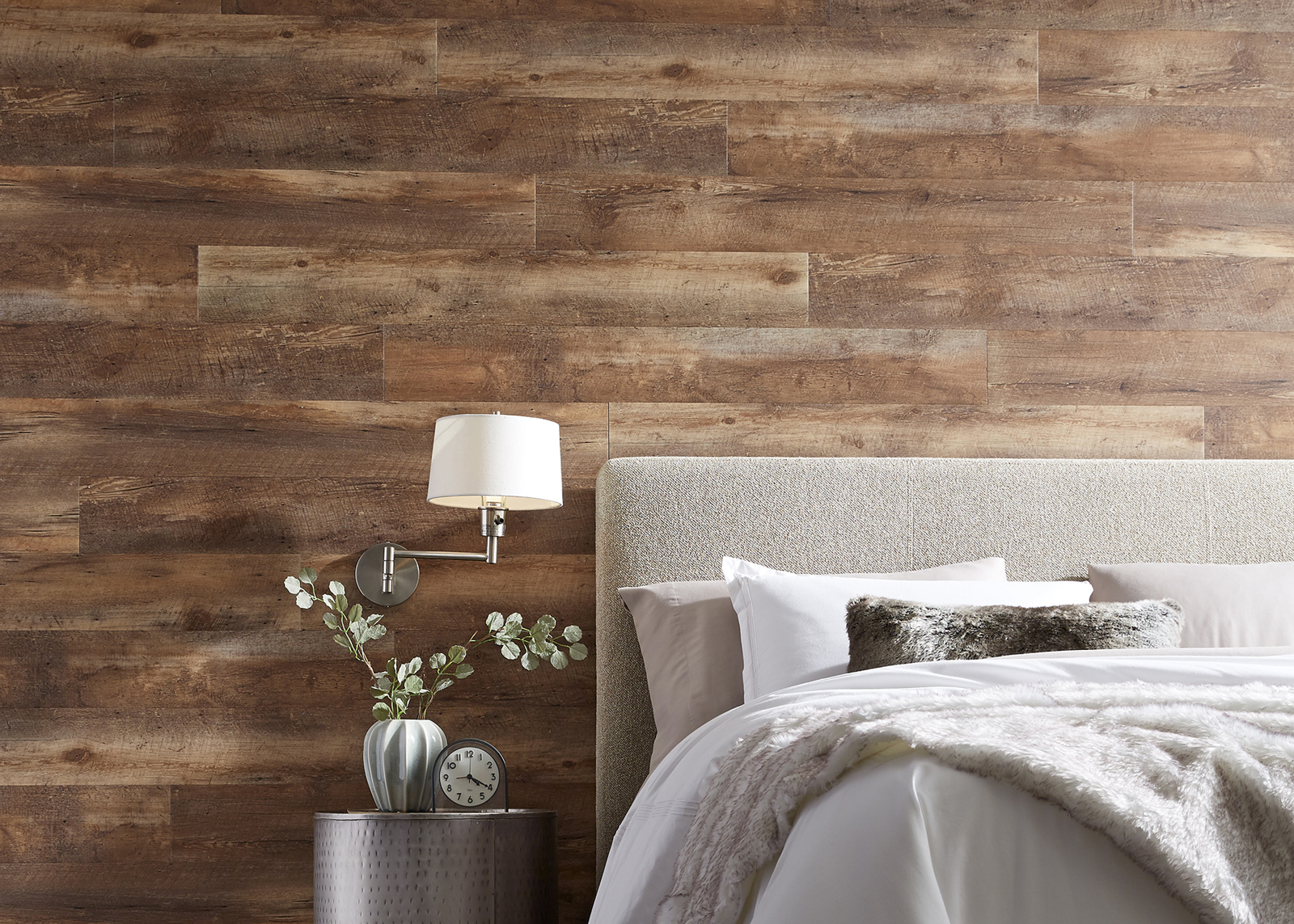 For homeowners of more modern abodes who love the look of beadboard or shiplap, you can achieve this panelling look for cheap by using products designed for floors as paneling. Hardwood, engineered hardwood, recycled wood planks or less expensive flooring products like laminate or engineered vinyl planks (EVP) can look absolutely amazing on walls.
Peel and stick shiplap is another easy and cheap wall covering DIY alternative. Shiplap and other wood wall coverings like this are super popular in living rooms and bedrooms. This gives your home that rustic farmhouse feel that's easy to mix with most other home decor schemes. Shiplap is available as both a peel and stick wallpaper and as wood planks for an even more realistic appearance. For a more sustainable option, look into recycled or reclaimed wood for your DIY wooden wall covering project.
Wainscoting: Paneling that adds timeless character
Wainscotting has been a long-standing favorite interior design choice for living rooms and family rooms, providing a high-quality punch of texture and definition. Luckily your wainscot doesn't have to cost a fortune to look like a million bucks. Traditional wainscot runs halfway up the wall and is trimmed at the top edge with molding. Installing wainscot is a simple, cheap wall covering DIY project that requires only a few tools.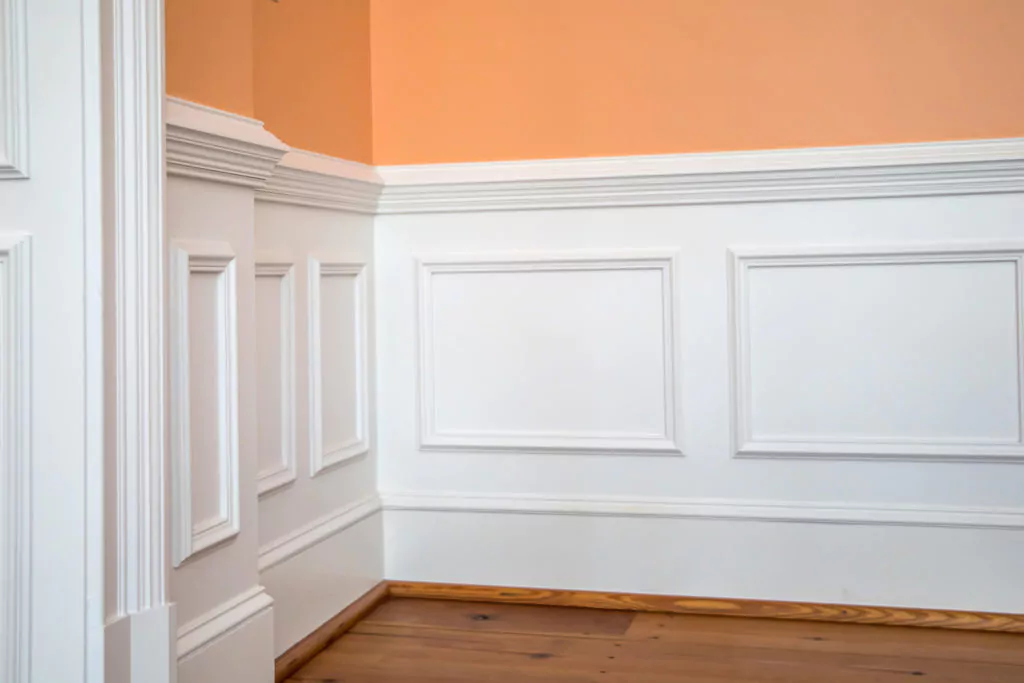 Wainscoting is also available as a cellular PVC board, making it perfect for high moisture-moisture environments like bathrooms. These moisture proof products look very much like real wood wainscot, and can be painted or left as is depending on your color preference. You can also add specialty panels such as chalkboard or marker board for planning future projects.
Using trim to step up cheap wall coverings
Even adding a bit of trim with molding elevates your interior walls. Not every room has instant architectural interest. But you can create a dynamic look with reasonably priced, paintable moldings and trims offered at any home improvement center. Here are just a few of the many affordable ways to give a space an expensive look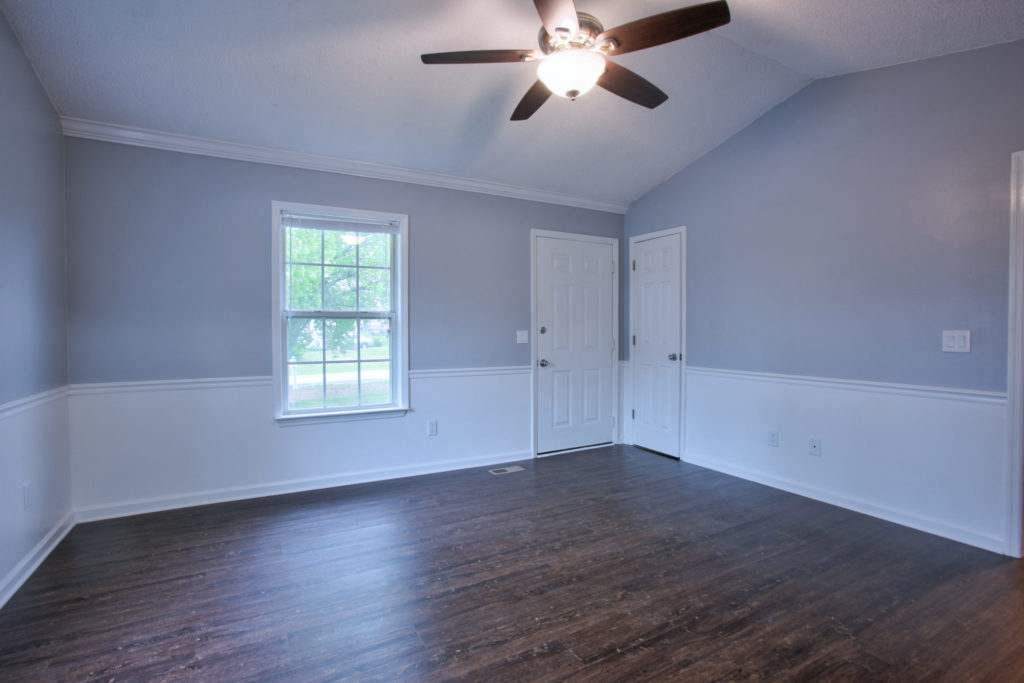 Add crown molding to a room, and you also add pedigree. Profiles range from simple to elaborate, and some can create the illusion of a sculpted ceiling.
Install a chair rail to add elegance and definition to a space. This element also creates the opportunity to marry two complementary colors. Or use a solid color and pattern for additional visual interest.
Use a small crown molding and parallel trim piece to make a frieze along the top perimeter of a room. Paint a border design or apply texture or an allover pattern between the boundaries.
Apply beautiful pieces of wallpaper directly to a wall. Then trim out with decorative molding for a pretty framed-art effect. Or swap in solid color as a backdrop to a collection of framed photos or other keepsakes.
Change a room's mood by painting trim and molding with colors from a tone-on-tone palette or by using contrasting colors for dramatic effect.
Easy to install faux molding made of foam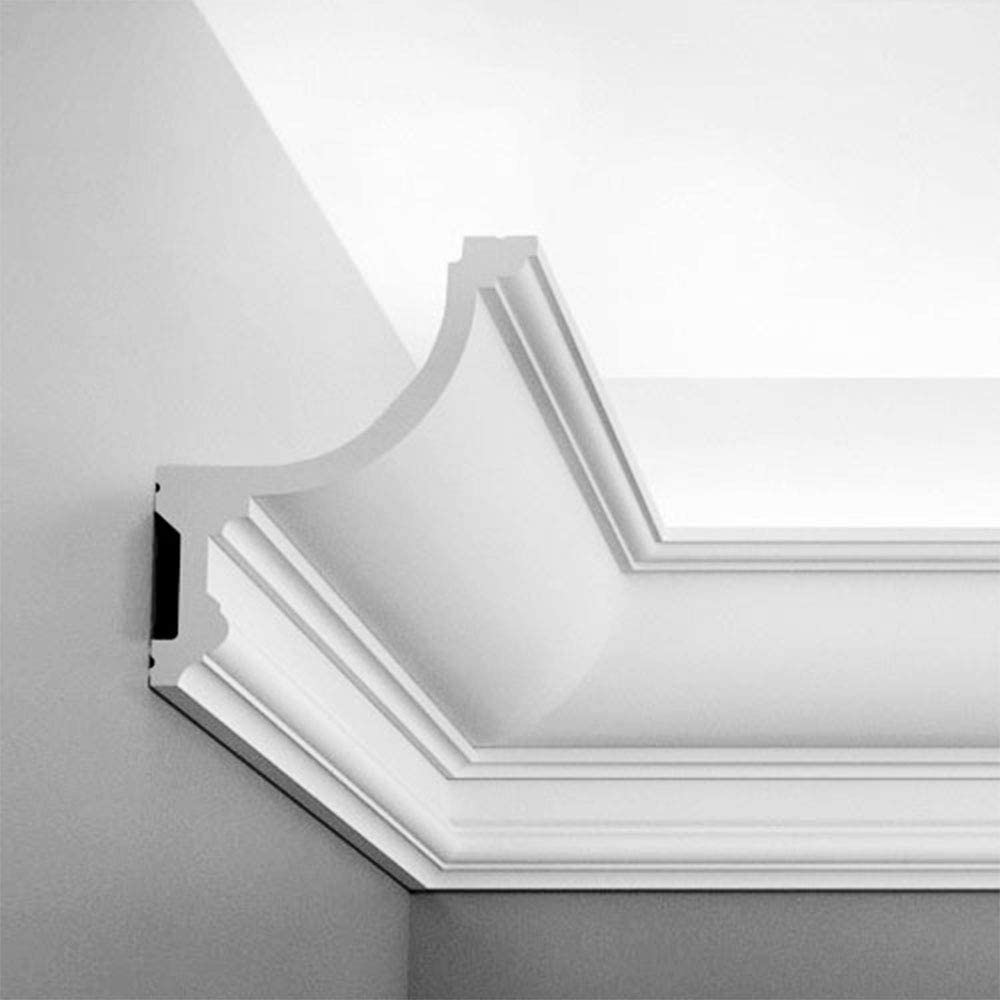 Installing molding has also become simpler as smart manufacturing ratchets down the skill levels required. Today there are dozens of styles of crown molding made of polyurethane foam available. Cutting requires only a small hand saw and the foam molding looks just like wood. However, unlike wood, it doesn't even need to be nailed in place. it is so lightweight it can be held in place with only caulk. Plus, all corners are pre-cut which eliminates the most difficult crown molding installation step, cutting a compound-miter corner.
Tile: Backsplashes that build kitchen character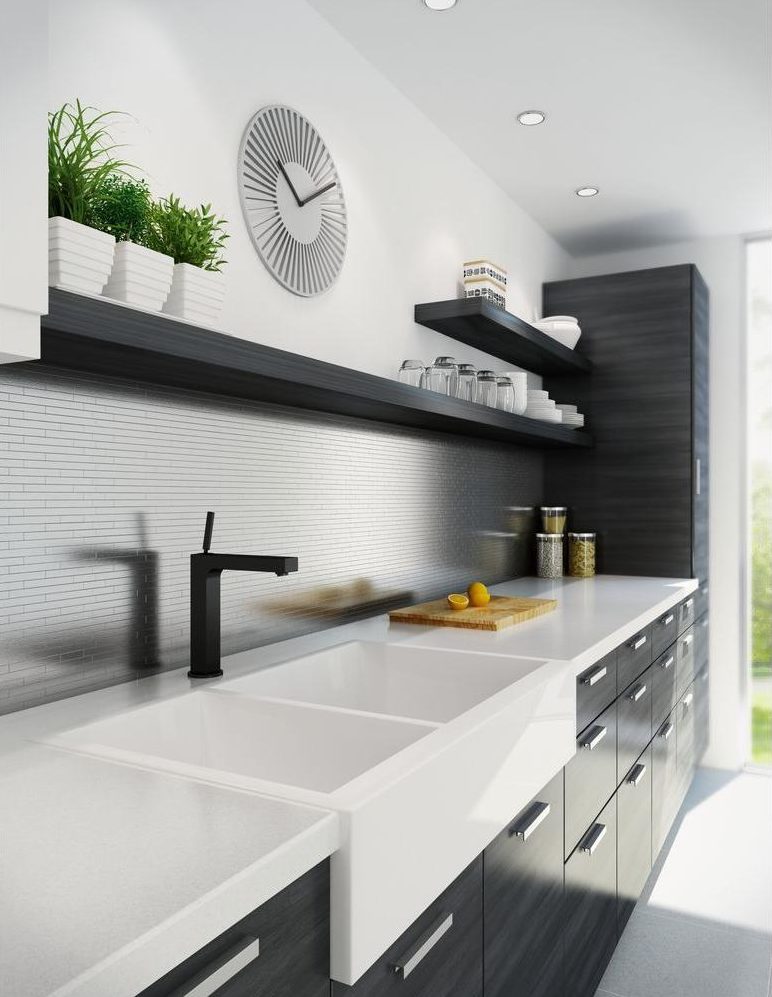 Tile has always been a popular kitchen and bathroom wall treatment option, but one that can be pricey per square foot.
Kitchen backsplashes pull double duty: protecting your walls while also expressing your decorative style. They can make a big statement – or, if you'd prefer, coordinate more quietly with your cabinets and countertop.
Look into recycled glass tiles, which can run about half the cost of traditional tiles and make use of discarded and perfectly good materials. Tile installations aren't as daunting as they seem! This is a DIY to try. If you're not willing to commit, peel and stick wall tile sheets can be renter-friendly and a cost efficient wall covering option for apartment dwellers.
Decorating your walls doesn't have to break the bank. With these cheap wall coverings, your wall decor can be both stylish and inexpensive.