It used to be that plain, unfinished oak was the norm for hardwood floors. It was installed when the house was built and then it had to be stained and finished. But today, there's dozens of durable choices available in hardwood floors, from light hues and dark stains to those that have distressed textures and even wide planks, providing unlimited opportunities to personalize your space.
First, let's talk about the colors.
Light flooring can brighten up your home with clean design. Colors like natural maple, ash, whitewash, even other light flooring stains are not only going to conceal dust and dirt – but it can also make your space feel larger and brighter.
Dark flooring, on the other hand, can actually add a level of sophistication or luxury to your space. The darker stains, like ebony or dark walnut and also deep espresso, can be absolutely stunning, especially when you pair it with good design. And modern styles actually work particularly well when you're showcasing light cabinetry or even furniture.
Gray flooring is a happy medium between light and dark and offers a timeless backdrop for your home's decor. You can choose from a wide range of tones of gray – light shades, dark shades – and even some that have a hint of blue. So it's easy to set the tone for your own unique design style.
But there's a very hot new trend now that combines floor colors and styles. By mixing floors that are complementary in style yet varying enough in color and width, you can create a beautiful custom pattern that visually intrigues without being overwhelming. The flooring experts at your local Lumber Liquidators store can show you numerous compatible flooring options and creative flooring designs.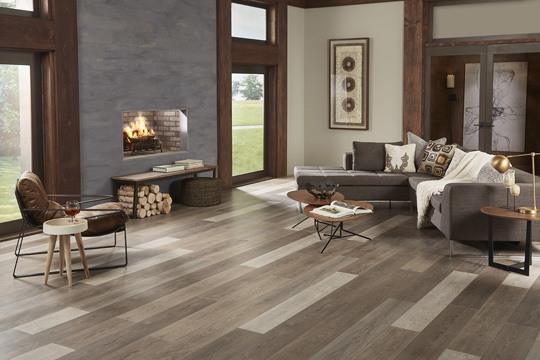 You can get creative by mixing and matching colors, patterns and plank widths, making design options endless and allowing you to find the custom look and feel you want to achieve in your home.
This personalized look can also be achieved with flooring that has high shade variation, such as Governor's Estate Oak hardwood or Pebble Stone Oak laminate.
Lumber Liquidators is a great place to see what's possible in flooring. They offer a vast selection of more than 400 hard-surface floors, including unique, hard-to-find styles and innovative designs in prefinished hardwood, bamboo, laminate, waterproof vinyl plank and porcelain tile. Visit the showroom at any of Lumber Liquidators' more than 400 stores, where highly trained and knowledgeable associates can help you find a beautiful floor that makes a statement about you.