Dads do so much for the family, so to celebrate Father's Day this year, why not take the time to do something really special for the dad in your life?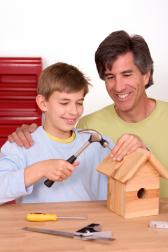 Here's an idea guaranteed to please: Create a workshop in the garage and stock it with his favorite tools. Organize the small items, such as nails, screws, washers, wood plugs, etc. into compartmentalized storage bins in the work space, and label each drawer with the contents. Dad will easily find whatever he needs.
Interlocking toolboxes are also a great option that combine storage with portability. You can devote each container to a particular tool or couple of tools, and then they all snap together and can be carried all at once. Another portable wonder is the rolling tool storage cart, which can be pushed to wherever Dad needs it.
Pegboards provide an easy way for Dad to organize hand tools and keep them off the work table. Paint the shape of the tool onto the pegboard so it will always go back to the same place. If you are in the market to buy tools for your dad this Father's Day, buy him tools in the same brand as his current tools so they can operate off the same battery and keep clutter in the workshop to a minimum.
Creating a garage workshop for Dad is a practical and thoughtful gesture that he will be able to enjoy long after Father's Day has passed — truly a gift that will keep on giving!