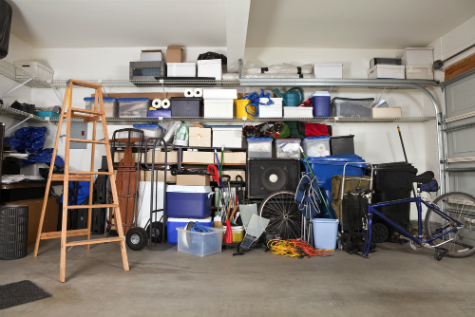 The American garage is a multi-functional structure. Besides a shelter for cars, it can be a workshop, a place for exercise or hobbies, or converted into extra living space, among many other uses. Out of all the possibilities, no one sets out to make it a teeming, hazardous morass of clutter — yet that's what it so often becomes.
A survey this year by Gladiator GarageWorks found that a whopping 74% of Americans wish their garage was better organized. In fact, one in four can't fit a single car into their garage, and one-third keep their garage doors closed out of embarrassment. Sound familiar? If your garage is practically bulging at the seams with a cramped, claustrophobic jumble of items, take heart. You can impose order on the chaos with a few simple organizational principles.
Pare down the pile. Your first order of business is to trash anything that's broken or worn out, and sell, donate or otherwise get rid of anything you never use. But please note: If you need to discard household hazardous waste – a category that includes paint, motor oil, common cleaning products, fertilizer, pesticides, antifreeze and dozens of other items — you must do so properly.
Numerous collection programs have been set up across the country. Some towns or counties hold special collection days, others have permanent hazardous waste collection facilities. Call your local public works department or county or state solid waste officials to find out what type of hazardous waste collection is offered in your area.
Separate toys and toxins. Any remaining hazardous materials that you are keeping must be stored safely, way up high and out of kids' reach, and well away from any toys or other children's items you are storing in the garage. Be sure to keep chemicals in their original container with the labels in good condition. If the container is corroded, repackage and label it clearly, so there is no accidental poisoning or contamination.
Storing combustibles like gasoline, propane and kerosene is also something that needs careful planning. These fuels must be stored in containers designed especially for them. Gasoline cans, for example, have special vents to avoid the dangerous buildup of combustible fumes. Storing gas in anything else is an explosion waiting to happen.
Secure your tools. Common, everyday products like ladders and lawn tools can also be unsafe if not stored correctly. Ladders, for example, should always be stored in a horizontal position so that children can not climb on them. Rakes, hedge trimmers and shovels left on the garage floor or leaning against a wall can easily fall under foot and cause injuries. To be safe, use wall space and get as many of your tools off the floor as possible.
Sort small items, such as nails, screws, washers, wood plugs, etc. into compartmentalized storage bins, and label each drawer with the contents. Pegboards are a great way to organize hand tools and keep them off the work table. Paint the shape of the tool onto the pegboard so it will always go back to the same place. If you are in the market for new tools, buy them in the same brand as your current tools so they can operate off the same battery and keep clutter in the workshop to a minimum.
Rotate items by seasons. A seasonal approach will ensure that you have easy access to what you need throughout the year, while keeping the rest of your stuff out of the way. For example, in summer, give prime real estate to bikes, toys, pool gear, camping equipment, etc. In fall, let rakes and leaf blowers take center stage. In winter, bring out the snow shovels, snow blowers and salt. In spring, give the spotlight to gardening supplies.
The best place to store off-season equipment is off the ground. Suspended shelving will keep those items out of the way and free up valuable floor space. Another option is to hang them from hooks on the wall.
If you find that you've got too much stuff for the garage, a shed might be the right solution to provide auxiliary space. There are many affordable, prefabricated sheds on the market that can be set up fast to provide storage in a jiffy. It's important to look for one that will stand up to weather extremes and has lockable doors to keep out intruders and keep kids away from dangerous tools.