As you get ready for summer time outdoor fun, take a few minutes to sort out and set up your garage for the season. Bike rides, camping trips, and an impromptu game of hoops can all happen easily if your family has easy access to all the equipment that gets used most during the warmer months. Learn where to start with these summer garage organization tips:
Make sure bikes and scooters are in good working order. If needed, WD-40 for the wheels and chains can take care of any sticky spots . Make sure tires are properly inflated and seats are adjusted after a possible winter growth spurt.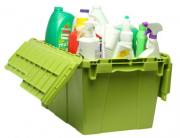 Another important organization tip is to check helmets, elbow and knee pads for proper fit and wear. Even a slight crack in a helmet will reduce its shock absorbency.
Designate a shelf or bin for outdoor toys. Make this area easily accessible and include balls, bats, bubbles, chalk and kids garden tools. Keep an air pump handy for quick and easy refills.
As you are getting your garage organized for the summer season, pull out pool toys, beach or water gear and create a separate area for these items. Make sure it's all in good condition by checking for any holes (in beach balls or kiddie pools) or cracks (in buckets or shovels) and you'll be ready to go at a moment's notice.
Pull out camping gear including sleeping bags, fishing poles, tents and inspect for damage or wear before use. Replace needed items. Donate any items you no longer use.
Remember to store winter gear up high or in another area, like a shed. Rotate winter items back into use when the seasons change. These garage organization tips can come in handy when you are ready to change gear when winter comes.