A patio can be a magical place of comfort and delight where you relax and enjoy the evening with a cup of coffee. It can also be a place to entertain and spend time with friends. Or it can be simply a space where you sit some plants if you don't have what you need. Here are a few patio decor ideas to help punch up your patio for the season.
Pick Your Patio Seating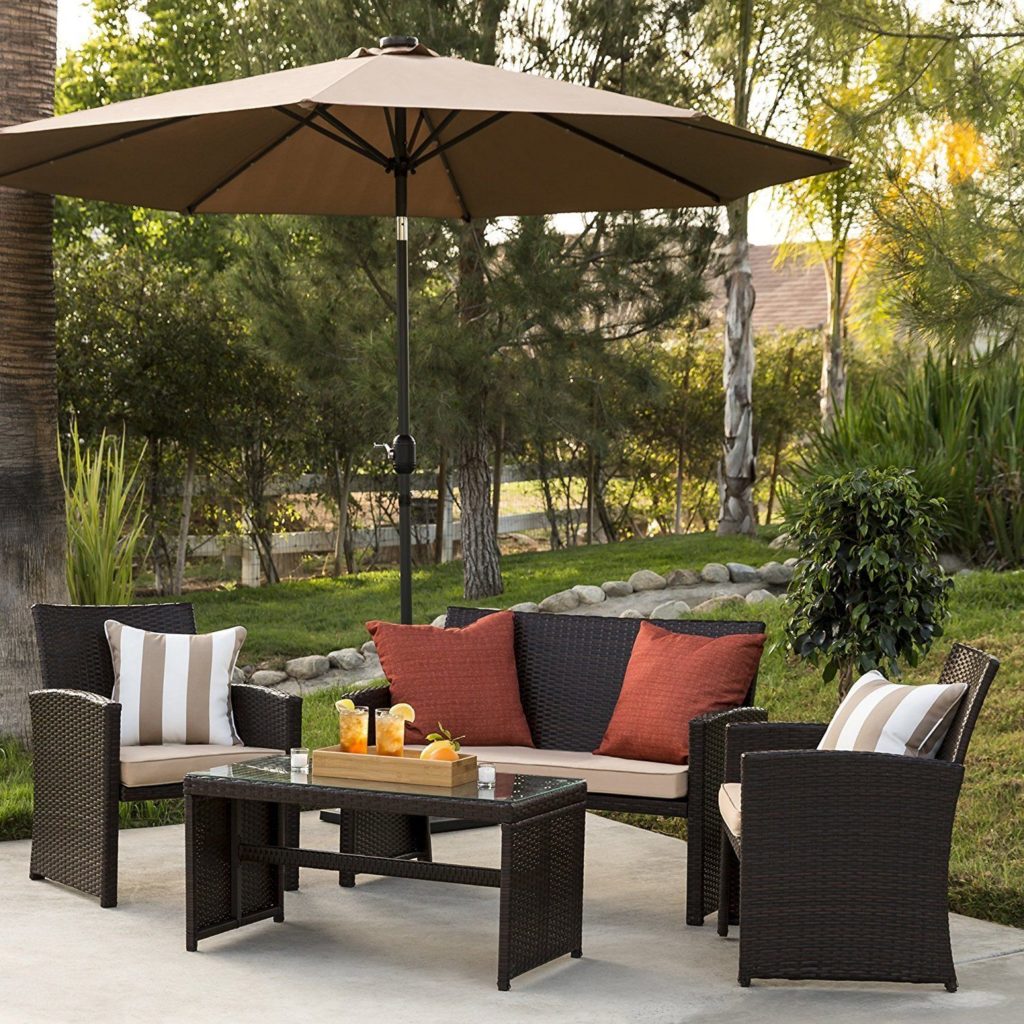 Seating is important to any patio area. Many people like to eat out there and if that's your goal you want a table setting, with an umbrella if yours isn't covered. You can find patio wicker sets that have a couch, chairs, and tables if you want to get casual and comfortable. Why not have some fun and put up some hanging chairs? Keep foldable sports chairs on hand for extra guests.
Light Up The Night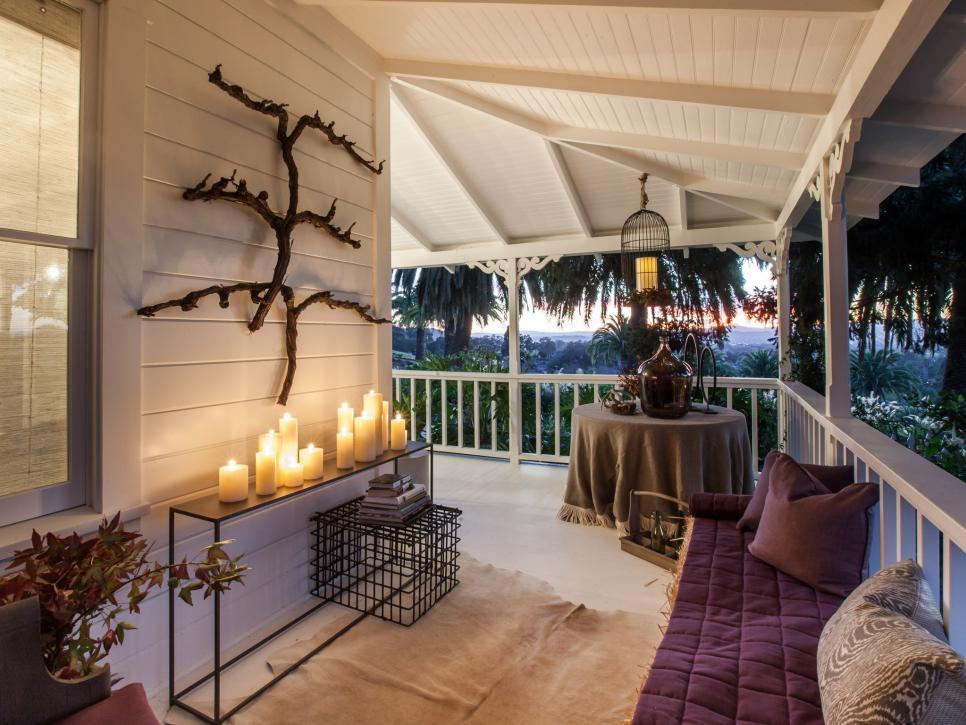 There are so many lighting options for patios. Some are rustic and elegant like these thin wire lanterns while others, like these flamingo or red cup string lights, can be fun and whimsical. Simple white lights go well with any theme or decorating scheme. Candles are a wonderful way to add not only light but ambiance to your patio. Here are five different types of outdoor lighting to match the patio decor style of any backyard retreat:
Decorative Candles: Candles provide effortless décor to create a distinctive mood. Pair different shapes and sizes to create a soft glow. Swap out new colors and styles for a seasonal or holiday theme.[socialpug_tweet tweet="Candles provide effortless décor to create a distinctive mood" display_tweet="Candles provide effortless décor to create a distinctive mood"]
Deck Lighting: Deck lighting takes sophistication and subtlety to a whole new level, illuminating your space at night and seamlessly blending into your deck during the day. Providing both safety and beauty, most deck lighting can be installed in a new or existing deck.
Tiki Torches: Tiki torches are a festive way to light up your outdoor space. Line them along the perimeter of your backyard or pathways to transform your space into a tropical paradise.
String Lighting: String lights add charm and a lot of fun, and that's why they are often referred to as "party lighting." All styles offer the flexibility of year round use and pair gorgeously with any outdoor décor.
Landscape Lighting: Landscape lighting adds warmth and grandeur. Perfect for showing off your favorite flowers, shrubs or architectural features, or lighting up walkways,

Trex Landscape Lighting

is easy to install, energy efficient, dimmable and cool to the touch, making them safe for children and pets.
Add Some Patio Greenery
Plants just add something special to any setting and a patio is no different. Set out large planters with snake plants for a vertical look of green. Succulents and herbs in colorful pots are nice too. Hang flowering baskets for a constant burst of bright color. They just make you happier looking at them.
Gather Round The Fire Pit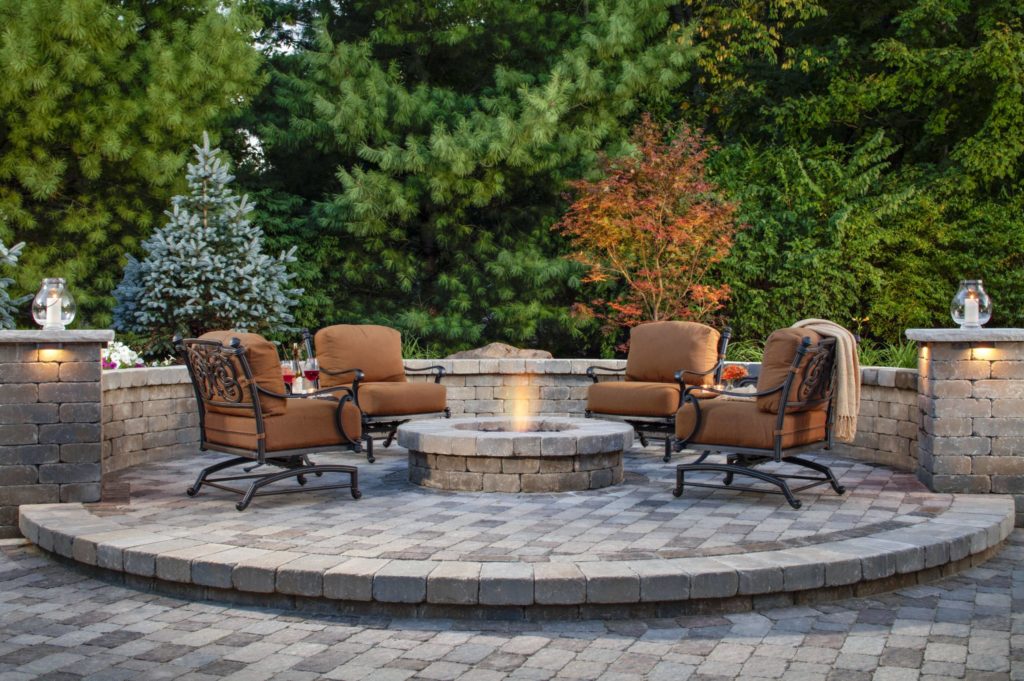 A "must have" for today's patio is a fire pit. They are quite safe to use and come in such a wonderful array of designs and sizes. They're more affordable than most people realize. Among the best backyard fire pits is this Sunnydaze 42 Inch Large Bonfire Wood Burning fire pit with a night sly design to the simple basic folding fire pit – or even these 12 fun fire pits under $100, you can definitely find one that works for your patio decor style. It extends the use of your patio into the cooler weather too.
Flooring & Patio Rugs
You may already have a patio that has a wood or stone floor but if you are designing yours from scratch stones make lovely flooring. Rugs can set a patio off and add color and a sense of coziness. It's easy to get patio rugs and floor coverings in all shapes, sizes, and colors.
Patio Bars & Food Centers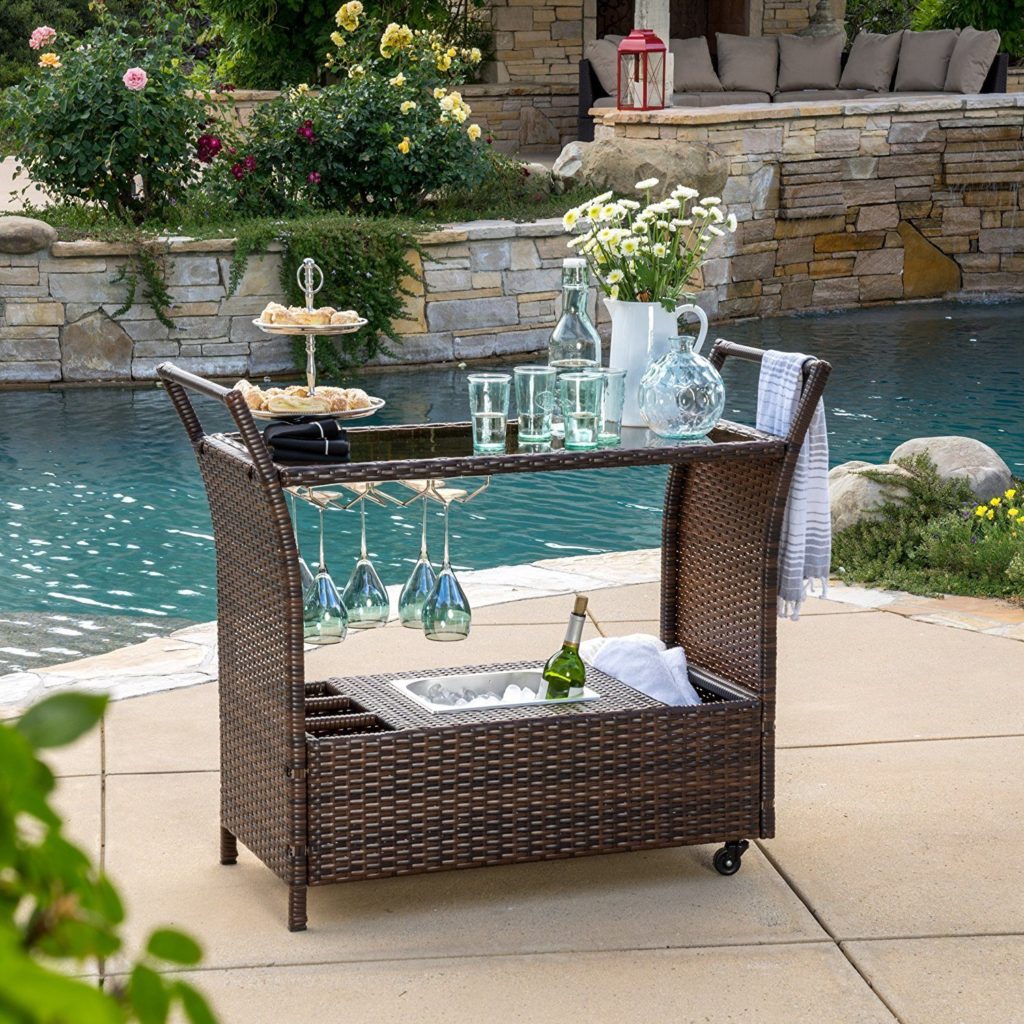 Food and fellowship go hand in hand and a patio bar or food area makes it much easier. You can even get a Rattan bar with matching bar stools. Many of them have a shelf, storage and ice bucket below are portable like the one here. At the very minimum you need an ice bucket for cold drinks.
Fun Extras for Your Patio
You can add a lot of fun and pizzazz to your patio decor by getting creative. Like this patio that has added Chinese lanterns and wicker couches to create a Bali look.
Throw pillows and a mirror add a touch of the indoors to the outdoors.
Or add curtains for a cabana and tropical feel to an open patio. It also helps create a sense of privacy and romance.
Make The Most of Your Patio
Getting the perfect patio decor takes the right mixture of seating, lights and fun extras to create something wonderful. Take time to use these ideas to create a place where your whole family will enjoy being.