When it comes to decor, lighting is one of the most mood enhancing features you can customize. Everything from the brightness and color of the light, to the fixture holding it and how it's placed in a space. Having a designated and inviting outdoor space is also one of many affordable elements that can actually increase a home's resale value in certain areas and a great space for DIY lighting.
However, since most outdoor lighting is electric, you may be wondering if DIY is really doable? It totally is! You can create a beautiful glow in your outdoor living space easily and inexpensively while recycling glass jars and bottles, tin cans, and organic materials. Here are some ways to repurpose those items into rustic chic outdoor lighting!
Mason Jar Lighting
What would we do without mason jars? There are hundreds of ways in which mason jars are used in crafts, and dozens of ways in which they are used to light up our outdoor lives. Here is one of the easiest to do and most glamorous DIY lighting ideas.
Mason Jar Candle Holders
Apply clear glue to the inside of a mason jar (or any glass jar) with a one-inch brush. Graduate the application: heavier near the bottom of the jar and lighter in the middle.
Leave the top quarter of the jar clear.
While the glue is still wet, use a spoon to sprinkle glitter apply a transparent fabric onto the jar.
You can also use a transparent or thin layer of acrylic paint, such as a clear matte finishing paint.
When the material of your choice is dry, insert and light a pillar candle.
Place around your patio furniture on tables to create a chic relaxing environment.
Note: Never leave a burning candle unattended. To reuse the jars, soak in water to remove the glue and material; unless painted with transparent acrylic paint.
Fill Mason Jars with Fairy Lights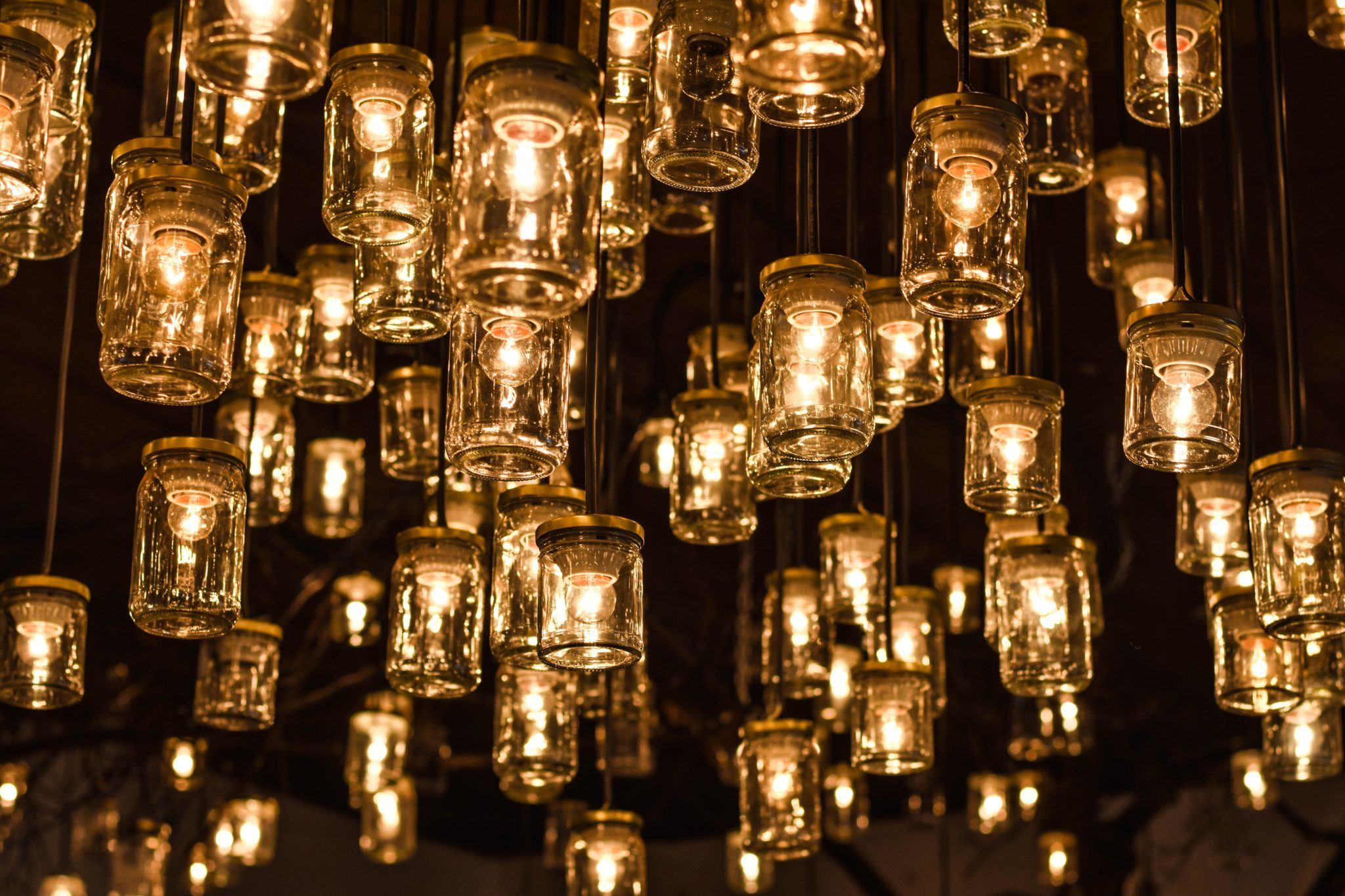 In addition to using candles, fairy lights or solar-powered fairy lights work wonders. Fill any bottles and jars of your choosing and simply place wherever you'd like. By using solar powered lights, you don't have to worry about batteries. You can also use these outside of your bottle use and wrap them around trees, fences, or any additional furniture pieces.
Turn Aluminum Cans into Lanterns
Source: Inhabitat
Use any size tin cans and as many as you like (except for cans that were filled with flammable materials). A variety of sizes and shapes makes for a very attractive DIY lighting arrangement. Remove the labels and clean the cans. Use a bit of baking soda on the inside to get rid of any leftover food odor. Fill the cans with water and freeze solid.
Tape a pattern to follow onto the can or release your inner artist with a freehand design. Use a folded towel to cushion the can and keep it stabilized. Put a sharp, narrow nail on the pattern or design and tap gently three or four times with a hammer. Only the tip of the nail should puncture the can. Complete the design in this manner, then punch out two holes on opposite sides of the can near the rim.
When you've finished, run the can under hot water and dump out the ice. Make a handle out of 18- to 21-gauge wire, attach it at the holes near the rim and crimp the wire closed with pliers. You can spray paint your tin-can creations or add designs with permanent markers. Insert and light votive candles or tea lights and become mesmerized by the flickering patterns of light. Arrange your handiwork on a patio wall or table, or hang them by the handles.
Note: The candles can get hot. Please place the lanterns on a fire-safe surface
Create Art Bottle Trees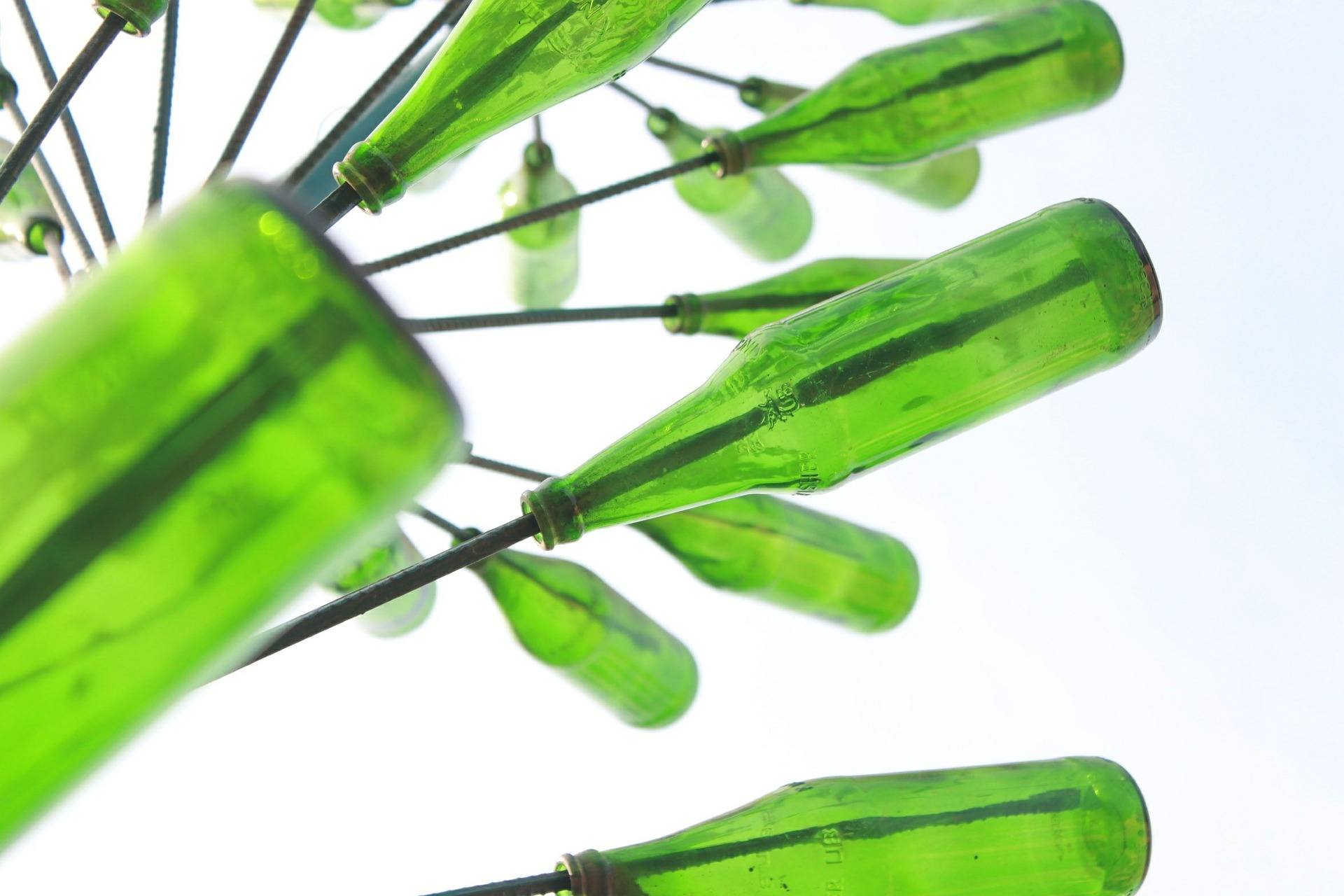 Combine two ideas: art and lighting, create an outdoor DIY lighting display that will really add to your backyard ambiance by adding art bottle trees. Using the tree limbs as your base, hang the bottles sporadically along the lower tier of branches. Make sure the string or material used to hang the bottles keeps them at a safe distance from the leaves, if you choose to use candles as your light source.
Place the bottles on bare branches or on the nails and dowels—any color you want, any way you want. Best thing is you can change and rearrange your creation any time you want.
Watch the glass bottles gleam in the sunlight.
You can also create this same idea of hanging bottle art lights across fencing or by hanging it along a wall. Harshness your creativity, your backyard is your own sanctuary, create it as you desire. You can have a bottle bush if you prefer. There is no formula to follow.