Patioscaping is a perfect way for you to have relaxing place to escape to this summer, and you need to look no farther than your own backyard. Just beyond the patio doors is a perfect outdoor space that you can easily transform into a personal retreat — whether you want to be away from the madding crowd or enjoy relaxing with family and friends. The solution is patioscaping — the art of transforming a simple backyard into an elegant outdoor oasis.
Many homeowners are opting to stay at home more often, and even vacation at home – a trend that has helped coin the phrase "Staycation". According to one poll, two-thirds of homeowners say they would rather have a barbecue or cookout at home than eat at a restaurant.
Beyond alfresco meals, the trend for outdoor rooms also continues. Despite the economy, many consumers are engaging in outdoor entertaining, and while they are monitoring spending, they have found it acceptable to invest in select household items — from fire pits and outdoor fireplaces to outdoor lighting, furniture and décor, according to one source.
The good news is that with patioscaping you can create a beautiful outdoor patio space without having to make a significant investment in remodeling. The following patioscaping tips can make a big difference in the look and functionality of your outdoor space.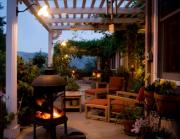 Know your home's style. According to one source, it's important to have an understanding of your home's architectural style when creating an outdoor room, so that your outdoor patio space complements your indoor living space. Whatever theme you carry outdoors, it should reflect your home's style, whether it's an old-world Victorian, a Craftsman, or a ranch style home.
Determine the use of your space. Once you know the general architectural style of your home and, by extension, your patioscape, it's time to think about the activities you want to enjoy when creating the perfect outdoor patio space. If you like to entertain, consider planning a food preparation area or built-in counter to serve as a buffet or serving space. If you want to lounge and read in blissful silence, include a hammock, chaise lounges or wooden benches with pillows covered in durable outdoor fabrics. Make a sketch using scale model drawings of furniture you'd like to include on your patio.
Set the stage with the right door. The entry to your outdoor patio space creates the impression of what's to follow on the other side. And, since summertime barbecues, pool parties and picnics funnel traffic through your home's patio door, make it a pleasant experience — avoid irritating traffic jams, frayed screens and cloudy glass by installing doors that can stand up to the high traffic and look good over time.
For example, patio doors made with fiberglass offer an ideal blend of beauty and durability — they won't ding, dent or rust like steel doors, and won't swell, rot, crack or warp like wood doors. And they come in a variety of styles. One example is Therma-Tru's Fiber-Classic® Hinged Patio Doors, which offer an exterior wood-grain look, with an interior that is ready to stain or paint. Another choice could be Smooth-Star® Hinged Patio Doors, which have a smooth, crisp surface that rivals the look of painted steel, with an interior that you can paint to match your home's décor.
Almost all Therma-Tru doors are ENERGY STAR qualified and provide five times the insulation of a wood door. The Low-e insulated glass will help protect furnishings from UV rays, which cause fading, and will help keep the warm air in during winter months. The patio doors are designed as a complete system with components that work together to form the tightest seal possible, creating an energy-efficient envelope for your home. As an added value, homeowners who purchase and install certain styles of Therma-Tru doors may be eligible for a tax credit of up to $1,500 per household through the American Recovery and Reinvestment Act of 2009 (also known as the Economic Stimulus package).Visit www.thermatru.com/taxcredit for more information.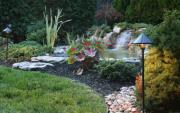 Make a green space even greener. While shrubs and trees can add important texture to your green space, you needn't completely re-landscape the yard when creating your perfect outdoor patio space. Colorful flowering plants around your patio's perimeter can create a dramatic effect and serve as a visual boundary from the rest of the yard, creating an intimate space that evokes an actual room.
Let there be light. Another inexpensive way to add atmosphere to your outdoor patio space is to install accent lighting. String lights in festive colors and shapes; add drama by lighting a pathway to the garden, pool or pond; accent trees with lights at ground level or in the branches. There is nothing more beautiful than candlelight outdoors; be sure to use sturdy candle holders that won't tip over in your outdoor patio space.
Allow for family fun. Many families use the patio as a playground equipped with toys, swings, basketball hoops and wading pools. Add a clean storage area to protect bikes and toys when not in use, and indoor/outdoor floor coverings to protect children from scrapes and bruises.
Ensure weather protection. As you choose patio doors for your new outdoor patio space, protect your home from summer's quickly changing weather conditions. With the Therma-Tru Tru-DefenseTM Door System, patio doors can withstand heat, rain and cold, using advanced engineering that virtually eliminates air and water leaks. Your doors can even withstand winds up to 150 miles per hour and water conditions equal to 8 inches of rain per hour driven by 49 mph winds.
By following these patio planning basics to creating the perfect outdoor patio space, you can choose the best design, decor and furniture you'll need to enjoy your beautiful patio space all summer and for many years to come.