Table of Contents

[Hide]

[Show]
You might have a great backyard for entertaining and hosting get-togethers, but it can still feel like something is missing. Something you just can't seem to put your finger on. Well, you are not alone. Sometimes, we just need to be reminded of the creative ways we can spruce up our space – without breaking the bank.
It won't take much to revive your patio into a fabulous space for entertaining. Below are a few creative ways to really spice up your entertaining space.
Cinder Block Seating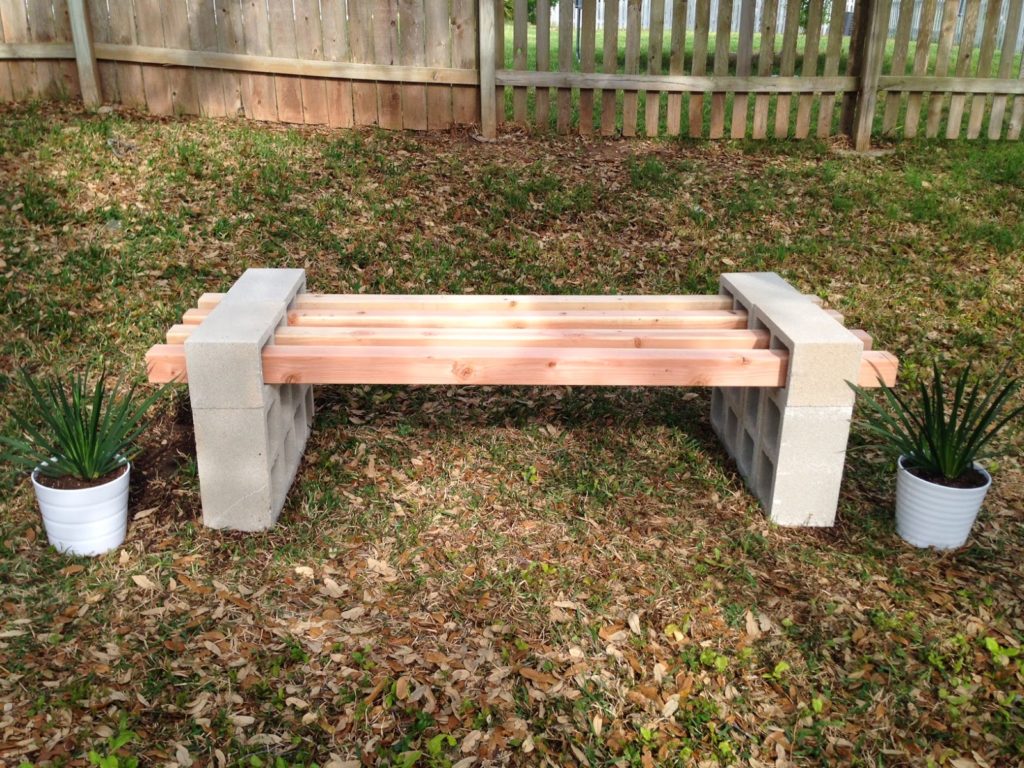 You can never have enough seating.
This summer, don't worry about frantically running around to find more seating for your guests. Create a simple DIY bench (or a few) with cinder blocks and lumber. You will need:
12 cinder blocks
4 pieces of lumber (4×4)
Landscape block adhesive
Three ingredients – that's it!
Begin by placing four cinder blocks on the ground standing tall next to each other and then place two more on top (lying horizontally). Use your adhesive to secure them in place. You are going to repeat this process again for the other side of your bench. Lastly, slide your 4×4 posts through the top four holes in the cinder block to complete your bench. Stain or paint your lumber for added detail, and don't forget to sand your wood for a smooth finish.
Let There Be Light
We are starting off with the basics. This is something you can do that is extremely simple but will make the world of a difference. Proper lighting will provide an ambient vibe at night that will help to keep your guests around longer, plus it will deliver a beautiful and warm glow to your outdoor space. Scatter tiki torches around your patio or lounge area to offer some "natural" lighting. Another great way to light up your space is by hanging up outdoor lights. Drape string lights from the rafters of your gazebo or pergola, or hang them around the perimeter of deck railing. Having good lighting matters.
Stepping Stone Pathway
This is an easy weekend project that will make such a difference in the appearance of your yard. Stepping stones look great, add dimension to your space, and provide functionality. That's a win-win-win. There are a variety of stepping stones available that can work for anyone's budget. Once you have the stones you are going to use, we are ready to get them into the ground. Follow the simple steps below to complete this backyard update.
Lay your stones down on the grass where you want them to be.
Use a sharp garden knife to cut around your stones and remove the sod.
Pack down some leveling sand in that empty space.
Put your stepping stones into place.
Don't worry if they are an inch or so above the rest of your grass, as they will settle into place over the next few days.
You can also build your own stone-like path with concrete mix and QUIKRETE's Walkmaker form, as shown here. Building a path is a great do-it-yourself project. Once you've laid out the path, you mix the concrete, set and fill the form, then lift off the form to reveal the finished design.
Privacy Fence Alternative
A privacy fence may not be for everyone, or maybe it is simply not in the budget right now. That does not mean you cannot still have privacy. When you are hosting parties and sitting outside, you might want some added privacy – we get that. Below are two different options for creating a more private space.
Ornamental Grass: Plant some ornamental grass into the ground or to gain more height, plant ornamental grass into tall planters or a few galvanized tubs. A bonus tip would be to plant lemongrass, as it naturally repels mosquitoes (and grows taller).
Shrubbery: Adding shrubs will allow you to choose exactly where you want additional privacy. You do not have to close off your entire backyard, as one row of shrubs still makes sense in a yard. Two commonly used shrubs for this job include arborvitaes and boxwoods.
For even more ways to spruce up your entertaining space this season, visit our blog.