By Sarah Fishburne for The Home Depot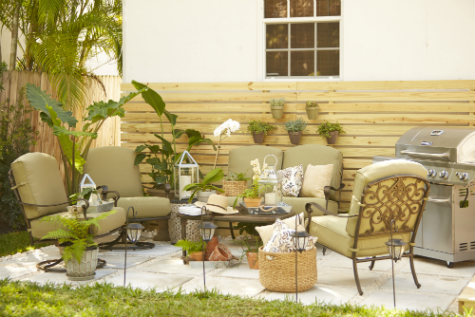 Homeowners and renters alike are investing more thought and time into their porches and patios to create a space that feels like an expansion of their indoors and speaks to their unique personality. The trend of creating an "outdoor living room" or an "outdoor oasis" is growing for a variety of reasons. Many people spend lots of time indoors and enjoy spending time outdoors when they get home. Consumers are finding the same normalcy and pleasure in decorating their outdoors as they do their indoors — DIY-ers are fashioning a preferred theme inside and simply extending those same features outside.
I always tell people the best place to start when creating an outdoor living area is with the patio furniture. First, decide what your goal is for the space; then choose a patio set that provides those features. If you're looking to create a space for dining and entertaining, a seven-piece dining set is probably the way to go. If you're working with limited space, try using a small, charming bistro set for the area. Some people want their space to encompass pure relaxation and should choose more comfort-focused seating, like a modular patio set that can be configured into a cozy arrangement.
Once you have the right patio set, it's time to bring the space to life with accessories. Accessories are key when crafting your outdoor living area, and you can accessorize the same way you would indoors. Throw pillows are a quick way to add character and give your patio set a complete, comfortable look and feel. Use garden stools and benches for side and cocktail tables, and try a fun pouf as seating for a smaller area. Find the perfect outdoor rug to help define the space and give it a sense of the indoors. Accessories can also be a fun way to incorporate color. Use complementary or contrasting colors to make your patio pop.
Color is very personal, and we're noticing that people are selecting their outdoor color palettes with the same critical eye as they do their indoor colors. One of the most popular color trends we're seeing so far is blue. Blue is the largest growing color trend in every hue imaginable — navy, denim, misty blues, mineral blues and spa blues.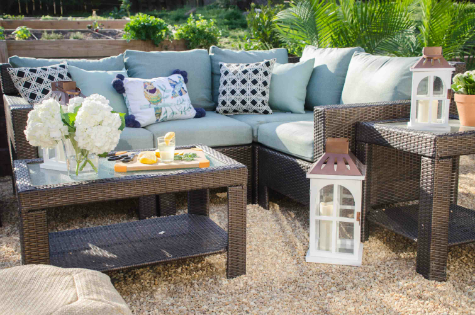 On the design side of things, we are seeing blues layered or mixed with reds and blush oranges, blues and whites and even blues with exciting pops of yellow.
Classic Americana palettes are also very popular right now. Reds and terra cottas remain tried and true and classic. If you enjoy more of a muted look, try neutral palettes with earth tones mixed in like clay, gold, celery and moss greens — you can't go wrong.
Show off the colors you selected, and enhance the space with outdoor lighting. Fill the space with table lanterns and LED outdoor candles, adding string lights and select from one of the many best backyard fire pits to set the mood and give your space just the right ambiance.
Don't forget finishing touches like planters and flowers that play well with your patio furniture and can literally breathe life into a space. Drop 'n Bloom, which have pre-selected arrangements in containers, is an easy way to include live goods. Simply choose the arrangement you prefer and drop it right into pottery that accentuates your patio. Outdoor chalkboards are also a fun touch for kids to doodle and they're great for things like the menu when you're having a BBQ.
Consumers are really taking outdoor personalization to another level and having more fun, mixing and matching styles.
Sarah Fishburne is the Director of Trend and Design for The Home Depot. A trained Interior Designer, she leads a team of designers to bring great design to the store shelves nationwide. A world traveler and experienced style scout, Sarah takes ideas from inspiration to fruition. Her expert eye for design and style in every corner of the home began with her award-winning work at nationally recognized design firms, where she designed model merchandising and sales centers for national builders.