Is your kitchen layout passé? Just as architectural styles date houses, kitchen layouts can also date a home, often in an unflattering way. Kitchens used to be a place where one person cooked and washed dishes, and that's how a lot of kitchens still are in the older homes of the Northeast and Midwest. Today, more than one person had better be stepping up to cook and clean!
Homeowners frequently ask us about the importance of the "work triangle" when planning for a new kitchen. This commonly used term simply refers to the triangle shape created by the traditional placement of the stove, refrigerator and sink. It was designed to reduce the number of steps needed to accomplish common kitchen tasks.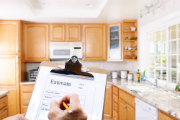 A well-designed work triangle is still a highly recommended goal for your kitchen remodel. But now the layout has to incorporate all the steps and tasks of all the people who use the kitchen, which can include all ages and life stages doing everything from gourmet meal prep to web surfing.
It includes thinking about workspace height, as well as workspace area. Consider who will be using the kitchen's work zones; you can easily vary the heights of surfaces to accommodate a range of ages, as well as accommodate present and potential future physical challenges.
If you're planning to be in your home for many years to come, work universal design principles into your kitchen plan so that the space's convenience and access work for all ages and abilities. Sensible design changes now, like adding countertops at varying heights, installing pull-down shelves in upper cabinets, using draw-style microwave ovens and dishwashers and even adding a contrasting color on edge of counter for easy visibility, can make your kitchen far more usable for everyone. AARP has great information on this smart, family-friendly approach to kitchen design. Check out their Kitchen Checklist, product selection tips and more at www.aarp.org/homedesign.
Smart Storage Solutions
No matter the size of the space you're dealing with, you can make it more roomy and convenient with a little smart storage planning. The recent wave of home organization solutions has inspired many manufacturers to design creative, compact cabinetry solutions, and you can amp up the convenience factor with space-expanding inserts for everything from spice collections to recycling bins.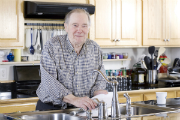 All in all, there's no space in a kitchen that's unusable ─ every nook and cranny is fair game. An unused cove, for example, can be cleverly converted into a mini office or mail center. Add utility by planning storage for cookware and tools in the zones where you'll use those most. Rolling carts and other free-wheeling furnishings can help make connections for better work flow. We love magnetized backsplashes or magnetized strips that can hold spice racks, knives and utensils. Such cool solutions make use of space in a clever, modern way that works with any kitchen décor.
In plotting your storage master plan, think about what you use every day versus what you use only occasionally. If you entertain often, you can work in a contemporary spin on those old-fashioned hidden service areas by designating a handy cupboard as a just-back from-the-store unloading zone with a small prep sink, warming drawer, and microwave nearby, creating man-behind-the-curtain serving magic and efficiency.
Making The Right Connections: Basic Utilities and General Safety
There's almost nothing as frustrating or expensive as attempting to reconfigure the power and water connections in a kitchen. So think carefully and creatively about the placement of your new appliances and plumbing, with your present connections in mind. Going back to the work triangle, we recommend identifying which point is going to be the easiest and most cost-effective to move, and moving forward from there.dd
It's also wise to understand the limits of your kitchen's electrical and gas load before you follow your dream of installing that professional-grade range. Specialized appliances call for specialized power and fuel supplies, and ignoring these needs can have dangerous consequences. Proper venting is also part of the utilities scene. Make sure yours is functional, has a quality motor to power away exhaust, and is sized to the demands of your appliances.
When planning a kitchen remodel, thinking carefully about who will be using it and how it will be used is an important first step in creating a well-functioning space. Figuring out how to maximize your kitchen's storage potential, as well as working with your existing power and water connections for your new appliances, will also help ensure a successful kitchen upgrade.