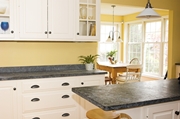 How will today's social, economic and generational conditions impact kitchen design? That question is the focus of a study from Masco Cabinetry based on an online survey of 1,027 U.S. homeowners ages 18-65.
The study identifies changes in lifestyle, typical kitchen layout and the function of the space that have implications for the aesthetics, storage and other factors of today's ideal kitchen as it relates to different generational segments.
Here are the key findings:
24% of homeowners ages 18-65 said they live in a multigenerational house, but only 27% have a kitchen that is universally designed for living, meaning it can accommodate both children and older adults and is designed for mobility, accessibility and functionality.
63% of Baby Boomers (ages 45-65) and 49% of Gen X homeowners (ages 35-44) said they planned to stay in their current home over the next five to 10 years.
22% of all homeowners feel that a place for feeding pets is a top-three kitchen extra, compared with only 10% who felt they needed a place for wine storage.
On a typical weekday, Gen Y (44%) spends more time in the kitchen watching TV and working on computers than Gen X (36%) and Baby Boomers (33%)
40% of Gen Y homeowners said they expect their parents to live with them in the future.
The top-three kitchen extras for homeowners in all generational groups are a place for hiding small appliances, a place for bulk food and/or cleaning supplies and a place for waste/recycling.
87% of all homeowners said their ideal kitchen would have a semi-open or completely open floor plan. The number is even higher for Gen Y (ages 18-34): 92%.
What's your ideal kitchen? Post your comment below to win a copy of our book, My Home My Money Pit: Your Guide to Every Home Improvement Adventure.