If home is where the heart is, kitchens are clearly one of the vital organs that converts house to home. Not surprisingly, kitchens are also among the most popular home-remodeling projects tackled each year, and with a few new kitchen remodeling ideas you could also add value to your home. Technology has stepped in to make products more effective and more attractive, and even more technology helps you sort through all the kitchen remodeling choices and decide what you want.
Cabinet Choices. Kitchen cabinets are the first product choice you will need to make in your kitchen, and the style you select will set the tone for the entire kitchen design. Visualizers on manufacturer sites such as Merillat and Mill's Pride help you see how different colors and styles impact different spaces.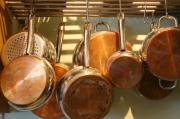 Cabinet refinishing or repainting can be less expensive options for kitchen remodeling, but they are not as easy as painting a room, so be sure to understand the application process. A simpler updating solution is replacing the cabinet door and drawer pulls with some of the new funky artsy designs. The hottest cabinet and drawer handles include copper-finished tree forms or Verde geckos adorning both traditional and modern cabinet styles.
Replace the Kitchen Coutertop. Kitchen countertops create bold decorating statements and become the feature point of the room. From basic to luxurious, changing just the top is a fairly simple kitchen remodeling idea that can be completed in a short time frame with little impact on family life. Dupont Surfaces, maker of CORIAN, featured a new counter top material made of quartz with a reflective, luminescent quality. Called ZODIAC, the new material allows architects, designers and builders to create distinctive and luxurious looks with a material that also delivers outstanding performance.
Kitchen Appliance Overhaul. When a kitchen looks outdated, it's often because of older appliances, and not just the infamous avocado green. Just like cars, appliances reflect the style of the day and changing or repainting them can make a kitchen appear 20 years younger, especially if you repaint the walls to match the new colors. GE Appliances' Virtual Kitchen is a 3D kitchen design tool that allows you to design a kitchen from scratch, explore a pre-designed kitchen in either Contemporary, Country, Professional or Traditional designs, or use the "SmartFit" tool to populate your kitchen floor plan with a ready-made design.
Kitchen Faucet Fixups. New faucets can also make a nice feature in an otherwise dreary looking space. Faucets replacements are also fairly simple plumbing projects with all the parts available at your local hardware store. For ideas on what's available, both Moen and Delta Faucets have vivid design and visualizer tools to help you mix and match fixture styles, finishes and prices until you find one that meets your tastes and budget.
Cool Kitchen Floors. New flooring alone can really change the look of a kitchen and can be installed with little impact on family life. Armstrong's flooring visualizer can help you feel comfortable with a bold design choice or satisfied with a traditional style floor to help complete your kitchen remodeling idea.