When it comes to kitchen remodeling projects, new appliances may be pricey and flooring costs may floor you, but kitchen cabinets can be the single biggest expense of all. That's why it literally pays to take a close look at what you've already got and consider the options carefully.
Depending on the configuration and construction of your cabinets, you can replace, reface or refinish them on the way to your kitchen redo. Following is a rundown of each approach to strengthening the bones of your kitchen.
Kitchen Cabinet Replacement
If your kitchen remodel involves a new footprint and additional storage needs, partial or complete replacement of kitchen cabinets is the way to go. Just remember that this approach involves major demolition and consideration of such critical elements as plumbing and appliance placement.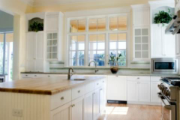 There are three levels of cabinet customization:
Stock cabinets: The least expensive, stock cabinetry is produced en masse and available through your local home improvement center and cabinet dealers. What you see is what you get, with few chances for modifications or specialized specs. Manufacturers offer such wide variety, however, that stock cabinets can be a perfect solution that saves considerably on costs.
Semi-custom cabinets: The middle ground between stock and custom, this variety allows for slight modifications (usually height, width, and depth) at the time of production. There is a wider array of associated moldings, trims and finishes available, and of course, the price goes up accordingly.
Custom cabinets: Created especially for you and your kitchen, with pricing determined by complexity of design and materials used. Aficionados of fine wood craftsmanship find it hard to consider any other option.
Kitchen Cabinet Refacing
Kitchen cabinet refacing involves replacing the doors and veneers on existing laminate or wood boxes. It's not a job for the novice, but also understand that if you hire a pro to do the job, your satisfaction with the results will be directly proportional to their skill and level of craftsmanship. Quality of existing cabinetry and the new materials applied also impact the end product.
Q & A: Does Kitchen Cabinet Refacing Make Sense
Read Transcript

LESLIE: Diane in North Carolina is looking to redo the kitchen. How can we help you?

DIANE: I would like to give my kitchen cabinets a facelift, if you might say that. I have cabinets that are older. I mean they're in good shape. It's some nice wood, not the upper – not really fancy, high-grade wood, I don't guess, because these cabinets – I've had these cabinets probably 30 years. But they're not dented or defaced or anything like that. But I just – and they're dark wood.

So I was thinking – I didn't know which would be the most cost-wise to – for today's prices, with new cabinets versus having them refaced and how well those refaced cabinets would hold up as opposed to tearing out and just replacing the cabinets.

TOM: I kind of think, Leslie, that there's so many options in new cabinets today that I wouldn't really be comfortable recommending refacing, because it's a lot of work. And secondly, I don't know about the durability of it. And you end up having to replace the door and the drawer fronts anyway. And I think the expense is not going to be hugely different than just replacing the cabinets. Plus, if you want to make any changes, you can't really do that because you've got to kind of stick with what you've got, so …

LESLIE: You really have to stick with what you have because you're just going over what's already there.

Now, with new cabinetry, you're finding so many places that are manufacturing larger quantities of cabinetry – custom cabinetry – so you're finding them at a lower price point. The finishes are already on it. They can be very, very durable and beautifully made. So you might want to think about that, as well. There's so many options.

DIANE: I don't know how that's going to work. I already have granite countertop, so how would that work if you put in new cabinets and you have the granite already.

TOM: Well, you could remove those granite countertops. The same way they went in, they can come out. And if it's done carefully, you can preserve them and put them back in. But again, in that same circumstance, you can't change the layout. You're pretty much stuck because the sink has got to end up where it is and that sort of stuff. You can change the layout as long as it adds up being the same overall length. If you had wanted to go with a wider drawer base or thinner cabinet or whatever, as long as it ends up being about the same length, you can go with it.

LESLIE: If you end up doing new cabinetry, you can keep that same configuration. However, you can change what's going on inside of the cabinets, sort of the purpose of what those cabinets are or how they're used. The other thing is if you end up with or perhaps your kitchen already has the space to do an island – which could even be as simple as a couple of new cabinets, a piece of furniture. You can then go ahead and pick either the same granite or a complimentary granite in a different color palette to just create this sort of focal piece or the centerpiece for the kitchen itself.

DIANE: Right. OK. Well, that sounds good. I really appreciate your advice and I enjoy listening to you on WPTF in Raleigh.
Kitchen Cabinet Refinishing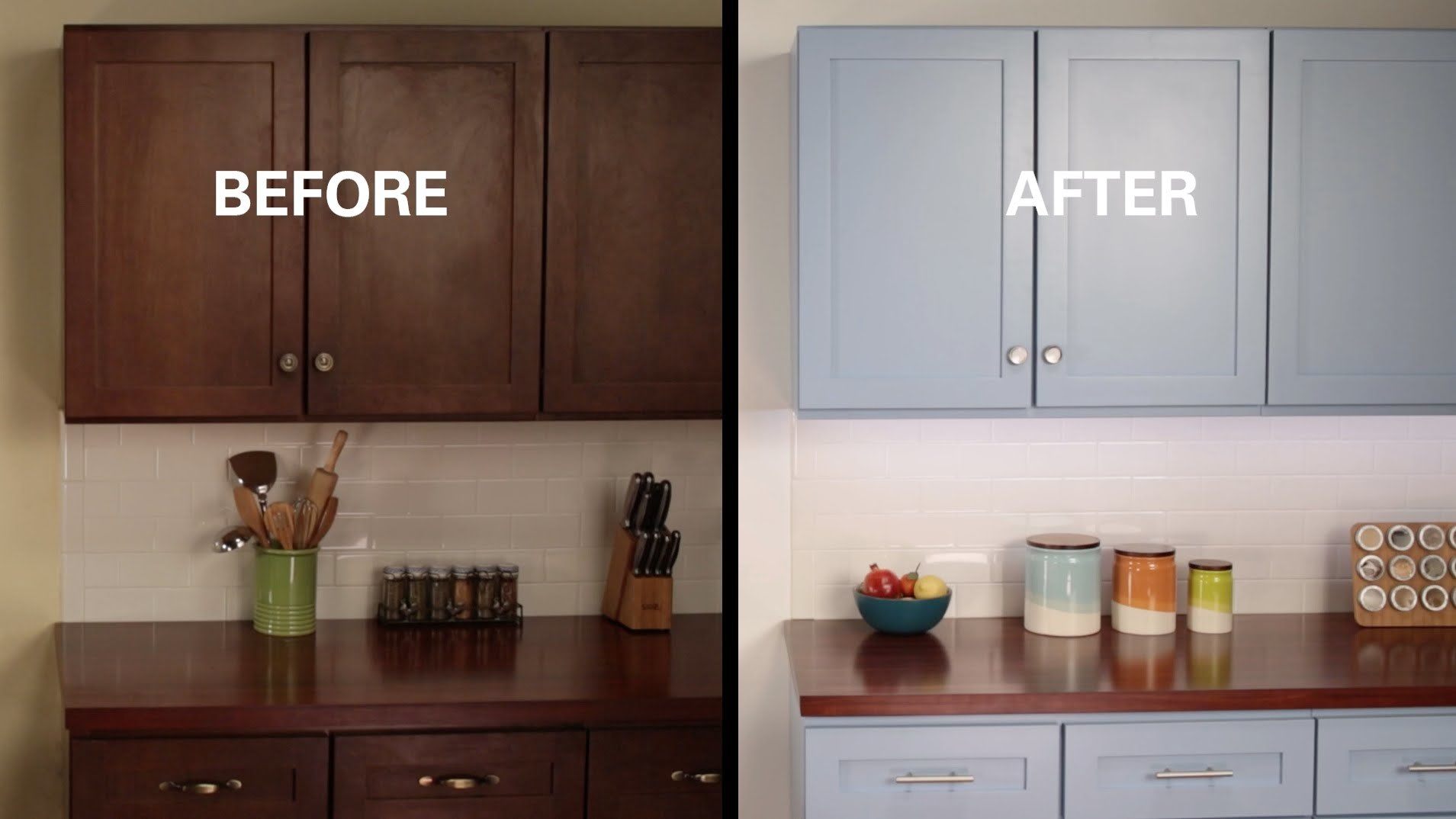 If you like the style and configuration of the kitchen cabinets you have, and they happen to be made of wood or laminate, refinishing them is the clearest route to remodeling cost control. Most older cabinetry is well built, so preserving it is usually worthwhile just be sure to examine the construction carefully before pulling out the sander, because if paper-thin veneers cover every surface but the solid fronts, you'll need to rethink your refinishing plans. Veneers can't be sanded or stained, so painting will be the only option if they're involved. Whether painting or staining, choose an oil-based finish, which is far more durable and forgiving of everyday kitchen grime than latex finish.
Checked your kitchen cabinets and they're clear for approach? Great! Here are the steps to a fabulous new finish:
Working in a well-ventilated area, begin with a thorough cleaning, removing all dirt and grime from cabinets; allow surfaces to dry.
Apply a paint/finish remover, and scrape away finish with a putty knife, followed by a wire brush. Continue this cycle until a clean wood surface is revealed.
Sand cabinets with fine-grit sandpaper, and remove resulting dust and debris with a tack cloth. You may also consider using a liquid sanding agent, which can be very effective in application to fine woodworking details and other hard-to-sand areas (it also helps with the grime-removal step of refinishing).
Apply the new finish according to the manufacturer's instructions (preceded by the appropriate primer if you're painting the cabinets), allowing surfaces to dry thoroughly between coats.
When finish applications are complete, apply a protective top coat to protect cabinets from moisture, grease, and surface oil.
Q & A: Ideas for Updating Kitchen Cabinets
Read Transcript

LESLIE: Welcome, Stacy of New Hampshire to The Money Pit with some questions about refinishing kitchen cabinets. What's going on? What do you want to do to them?

STACY: Well, I'm looking to possibly update my kitchen.

LESLIE: OK.

STACY: And I didn't know what a better choice would be; to reface them or replace them. They're very old; kind of the old-fashioned look and I was looking to get a little more modern.

LESLIE: Alright. Well, do you know what they're constructed of currently?

STACY: I don't – well, they're solid. I believe they're solid wood as far as the inside part, but I think the top, the actual cabinet front part, is …

LESLIE: Like the doors.

STACY: Yeah, it's more like a pressed type ….

TOM: Typically, it would be the other way around. Typically, the doors would be the solid wood and the fronts would be solid wood but the cabinets may be plywood or some sort of a composition wood. But if it's all wood, you know, you have some options. You could refinish them as they sit now, basically by replacing the worn finish that's on them. But if you want to dramatically change the color, painting is not a bad idea. We just took a kitchen that we worked on, this project where we did a kitchen makeover, and it had cabinets. Those cabinets must have been there – what? – from the 1950s? The old birch plywood boxes of that …

LESLIE: Oh, they had to be. And they were probably like home-made. (chuckling)

TOM: Well, yeah, by a carpenter that was hired to come to the house and build them. I mean that's how old they were.

STACY: OK.

TOM: But we painted them and changed the hardware and they really looked great.

STACY: Well, that was another option. We were thinking of painting them. Now what is your suggestion as far as if you're doing like a darker cabinet? I mean a darker countertop. Obviously, you'd want to do a lighter cabinet, is that correct?

LESLIE: Stacy, if your cabinets, the boxes themselves, are in pretty good shape but it's the doors that stylistically are not what you're liking or sort of are too retro for you …

STACY: Right.

LESLIE: What you can do is refinish the body of the cabinets themselves; strip down the stain; get to a raw wood surface if you want to put a new stain on it. Otherwise, I would use a liquid sanding just to sort of scuff it up a little bit.

STACY: OK.

LESLIE: Get rid of any dirt and debris that's on there, prime them and paint them. And then what you can do is buy new doors from, you know, IKEA or a home center that sort of matches the look that you're going for. And you can do full overlay or split the box and make it so that it's two cabinet doors to one space or even go with the library style doors that open upward. I mean there are a lot of choices if you want to keep what you've got and just sort of enhance it.

STACY: Mm-hmm. Now, price-wise, is that more expensive or – you know, which is the better – I guess it kind of depends what you're picking. But I'm looking to spend the least, I guess. So I didn't know whether I should just replace them or …

LESLIE: Well, replacing them is going to be, by far, the most expensive.

STACY: OK.

LESLIE: Refinishing them on your own is going to be the least expensive. And sort of doing a combination of the two, in between, will be a good middle of the road. Of course it depends on the type of door that you choose.

STACY: Right.

LESLIE: You know, Tom and I have both worked with IKEA cabinets and they offer a clean, very modern look that comes in interesting finishes. You could even sort of mix and match and do a painted cabinet box with a stained wood door. I mean there's a lot of options and, you know, how were the prices, Tom, on the cabinets themselves?

TOM: Not so bad. Let's see. I spent about $600 on four cabinets and some pretty cool options for those cabinets. So it wasn't terribly expensive. You know also, the big box stores – you know, Home Depot; Lowe's; places like that – they have a pretty good supply of a decent quality, sort of generic kitchen cabinet. But by far the most cost-effective way to change that look of the kitchen is to do a refinish on those cabinets; change the hardware.

On our website, Stacy, at MoneyPit.com, there is an article. If you go to one of the search boxes and search for Cheap Tricks for Cool Kitchens, there is a story there with all sorts of tips on how you can improve the look of your kitchen without spending a whole lot of money. So hopefully that gives you a few ideas.

STACY: Yes, it does. I'll check out the website.
Finally, before completing your kitchen cabinet refacing or refinishing makeover, don't forget to update all those knobs and pulls. New hardware is the bling that brings personality and freshness to a kitchen!