Appliance service contracts, also known as extended warranties, are popular add-ons for major appliance purchases such as refrigerators, dishwashers and clothes dryers. Much like product warranties, appliance service contracts provide repair and maintenance coverage for a certain length of time
But are appliance service contracts worth the extra investment? It depends on the appliance itself and the coverage offered. While salespeople are motivated by generous commissions to sell appliance service contracts, the Federal Trade Commission (FTC) says millions of consumers pay for protection they don't need.
Both the FTC and the Association of Home Appliance Manufacturers (AHAM) urge you to do your homework before you buy an appliance service contract or extended warranty.
5 Extended warranty warnings to watch out for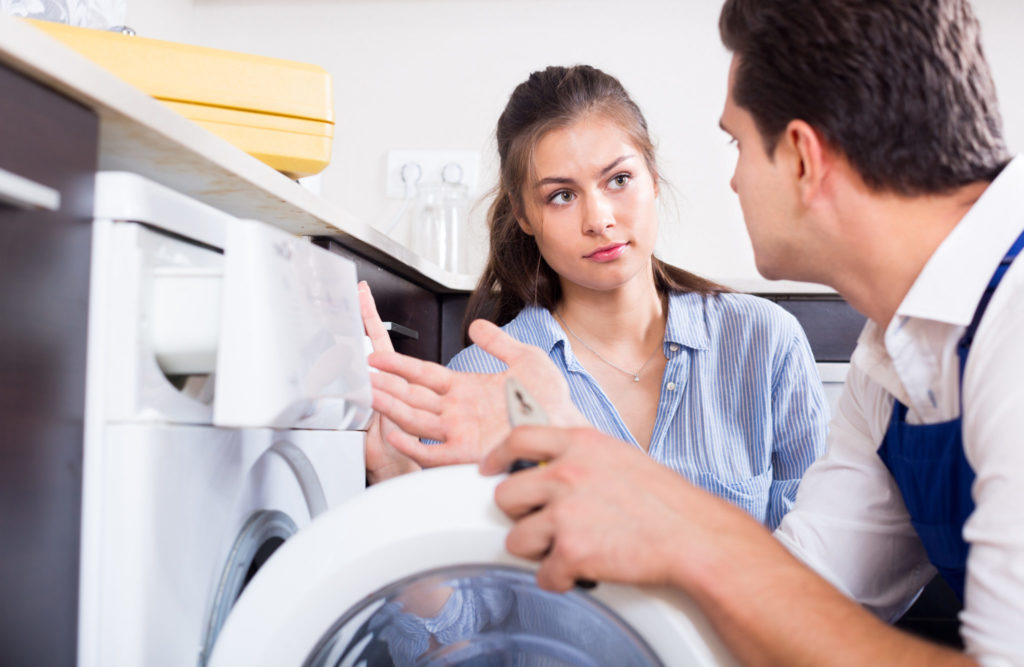 Compare coverage. Don't consider an appliance service contract until you know what the warranty covers. Read both carefully to see if the contract gives you enough additional coverage to be worth the extra expense. Check the exclusions on the appliance service contract, or the things not covered. Are you reimbursed for related damage, like clothing torn in a dryer, or food lost in freezer failure? Also find out what happens if a necessary repair part no longer is available.
Know the appliance. An appliance service contract may be a waste of money if the product you're purchasing is unlikely to need servicing or if potential repairs are not expensive. Check appliance maintenance and repair records put out by Consumer Reports.
Check extra costs. Make sure you know all other costs involved in buying the appliance service contract. Like insurance policies, service contracts often have deductibles, and there may also be a fee each time the appliance is serviced or a cancellation fee if you wish to end the contract. You may even have to get second opinions or price estimates before a repair is made.
Find repair locations. With the appliance service contract, will a service technician come to your home or do you have to take your appliance somewhere else? Is it local service? And what happens if you move and take the appliance with you?
Research reputation. The FTC says there is little recourse for the many consumers holding appliance service contracts with companies that go out of business. Before you buy a contract, find out which company will provide coverage and check that company's reputation by asking your state Better Business Bureau, consumer protection office or insurance commission about complaints against the company.
Is an extended warranty ever worth it?
Product service contracts or an extended warranty might make sense to have if the products are expensive to repair, like electronics. It also might be smart if you have a very low tolerance for unexpected repair expenses. For most new household appliances however, service contracts are not the best investment. The repair incidence is low and the cost of repair not likely to break the bank.
Keep in mind that some credit card companies, have programs that will double a manufacturer's warranty simply for using this company's credit card to purchase a product. This is like getting a free extended warranty simply for making the purchase through your credit card. In this case, it is unnecessary to take out a product service contract.
If in doubt, wait it out
If you do all the above and you're still not sure if an extended warranty or appliance service contract is worth the money, then the best thing might be to wait. Find out if you can buy an appliance service contract after you've owned the product for a while. In fact, the FTC suggests waiting until the product warranty expires.
One easy way to avoid problems with service contracts is to "self-insure" for repairs. If you can't afford to be surprised by an unexpected repair bill, then plan for it in advance by setting money aside for unexpected expenses. Start a "home repair" savings account and sock away $100 a month for home repair needs, including appliance breakdown.
The bottom line is this. When buying a service contract, be sure to study the terms carefully. Otherwise, the only one to be served by a service contract – is the sales person who sold it to you.