You're planning a kitchen remodel, and you'd like to get right to the bottom line: What will it cost?
Kitchen remodels can cost anywhere from a few hundred dollars for a cosmetic facelift to well over $100,000 for a subfloor-to-rafters redo.
The "average" kitchen remodel is usually around $8,000 to $10,000 and typically includes changing the countertops and décor elements, such as flooring and lighting.
More comprehensive remodels with new appliances and cabinetry start at $20,000, an estimate that will need to be increased if you plan to move walls or utilities.
If your dreams are bigger than your pocketbook, there are several places where you might be able to save money.
Good bones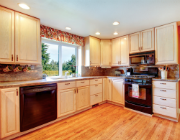 You've always known it's great to have good bones, and that's true with kitchens, as well. New cabinets and appliances form a major part of the expense, and these are areas where your inventory will really help you plan your budget. If your stove can still handle every Thanksgiving, then give thanks and keep it for another year. Same for cabinets and built-in components like moldings and woodwork. Basically, if your kitchen has "good bones," you may not need the big budget you thought you did. Or you can get more for your money than you'd originally planned.
Plan for the unexpected
Budgets get sucked down the drain in a hurry when you start fantasizing about moving that sink over there. It means going behind the walls. Don't go there if the budget is tight.
A kitchen is one of the projects where we really, really mean it when we say that you should devote 20% of your budget to contingencies. As a result of the complexity of the project, this particular remodeling adventure has more unexpected and expensive hazards than average, not to mention the increased cost of eating out for weeks on end while your project is underway.
Mental toughness
Accept that kitchen remodels are stressful. Going into it with that mindset is half the battle. It's fairly typical to encounter unanticipated problems behind the wall, delivery delays, and weather delays. It's also possible that you'll experience the heartbreak of mis-measurement — particularly unfortunate in the case of non-returnable products.
Like air travel, a minor delay in one part of the project can have massive ripple effects. The tradespeople — plumbers, electricians, and carpenters — all work in sequence, requiring coordination or their schedules. All it takes is one guy or product delivery getting stuck when the highway shuts down for five hours, and all the steps and professionals that follow have to be rescheduled.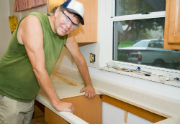 Kitchens remain somewhat useable until the sink and stove get yanked, so before your remodeling pro grabs the first crowbar out of his toolbox, establish a family dining plan that includes a temporary camp kitchen. Outdoor grills, crock pots, microwaves and electric skillets can all help you establish your camp kitchen, but remember not to overload electric circuits. Dominoes on speed-dial is always an option.
Plan temporary housing for your kitchen items, planning to keep most-used items handy Since wildly swinging hammers and saws don't mix well with breakables, get those tucked safely away along with any valuables before the construction crews arrive.
As with any home improvement project, proper planning is key to a successful kitchen remodel. In terms of budget, that means knowing where to spend and where to save, as well as leaving enough money for contingencies. In terms of logistics, it means being prepared with an alternate means of getting the family's meals made. By following our tips, you can keep your sanity and budget intact and emerge on the other side with a beautiful new kitchen.