Refinishing your cabinets? Sure. Updating laminate countertops? Fine. Relocating your sink? Hold up. If you're planning to renovate your kitchen and you have some home improvement skills, you might be wondering how much of it you can tackle by yourself. The answer depends on how big of a project you envision.
For a major kitchen remodel, you will likely have pros involved for at least part of it. A serious kitchen overhaul can involve just about every type of home construction material, and hitting the wall is literally where it almost always makes sense to get help. If you're planning to move plumbing or redo your lighting scheme, it's even more likely you should budget for a pro.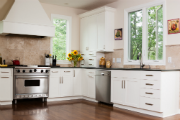 What about design services — are they worth it? We like to say that there is no unusable space in the kitchen, but that doesn't mean everyone has the skills to make the most of it. Kitchen designing is a special expertise that might very well help open up your kitchen to easier chores for kids and less-claustrophobic entertaining.
Plans from an architect or trained kitchen designer can run anywhere from several hundred dollars to more than $1,000, but this can be money very well spent in a complex space like the kitchen. Professionals have more experience and training in devising less-expensive solutions to complex problems. They will also know the newest products and technologies that could best fit your budget and design situation.
The National Kitchen & Bath Association (www.nkba.org) certifies designers with rigorous criteria, including testing and ongoing professional development. Professionals like these have the know-how to suggest solutions before you can even finish describing the problems.
Another reason to budget for a pro: getting this kitchen remodel done and over with. Yes, we know the joke about contractors taking forever to finish a kitchen. But there are no jokes about the crash-and-burn scenario of dual-career, two-child, three-pet households running into those inevitable delays that plague the average complex construction project. That's because it's not funny.
So if you're planning a sweeping redo of your kitchen, or if you're looking for smart solutions that will maximize your space, you'd be wise to consider enlisting expert help. As the heart of the home, it's crucial for the kitchen to be warm, inviting, and above all, functional – so be very honest with yourself about your level of DIY prowess before you pick up that hammer.