There are plenty of major eco-friendly changes you can make to your home, with some almost costing a second mortgage. For example, depending on which state you live in and how much power you need to generate, getting fully set up for solar could cost you more than $19,000. Even with federal tax credits and ongoing energy cost savings, that can be a hefty bill to foot upfront.
Fortunately, there are some lower-cost ways to make your home a little greener. Here are some of our favorite ways to make your home a little friendlier to both Mother Earth and your wallet.
How to make an environmentally sustainable home
1. Switch to green cleaning products
Anyone who's wandered down the cleaning supply aisle at the grocery store knows that the "natural" stuff is a little costlier, usually by at least a dollar or two.
The good news is, research shows many consumers are willing to spend a little extra to ensure they're making green home purchases — and 39% of respondents to one survey said they're specifically focused on eco-friendly cleaning products. Moreover, green home improvement are increasingly being looked at as valuable additions that boost home value.
But it's important to keep in mind that not all "green" products are created equally. Unfortunately, under American labeling laws, there's no regulation of the word "natural" and no guidance as to which ingredients (or lack thereof) make a product "green." That means companies may make all sorts of potentially questionable claims to be "eco-friendly". So it's worth doing your research before paying a tax for an extra few words on the bottle!
2. Use rags instead of paper towels for eco-cleaning
According to data calculated by Statista from Census information and the Simmons National Consumer Survey, more than 320 million Americans use paper towels — and although paper towels are compostable, only select cities offer municipal composting programs. They can't be recycled, which means a whole lot of them end up in the trash.
Along with simply making our world less beautiful, deforestation also contributes to global warming and can even have an effect on the quality of the air we breathe. All of which is to say, using less paper is more eco-conscious, and paper towels are one of the easiest products to jettison.
Better still: rags mean making a one-time investment rather than continually throwing money away on a one-time-use product. You'll still spend a few bucks each month laundering them, but it's both greener AND cheaper: win-win!
3. Trade up your toilet paper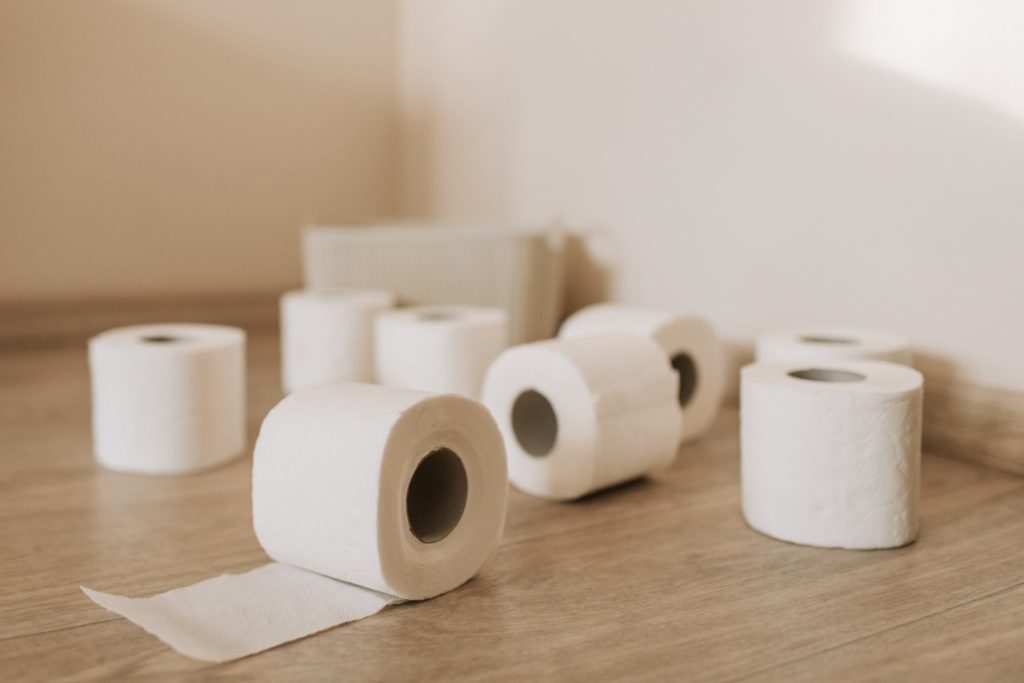 Getting rid of toilet paper, on the other hand, is a harder sell — although easy-to-install bidets are increasing in popularity inside the eco-friendly house, so it's not impossible.
That said, if you're not quite ready to go the European route, you can still make significant changes by opting for a brand of toilet paper that's made from recycled materials, or from faster-growing environmentally sustainable source materials like bamboo. Some direct-to-consumer alternative toilet paper companies also eschew the plastic wrapping you find on most of the grocery store stuff, giving it that much more of an eco-friendly edge.
This is one area where you'll spend a bit more in order to appease your conscience, though. Recycled and bamboo toilet paper products tend to cost significantly more than the traditional stuff; you might spend $34 for a 24-pack versus $24 or so at the grocery store.
4. Buy from the bulk bins
Ingredients like cereals, grains and nuts can be purchased in pre-packed boxes and bags — or, in many grocery stores, poured or scooped out of bulk bins that line the wall or stand sentinel near the produce aisle.
And while buying in bulk can help you save money on the food itself, it has an additional eco-friendly consequence: instead of going through endless cardboard boxes and plastic bags, you can store your goodies in durable, reusable glass or plastic containers. (Bonus points if you get them by saving packaging from other food items you've bought in the past — yogurt containers and peanut butter jars can have many lives!)
5. Pick natural pesticides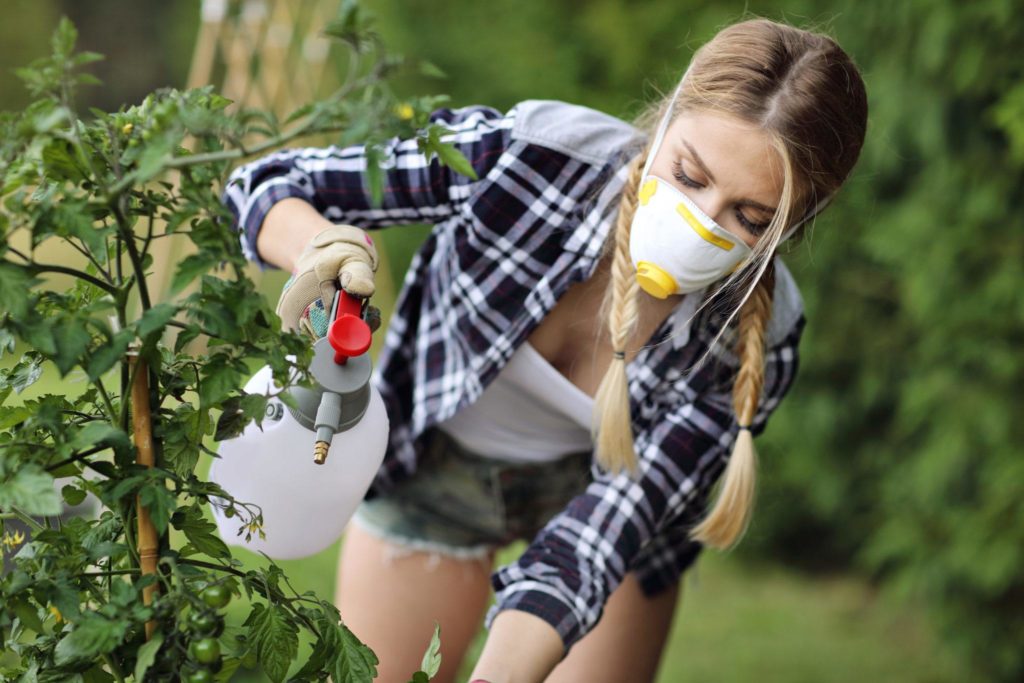 Even the most eco-friendly animal lover in the world probably doesn't want to share their space with household pests like rodents or roaches.
But traditional pesticides can have a long-lasting effect on the environment, both immediately around your house and beyond. According to the Pesticide Action Network of North America, pesticides are part of the reason we're seeing mass die-offs of bees, bats and frogs.
Fortunately, there are natural and non-toxic solutions to the noxious commercial chemicals lining your local market shelves and qualify to make your home green. For example, diatomaceous earth is safe for people, pets, fish and aquatic invertebrates — but it destroys the exoskeletons of cockroaches and other insects, which can effectively make your home a bug-free zone. (You do still want to avoid inhaling the powder, however, which can make you cough, experience shortness of breath, or irritate your eyes and skin.)
If you're a gardener, you can concoct insecticides out of vegetable oil, dish soap and even garlic. There are tons of recipes available online.
This is another situation in which the greener option may also be the one that keeps more green in your pocket. Case in point: a 10-pound bag of diatomaceous earth costs about twice what you'd pay for a pack of roach baits at about $20, but it's way more affordable than hiring a professional exterminator.
6. Use environmentally conscious landscaping to your advantage
Okay, this one's a slightly bigger project — but if you're planning on revamping your lawn or garden anyway, you might be able to use landscaping to your advantage to help you save both costs and carbon emissions.
For example, say you live in a hot climate with a wall full of south- or east-facing windows. Come summer, the temperatures inside your home are apt to climb… as is your energy bill when you start dialing up the air conditioning.
But some well-placed trees can deliver cooling shade that might mean you need less help from your HVAC system. Voila: lower bill and less energy expenditure. In fact, according to the U.S. Department of Energy, well-placed trees can reduce household energy use by up to 25%.
Of course, landscaping does come at a cost — especially major landscaping like planting trees. But let's say you want to spend $10,000 on an all-inclusive, professional design. If you calculate the cost of refinancing your mortgage to see if you can put the savings toward the project, and remember, the expense will also be buffered by what you're saving on your monthly electricity bill.
7. Light up with LEDs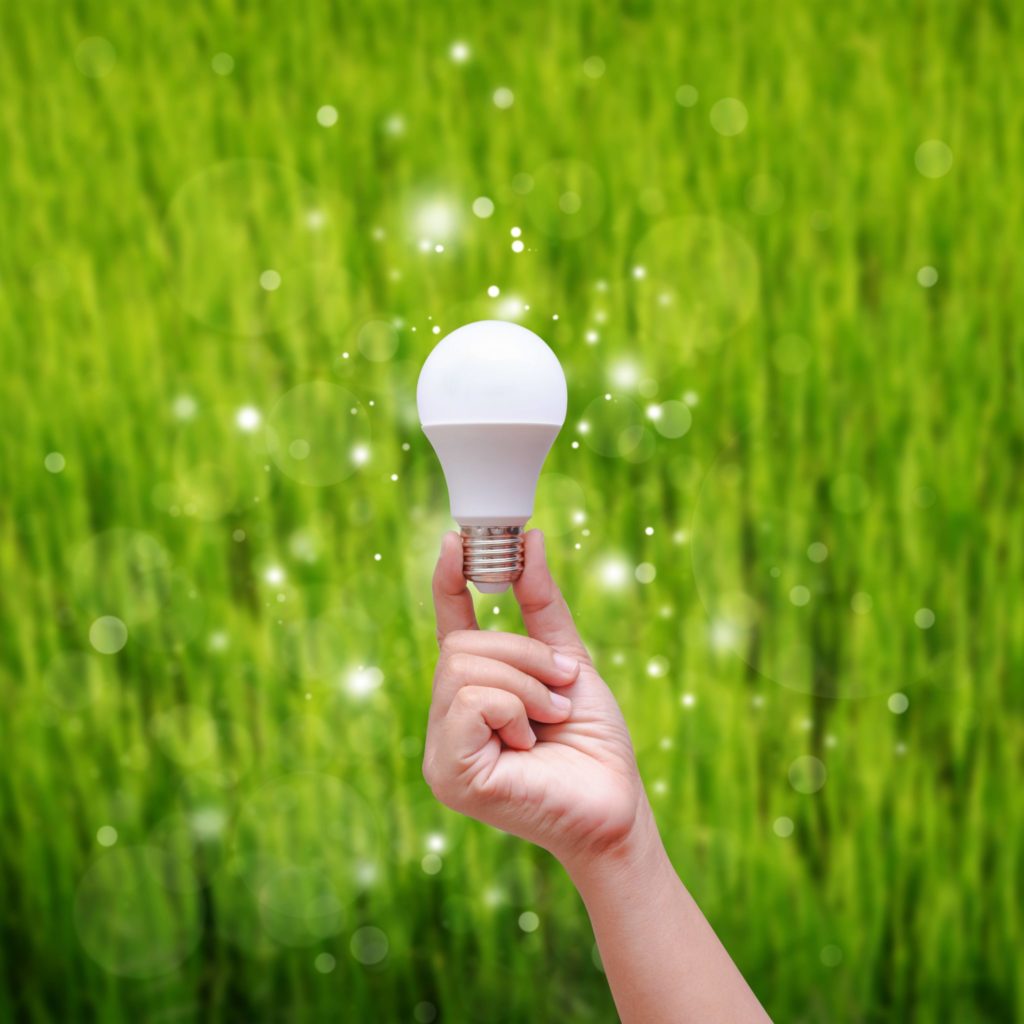 A classic case of spending a little more to buy a greener product? Lightbulbs — which often say right there on the box the life expectancy and energy usage alongside the price point. LED lightbulbs are significantly more energy efficient than incandescents, using up to 75% less energy and lasting 25 times longer. For the best eco-friendly lighting, look for ENERGY STAR-rated products, and yes, get ready to shell out a few more dollars per light bulb.