Home remodeling activity has been picking up steam for a while now, and according to a recent report from the remodeling futures program at Harvard University's Joint Center for Housing Studies, this may be the biggest year for projects since 2006. But you won't be seeing any extreme makeovers around the neighborhood—instead, homeowners are investing in simple, affordable improvements that will make their homes more livable for longer. Even homeowners with not-so-tight budgets are sticking with low-key, homey comforts that make the most of where they are now. Here are just a few of the remodeling trends you may see around town, or consider for your own abode!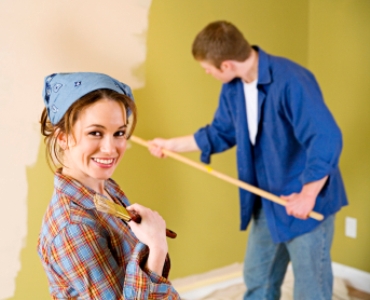 Kitchens for living: It's no secret that families tend to gather in the kitchen. More homeowners are renovating with this in mind, creating comfy built-in and counterside seating areas, tech-ready workstations, and walk-in pantries that free up space for food preparation.
Smaller master baths: Instead of statement-making amenities, spending tends to be on timeless, quality fixtures and more extensive vanities.
Energy upgrades: Improvements that trim energy costs and quickly pay for themselves continue to be on homeowners' priority lists. These include energy-efficient windows and doors, insulation, and HVAC equipment.
Bringing the outdoors in: Long a trend in the western states, connections to the outdoors are also gaining in popularity. Larger windows do the trick, and linking to the outdoors via an expansive deck or patio is another way to go.
Open floor plans: The outdoors-in idea can also flow into to a more expansive indoor living area. The great room unifying kitchen, dining and lounging areas is definitely back.
Mud rooms: Inspired by the continuing obsession with organization, the convenient, orderly "drop zone" for family gear is finding its way into many homes. Plus, it's an easy improvement to make no matter the scale of your available space.
Universal design: Accessorizing for the long haul keeps a home accessible as you age and welcomes guests of all abilities. Adding grab bars in the bathroom, converting to lever door handles, and installing rocker light switches are just a few favorite universal design ideas.