For many years, the kitchen has reigned supreme as the choice gathering spot for family activities and for entertaining. Airy, open bright kitchens can transform the mood of the room and its occupants.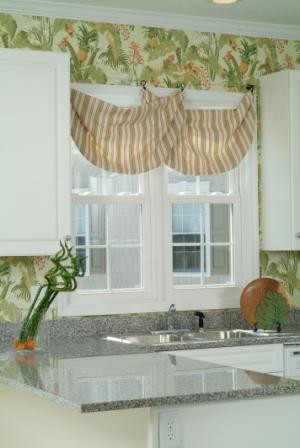 According to the experts at Simonton Windows®, there are several things homeowners can do to transform their kitchens into bright, welcoming spaces, energized with natural light, and they offer the following brighter kitchen ideas:
Adopt the popular trend of having naked windows in the kitchen. By using only minimal window coverings, such as valances at the top, the windows allow in more light and can act as a transition to the outdoors.
When remodeling the kitchen, add a bay or bow window to maximize the flow of sunlight into the room and give the brighter kitchen an expansive feeling. Constructed of three or more windows mulled together at 30- or 45-degree angles, bay windows can be made to incorporate a window seat that provides a comfortable spot for homeowners to grab a cup of coffee and curl up with a magazine. A bow window, which is created by mulling together a multitude of windows in a gentle arch, creates a gentle circular effect in a room and can offer the perfect backdrop for a kitchen table.
Smaller than a bay or bow window, a garden window generally sits higher up on a wall. Many homeowners position a garden window directly over a sink and grow herbs, potted plants or starter seedlings on the window shelves throughout the year. Simonton offers a garden window with dual operational casement sidelites to allow in air and sunlight, making for a brighter kitchen.
Order several windows mulled together at the factory to give the impression of a small wall of windows and to maximize light flow into the kitchen. You can request operating windows, such as double hung or casements be topped with non-operable transom windows to enhance the flow of light into the kitchen.
Painting your window trim a bright white will make for a brighter kitchen. Take this whitewash a step further and paint your kitchen cabinets white also, so that the entire room is bright and cheery, allowing light to play throughout the room. Selecting low maintenance white vinyl frames for your windows will also help lighten up the kitchen, and help make a brighter kitchen.
Now, thanks to advancements in glass technology, it's very appealing to maximize the use of windows in kitchens as a design enhancement, says Bill Lazor, senior product manager for Simonton Windows. ENERGY STAR® compliant windows that feature Argon gas fillings and Low E glass are designed to block harmful, invisible ultraviolet rays from entering the home while letting the visible light stream in, and in the process, making a brighter kitchen.
For those homeowners eager to keep their bright kitchen windows sparkling clean, Lazor recommends requesting SunClean™ self-cleaning glass. This glass features a transparent coating of Titanium Dioxide, a harmless substance, bonded to the outer surface of the glass during the manufacturing process, says Lazor. The coating uses two natural resources; the sun's ultraviolet rays and rainwater, to slowly break down and decompose organic dirt and then rinse it away. You never lift a finger, but the window exteriors get cleaned ever time it rains!