TOM: Welcome to this edition of the Money Pit's Top Products Podcast, your opportunity to learn about some of the newest products that are out there and available for homeowners across the country, products that solve problems, products that are solutions for challenges that you might face around your home; for example, strong summer sun. That can definitely make your air-conditioning work overtime. It can fade your walls and your floors and your fabrics and your furnishings.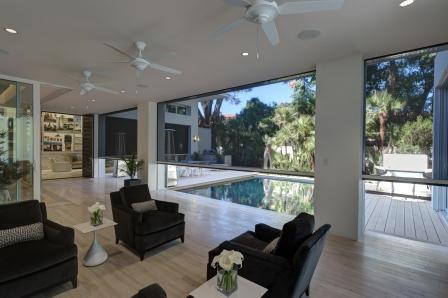 But what if you can keep the sun and the heat and the bugs out without blocking the view? Well, you can, with retractable screens that are mounted outside your home. Here to tell us more is Jeret Unger from Phantom Screens. Hi, Jeret. Welcome to the program.
JERET UNGER: Thanks, Tom.
TOM: So let's start by talking about what a retractable screen is. You know, most folks, when they think of screens for their homes, will think of either window screens or door screens, screen doors or patio door screens. But retractable screens take this to really a whole new level, don't they? [0:01:11]
JERET UNGER: That's right, yeah. What a retractable screen does, basically, is it will deliver your protection from insects. It will also provide solar shading, like a lot of those traditional products are available out there. But the difference is that they retract out of sight when you don't need them. So when they aren't required, they'll retract into a discreet housing, and that of course gives the homeowner their complete, fully-open view to the outdoors. And it also preserves, of course, the look of the windows and the doorways and overall decor of the home. So you don't have any permanent fixed obstructions that you would have with, say, your traditional window, fixed screen, for example.
TOM: Would you use this in lieu of, for example, the screen on a patio door? What would be the typical sort of entryway that the screen might mount over?
JERET UNGER: Well, retractable screens actually cover a wide variety of openings. So you've got your doors, of course, your standard doors, whether they're in-swing or out-swing. We can cover double French doors with Phantom screens as well. And of course, you also have your patio sliding doors. When it comes to windows, we've got retractable screen solutions for almost any window type, from double-hung to single-hung and casement. [0:02:18]
And then where retractable screens really come into play in a beautiful and unique way is with your larger openings. So for example, if you have a covered patio that might be a little bit uncomfortable during, say, the hot times of the day, or perhaps you have some challenges with bugs in the evening time when dusk hits, you can actually use a motorized screen. And basically when you hit that, at the touch of a button, you enclose your outdoor patio, for example. And they work very well, of course, with your larger openings, like folding glass walls and some of those oversized type applications that we see more and more in today's renovation and new construction type projects.
TOM: And outdoor living has never been more important as people have found that they're staying in their homes longer and longer. They're discovering new ways to use the space that surrounds them, and that includes the outdoor space. So I guess this is a terrific way to really extend that living space to a greater degree than you once would have before because of the inconvenience of being faced with mosquitoes and such, correct? [0:03:16]
JERET UNGER: That's right, yeah. We see a real trend right now with I guess we call it stay-cation, where people are opting to enjoy their summer at home more often than not. And of course, that means that they want to optimize the best use of their backyard, and the creation of outdoor spaces really helps them do that. So we're seeing outdoor kitchens, we're seeing them utilize more gazebos and pergolas, for example. And of course, the challenge with those outdoor spaces is that they are exposed to direct sunlight during those hot times of the day, as well as insects during certain times of the day as well. So by utilizing a retractable screen that can enclose those spaces when they need to have that protection, they can extend the time that they're spending outdoors in comfort and obviously make the best of their investment. If you're putting dollars into, you know, creating an outdoor space, you want to use that as much as possible, so a retractable screen just makes that much more practical. [0:04:05]
TOM: We're speaking with Jeret Unger, he's the Digital Marketing Manager with Phantom Screens, a screen system that allows you to retract screens when you don't need to use them, keep them hidden from view, and then pull them out essentially on demand I think is the best way to put it. Now, are these automatic, in terms of being electric, or are they all manual?
JERET UNGER: Well, yes, you have both options.
TOM: Okay.
JERET UNGER: So it typically depends on the application. For your standard doors and windows, typically they would be a manual screen.
TOM: Okay.
JERET UNGER: Just because those are high traffic areas. So you want to be able to retract those screens out of the way quickly when you're exiting the building or if you want to obviously open up your windows and just bring the screen down to keep the bugs out. When we are looking at some of the larger openings, like a covered outdoor space or a large opening as I mentioned earlier, like a folding glass wall system, that's where motorized screens can really be a big help. [0:05:00]
And where motorized screens are really at their best is when you're looking to I guess have some home automation. If you've got a home automation system, the motorized screens can be integrated into that. Or also if you're looking for more energy efficiency; we provide solar sensors, which will actually measure the intensity of the sunlight and automatically bring those motorized screens down into place at those hotter times of day, to help you save some energy cost.
And we also offer wind sensors. So if you're in an area where every now and again you may have the risk of a hurricane, the wind sensor ensures that all the screens, the motorized screens, retract right out of the way, into the safety of their discreet housings so if a major storm comes through you're not going to have any issue of damage.
TOM: Very cool. Now, I understand that you guys offer over 30 different types of mesh. Now, I think when most people purchase a screen door or see a window screen, they think there's only really one kind of screening. I was surprised to see that you have 30 different types of mesh. What are some of the options, and why might consumers choose one over another? [0:06:02]
JERET UNGER: There are three categories, really. So you've got your insect mesh, you have your solar mesh, and then what we call your premium solar, which is the thicker density type mesh. And you're obviously going to use your insect mesh to keep those bugs out of your outdoor living spaces and your indoor living spaces as well. And there are different densities, so if you're in an area where you've got mosquitoes, you'd probably use our standard insect mesh. If you happen to live in a climate where you've got some of real tiny bugs, like no-see-ums, for example, then you go with a bit of a denser mesh weave.
Then when it comes to solar, your standard solar mesh is probably going to give you a UV blockage of about 60 percent, so that's going to provide you with some shade and still allow some air circulation through your openings as well. And when you're in a real hot climate or you're in an area where you've just got a real hot summer season, then we go to a denser mesh type, which we call our premium solar, which could provide you with a 80 percent, 90 percent blockage, so you're really reducing the amount of solar heat gain that comes through that mesh type. [0:07:02]
There's, of course, also a host of different colors. Some people like to use a mesh that's going to match with the décor of their home. Typically what we would recommend would be a darker mesh type. So even though you've got a lot of different color options that may look very attractive, the darker mesh types are actually going to give you the best visibility during the day time. So even if you've got a 80 percent – you know, density of block, so you're blocking a lot of that solar heat – if it is a darker mesh type, you'll still be able to see through that and see the view beyond that mesh type.
TOM: Yeah, I think that's interesting, because a lot of folks don't recognize that the darker colors are really more transparent. We see that with fencing, for example. A lot of folks have pool fencing, and if you use a white pool fencing, all you see is the fence. If you use a black pool fencing, all you see is the beautiful landscaping that you're surrounded it with. So the darker colors are certainly more transparent and allow you to really enjoy the beauty that's beyond.
We're talking to Jeret Unger. He is the Digital Marketing Director for Phantom Screens. Jeret, before we let you go, can you tell us about purchase and installation? Can a Phantom Screen be a do-it-yourself product, or is it a product that you would buy from an authorized dealer and have it professionally installed? [0:08:09]
JERET UNGER: We actually offer both categories. Most people will go for the professionally installed retractable screen option. We've got the largest authorized distributor network throughout North America, so these are authorized installers that have been professionally trained at our factory, at our facility, and they provide excellent service. So they'll actually do all the measure-up for the homeowner. They'll take care of the professional installation. If you need to look at service down the road, maybe you want to change out your mesh type, for example, they'll take care of that as well.
And then we do also have do-it-yourself options when it comes to your door. There are do-it-yourself retractable door screens which you can purchase at some of the – from the national retailers like Lowe's and Home Depot in Canada.
TOM: Terrific. Jeret Unger, from Phantom Screens, thanks so much for being a part of the Money Pit's Top Products Podcast.
If you'd like to learn more about Phantom Screens, you can visit their web site at phantomscreens.com. You can also pick up the phone and call them at 1-888-PHANTOM; that's spelled P-H-A-N-T-O-M, phantomscreens.com. Thanks, Jeret.
JERET UNGER: Thank you, Tom.
(Music)
END TRANSCRIPT