LESLIE: Well, it's never been more important to make your home accessible. Rather than moving from place to place for each stage of senior life, Americans are staying in their homes longer instead of retiring to places like Arizona or Florida for those so-called "golden years."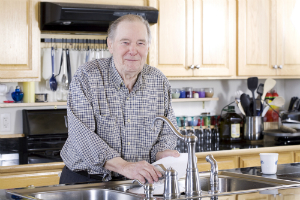 TOM: And accessibility isn't just important for older Americans. Whether your family is young or old, making life easier at home always makes sense. Here with some simple ways that you can make your home easier and safer to live in is Kevin O'Connor, the host of This Old House.
Hi, Kevin.
KEVIN: Hi, guys. Great to be back.
TOM: So this idea of "aging in place," is really gaining popularity.
KEVIN: Oh, boy, it really is. Get a load of this fact: the AARP did a survey and they found out that 8 out of 10 people aged 45 plan to stay in their homes as long as possible. I mean that says it right there, right? We want to stay in our houses; we don't want to have to go somewhere else. And to do that, you're going to have to – well, you might to make some changes and you're going to have to use some forethought.
So, there are – well, there's a long list of things that you can do. And I think of them in three different categories: the small changes, the medium changes and the big changes. The small changes, we're all familiar with: things like rocker switches for lights. You can use a side of your palm or the back of your hand if you had to, to turn the lights on or off. Lever handles for doors instead of knobs. If you're arthritic, you don't actually have to get your fingers and your knuckles around those things again. You can paddle them down, up or down, which is great.
TOM: Or even if you come home with your hands full of children or groceries.
LESLIE: Mm-hmm. Or both.
TOM: Right. Or both.
KEVIN: Who hasn't done that? Right. Who hasn't opened the door with their elbow? Because my son won't open the door for me. But we'll talk about that later.
Another thing to think about is task lighting. More is better. Our eyesight is going to fade, light is going to help us yet and use the house in a better way. And so that's important. There are things called C- or D-shape handles. You can put those on drawers and cabinets instead of little knobs. Basically, a bigger surface, easier surface to grab so that you can open those things.
Think about this: in the shower, you should have a handheld showerhead so that you can actually operate that shower while you're sitting on the bench. And before you need it, it's a good thing to wash the kids and the pets with.
LESLIE: Well, it was the only way I could get Henry to take a shower by himself – was to get a handheld shower. It's kind of amazing how, you know, they say you're an adult once and a kid twice.
TOM: Right.
LESLIE: It's like there's this parallel. You can see that all of the things that work well for seniors work amazingly excellent for those under seven.
KEVIN: We've worked with a couple of specialists. It was a lot of different names for this: universal design, all these different things. This one particular person, she calls it "human design," because it's true.
TOM: Yeah, it makes sense.
KEVIN: We're going to be using it as little kids, we're going to be using it as adults but then we're going to be using it as elderly folks, as well. So it works for lots of different people if you do all of these changes.
TOM: So those are easy changes. What about ones that maybe take a little bit more effort but you do them if you really need them?
KEVIN: So stairs are a big hurdle for lots of folks.
TOM: Right.
KEVIN: But when we can still get up and down the stairs, having good railings on both sides of the staircase so that we can grab onto them, use them, that's a great idea. And not just the stairs inside: stairs indoors and out.
Grab bars in bathrooms, same idea. You want to be able to put your hand and get a good hold on something, prevent from slipping. And the great news is, boy, there's lots of decorative options out there. These things look fantastic. I saw two of them recently. One of them was a soap dish. You had no idea this thing was a grab bar.
LESLIE: Really?
KEVIN: But sure enough, it was a soap dish in the corner that was secure and a nice grab bar. And a toilet paper holder that was a grab bar, as well, if you need assistance lifting up or getting down. So, they're out there; there's lots of good choices. And that's a good thing for folks.
TOM: You know, that's a great point. Because instead of making folks reach for a grab bar, what happens when you're on the toilet or you're in the shower, you reach for every sort of surface that you can grab to that's convenient. And that might be the toilet paper holder and it might be the soap dish, so why not make them strong enough to actually be a grab bar?
LESLIE: Mm-hmm. And nobody wants to admit that you need that assistance.
TOM: Right.
LESLIE: So if it's something else that serves a different function but is still strong, you're more apt to have it.
KEVIN: Well, if it looks good, you're definitely more apt to have it, absolutely. You don't want these places that – you want your house to feel institutional.
LESLIE: No, you don't.
KEVIN: No, definitely not. Other things, just quickly, in the medium changes would be replacing traditional faucets with motion-sensor or touch-sense faucets. Think about pull-down shelving in closets or kitchen cabinets, where you can actually lower the shelf so that you can get to the things that are on it. Drawers and shelves on lower cabinets to minimize the bending and having to look down in the cabinets that are often difficult to get to and dark. Those all sort of fall into the medium changes for me.
TOM: Those are all pretty simple, measurable and don't take a lot of time to do a project like that. But if we're talking about, say, remodeling-sized projects that are going to make a home more accessible, what are some of the top choices that can really improve the safety and security of a home?
KEVIN: Well, whether we like it or not, there's always a chance that someone is going to be in a wheelchair or some sort of a chair. So, think about things – well, the bathroom. We use that a lot. Think about a sink vanity where you can roll a wheelchair under or even just have a regular stool or chair so that you can work at that vanity while you are sitting down. That can be a huge help.
Zero-threshold entries where there is no curb. So now we want to get in or out of the shower stall. Well, if there's no curb, we can wheel ourselves in but it also means that there's no trip point. So that's a really good thing. Definitely something you want to think about if you're ever redoing a bathroom. Even if you don't need it at this time, that's the time to think about it.
Now, at some point, the stairs may become a problem. We may not be able to navigate our way up them. And people might be thinking, "Oh, boy. That means I've got to put an elevator in the house." Well, that can take up a lot of space and that could be expensive, so a good alternative is a stair lift. You can actually install it to an existing staircase. It's a lot less expensive than an elevator, takes up a lot less space and it will help you navigate up and down those stairs. So now you can use your entire house: the up and the downstairs.
In the kitchen, think about the varying heights of countertops so that there's space where you might have to roll underneath one counter. Or put a microwave. Instead of putting it up high, put it down low. Make it a drawer microwave so that you're not reaching up for it. They make dishwashers with two small drawers that might reduce the amount of bending that you have to do.
Another simple idea – something that a lot of people already have – is the pot filler, the one over the stove. It just saves you from having to carry a pot with two or three gallons of water from the sink to the stove. It's all right there.
TOM: That makes sense because water is very, very heavy.
KEVIN: It is.
TOM: Now, those are great ideas mostly for inside the house but what about outside? Any tips for there?
KEVIN: Well, we want to get to the outside, right? I don't think people want to forgo their outdoor space, because it is part of the house, right? We work so hard to make that outdoor space places that we can live and enjoy. So if you can get to it because there is zero clearance – there's no curb or no step up – or even maybe a little ramp, that would be a great way to make sure that we can still use decks and patios. So wherever you can, think about getting rid of those thresholds. And if you have to, put little ramps in so that you can move from those spaces back and forth.
TOM: Or maybe even creating a zero threshold so that, really, you don't have to step up or step down. Just sort of roll over the threshold and you're there.
KEVIN: One more thing. In the gardening and landscaping, Roger Cook, our landscape expert, worked with a homeowner. And all of the beds that he put in were for a gentleman who was in a chair. They were all raised beds, brought up to his level.
LESLIE: Oh, that's nice.
TOM: Ah. Makes sense.
KEVIN: He could still do his gardening. No problem at all.
TOM: Great advice. Kevin O'Connor, the host of TV's This Old House, thanks so much for stopping by The Money Pit.
KEVIN: Always a pleasure. Thanks for having me.
LESLIE: Catch the current season of This Old House and Ask This Old House on PBS. For local listings and step-by-step videos of many common home improvement projects, visit ThisOldHouse.com.
TOM: And This Old House and Ask This Old House are brought to you on PBS by GMC. GMC, we are professional grade.