If you'd love to have a backyard pool but can't afford it, don't have the time to care for it or you're just short of backyard space, I have two words for you: Spool Pool!
A spool pool is a small swimming pool design that's perfect in so many ways. The term "spool" is a hybrid formed from the words "spa" and "pool". It's a small pool that is bigger than a spa or hot tub, but smaller than a traditional in-ground swimming pool. Spools fit well within a limited space outdoors or as an indoor pool.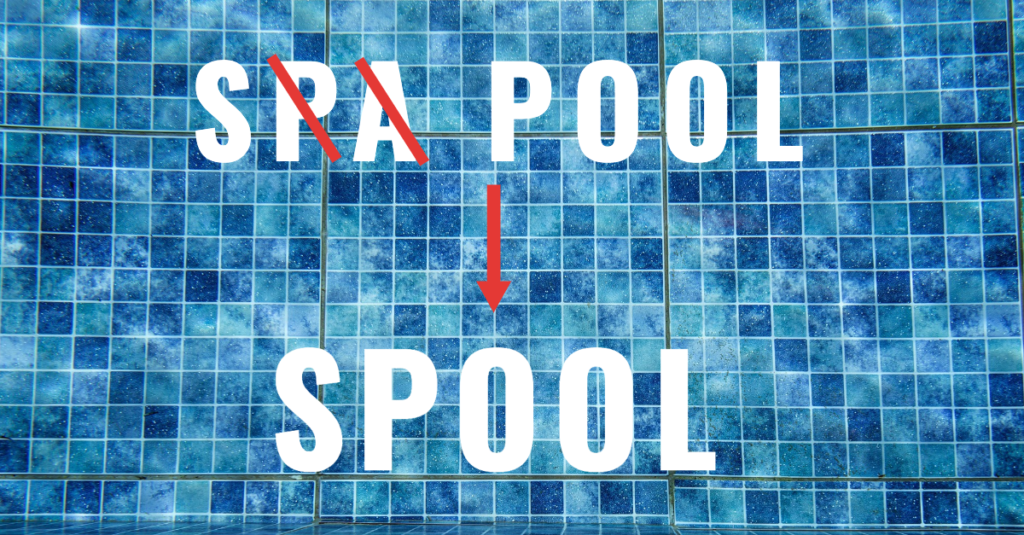 Spools give you the option to add special features like high-powered jets, which give you that luxurious spa feel hot tubs are known for. You can also simply wap back to a cool soaking pool for those blistering summer days.
Also referred to as a "cocktail pool", a spool pool can be anywhere from 10 to 16 feet long and 6 to 8 feet wide, providing plenty of room to stretch out, swim a few laps, or just cool off on a hot summer day — without taking up nearly the same space as a traditional backyard pool.
Why spools are a perfect swimming pool solution for a small yard
One of the reasons for the growing popularity of "spools" is the fact that they work well in small spaces. This means if you've got a small backyard, you may still be able to have a pool — albeit using a small swimming pool design. You might not want to train for the Olympics in a small swimming pool, but you can still swim shorter laps for exercise. Plus it's every bit as refreshing as a standard pool on a hot, sunny summer day.
Another perk you get with the installation of a spool? You're free to use the rest of your outdoor living space for other things, like a patio with room for dining, an outdoor kitchen or outdoor space for gardening or pets to play. Even people with room for standard-sized in ground pools or above ground pools are opting to go the "spool" route instead for that very reason, according to some owners of pool and spa companies.
How do spools differ from swimming pools?
There are two common configurations of spools. Spas Spools and Lap Spools. Spa spools are more popular and combine the benefits that most spool owners seek of being both a hot tub and a pool. But for some seeking exercise, a lap spool can do the trick. You can also combine a spa pool and a lap pool for the total swim spa spool experience.
Spa spools have spa-like features like water jets. Some even come with dividers so that you can use one part of your spool for swimming and one for lounging just as you would with a hot tub. Adjust the temperature up for a spa-like experience, and turn it down if you want to cool off or do some aquatic exercising.
Lap spools can include the same small pool design features as a spa spool. But a lap spool adds a powerful pump with special swim jets designed to create a current like you'd find in an ocean or river. Swim against the tide and you get a refreshing lap pool workout every single time.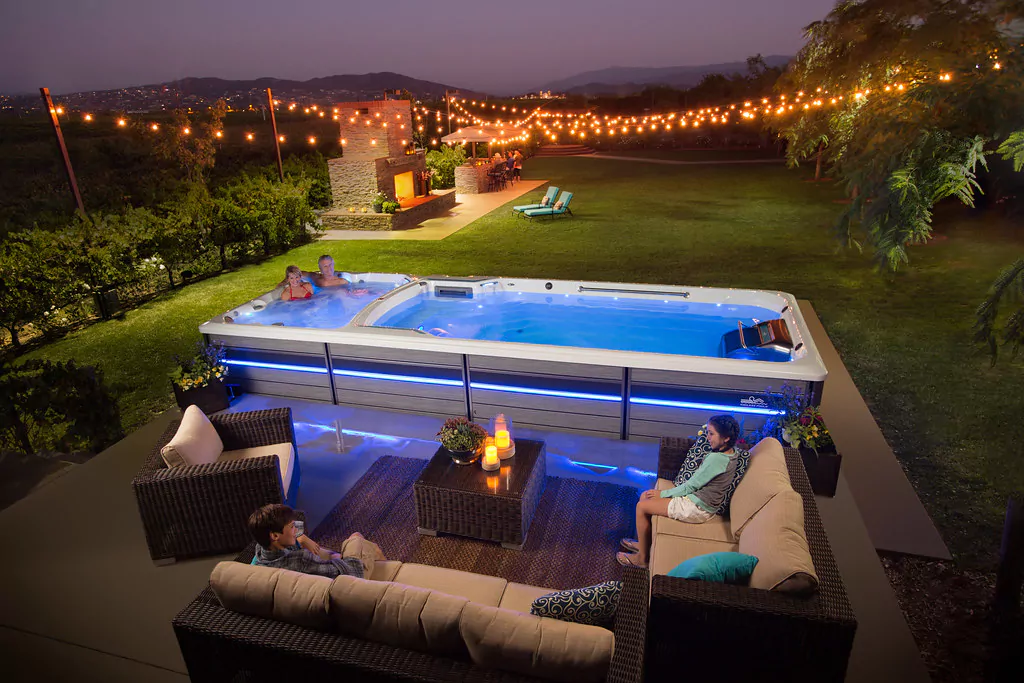 Either way, the small pool design size means that a spool heats up — or cools down — quickly and efficiently as compared with a standard in-ground pool. Make a temperature adjustment and you won't have to wait hours to notice the difference.
That also means you're likely to extend your swimming season year-round. Use the pool comfortably during the day when warm air temperatures allow. Then simply heat up your spool when the night air makes the water a little too cool to use. Or heat it through the winter for an especially fun spa experience.
Cost of a spool pool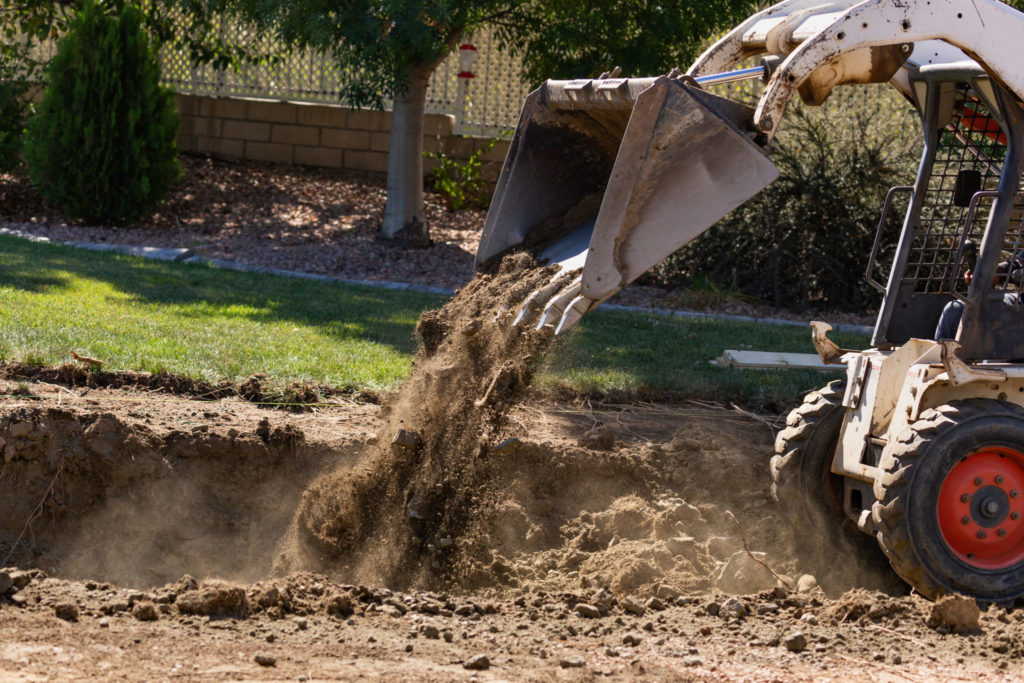 Spools may be smaller than a traditional swimming pool. However, that doesn't always mean the cost to install one is less. Despite their smaller size, many of the same costs of building a ground swimming pool go into building a spool. These may include:
Planning and Permits
Excavation
Materials: Concrete (gunite), Fiberglass pool or Vinyl
Plumbing and Electrical
Heater
Variable Speed Air Pump & Filter
Landscaping
According to research done by HomeAdvisor.com, the average cost to install a 300 square foot spool including labor and materials is $22,650. Pool prices vary by site conditions and the options you choose to include.
DIY project or go pro?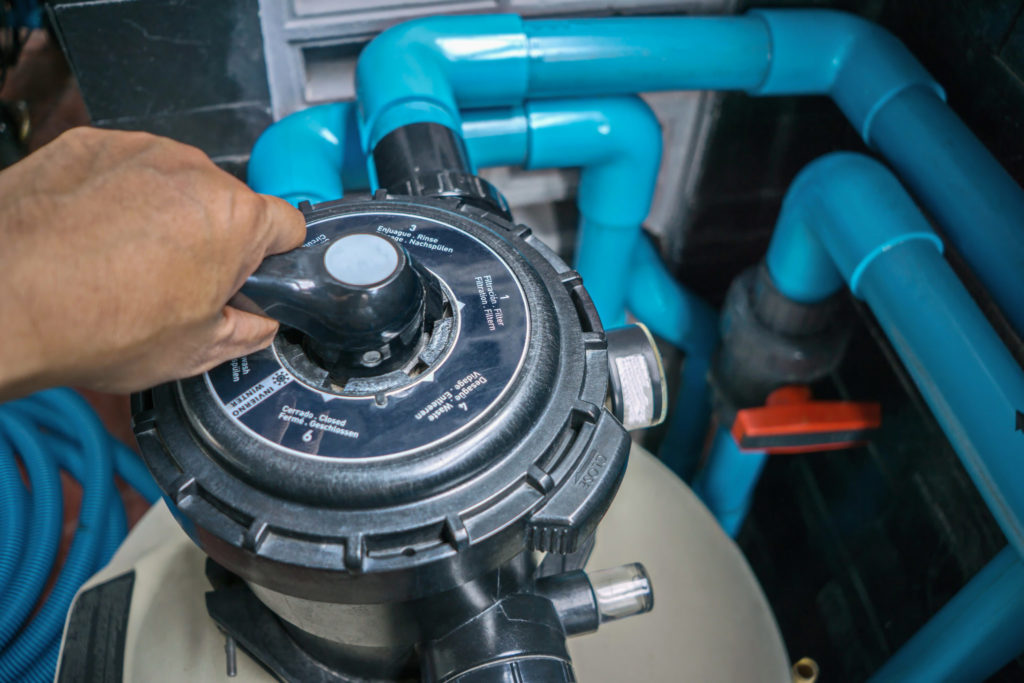 While it's possible to build a spool yourself, I put this is the category of very advanced! Advanced – as in the 'you could be a full time contractor but choose not to be' level!
There's a lot to know and a wide variety of skills required to tackle a project like this. So, you need to think carefully about whether this is really a project to take on. Getting it wrong can include some very expensive mistakes and a well-intentioned do-it-yourselfer can quickly become a do-it-TO-yourselfer!
Plus, not too many pro pool builders will be willing to step in and clean up your half-finished project!
Is a spool right for you?
Before adding anything new to your home, there are always things to consider. Is spool the right pool idea for you? It could be, if:
You either don't have a lot of space for a pool. Or you have space but would like to divide it into different zones such as pool, patio, play area, etc.
You're torn between a pool and a hot-tub. (With a spool you'll have both!)
You live in a climate that's mild year-round, or that has short winters and long summers.
You're not ready to commit to the level of maintenance required by a full-sized pool. (You just don't have the time and/or the inclination!)
You're intrigued by the idea of designing your spool so that it's not just a recreational space, but an attractive "water feature" as well.
You like the versatility of being able to adjust the water temperature quickly and as-needed.
You enjoy perks like water jets or built-in benches, both of which are options with some spools.
Finally don't forget about the need for building and zoning permits. Permit requirements will vary from state to state. But nonetheless, you'll need one if you're planning on adding a pool, no matter how you spell it!.
Conclusion
Adding a spool pool is a great alternative to full-sized ground swimming pools. Spools offer many of the same benefits without eating up the majority of your yard! Adding a spool will also jazz up your backyard during the summer months. With that, you'll be the talk of the town and the most popular neighbor!