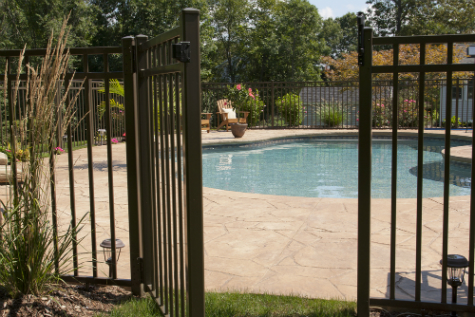 Amid the fun of summer, there's a sobering reality – the difference between life and death can be a matter of seconds when it comes to children and swimming pools. What's more, drowning is usually silent, with no splash or cry for help to alert parents to the emergency.
There are about 300 drowning deaths of children younger than 5 each year in swimming pools, according to the Consumer Product Safety Commission (CPSC). A lapse in parental supervision is responsible for drowning accidents almost 70% of the time. Parents who looked away just for a moment found out how quickly disaster can strike.
But parents can't be everywhere at once, and it's tragically easy to underestimate the ability of children. Kids are constantly learning new things and a fence that can't be climbed one day is easily surpassed the next. So how do you protect children from a pool tragedy? The answer lies in a pool safety approach called layers of protection, which provides several levels of back up as a supplement to parental supervision. Here's where to start:
1. Pool Fences: When properly designed and installed, pool fences are by far the most effective deterrent against drowning. They must be four-sided, completely surrounding the pool, with a height of at least 4 feet. Avoid chain-link fences, which can be easy for children to climb, and make sure fence posts are not spaced more than 4 inches apart.
The weakest link in all pool fencing is the gate. Gates must be self-closing and self-latching so they slam shut if left open. Moreover, gate latches should be mounted at least 54 inches off the ground and have child-proof release mechanisms.
2. Pool Covers: Next to pool fencing, pool covers provide the maximum amount of protection. Your best option is an automatic pool cover, which can be used between swims rather than only at the end of the season. These covers are motor driven, and with the flick of a switch, automatically creep across the pool to seal out access to the water.
3. Pool, Door & Fence Alarms: High-tech advances in pool alarms have made these a must for every home with a pool. It's best to use a combination of door alarms, fence alarms and pool alarms.
Door Alarms: These battery-powered alarms are installed on exterior doors leading to the pool. If the door is opened without depressing a childproof bypass button, the alarm sounds within 7 seconds and stays on until disabled by an adult. The alarm is also effective in preventing an adult from leaving a door open. If a door is left open for more than 10 seconds, even after pressing the bypass button, it rings again. Door alarms are an inexpensive way to make sure everyone in your house thinks about pool safety.
Fence Alarms: These work just like door alarms but are designed to be used on fence gates for an added layer of protection.
Pool Alarms: Pool alarms are designed to detect the splash that occurs if a child falls into a pool. A CPSC study looking at three types of pool alarms found that the best performers were underwater alarms, compared to the less reliable options of floating pool alarms or wristband alarms worn by children. When purchasing a pool alarm, always buy the type that includes a remote receiver alarm so you can monitor the pool from inside your home, even with a door closed or air conditioning on. But keep in mind that while pool alarms may provide emergency notification if a child falls in, they are not a substitute for fences, covers or any other protective measure possible.
Pool safety is a big job and nothing can be a substitute for watching children around a pool. But by utilizing layers of protection, parents gain an important backup tool for those times when they, like most people, just can't be perfect.