This summer heat may have you longing for a piece of paradise in your own backyard where you can cool off and relax. Installing a swimming pool is a dream for many, but it's essential to dive into the cost to build a pool before you take the plunge.
Selecting Your Pool Type
First off, you need to determine what type of pool your budget can accommodate. The two main types of pools are in-ground and above-ground. In-ground pools are typically the most expensive. The average cost on an in-ground pool ranges from $30,000 to $70,000, contingent on size, construction materials, location, and additional features. Concrete in-ground pools carry a hefty price tag due to the craftsmanship involved. However, vinyl and fiberglass pools are more affordable, though their shapes and sizes might be limited.
The cost of an above-ground pool ranges from $1,500 and $15,000. These pools can be just as fun for the entire family, and they come in a variety of shapes and sizes. While they may not be as fancy as an in-ground pool, they are easy to install, require less maintenance, and will cool you off just the same.
You'll also have to choose your sanitization system. The two most common choices are chlorine and saline (saltwater).
Deciding on the Pool Shape
The shape of your pool is another choice that determines your pool material and final cost to build a pool. Popular choices include oval, round, lagoon, rectangle, and full-L shapes. Concrete and vinyl pools offer flexibility in shaping, while fiberglass pools are constrained to the manufacturer's design. If these considerations seem overwhelming, yet you crave a cool respite from the intense heat, ponder over a different option – a spool pool.
What You'll Need to Get Started
One thing to keep in mind when you're factoring in the costs to install a pool is to never cut corners on the construction. If you do, you'll pay for it in the long run. It will cost you less to build the pool correctly the first time.
To bring your dream pool to life, reach out to a local pool installation expert and compile a checklist of what you'll need to make your pool a reality.
The list may include:
Labor and permits
Materials
Excavation
Plumbing/electrical work
Pool filtration system
Pump
Heater
Landscaping
Enhancements for Your Pool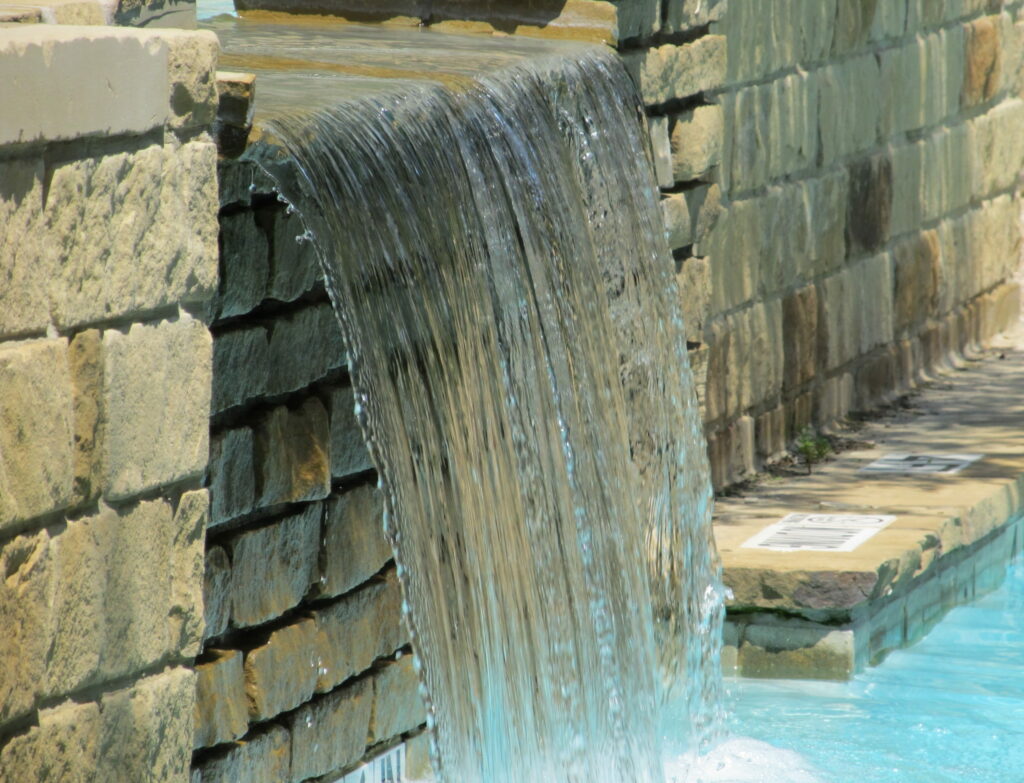 Fountains and Pool Water Features
A backyard pool involves much more than just filling it with water. To make it a truly enjoyable experience, you'll want to add in some bells and whistles. Features like waterfalls or fountains can cost between $800 and $5,000, depending on your choice. Larger fountains can be costlier, with prices reaching up to $20,000.
Pool Slides and Diving Boards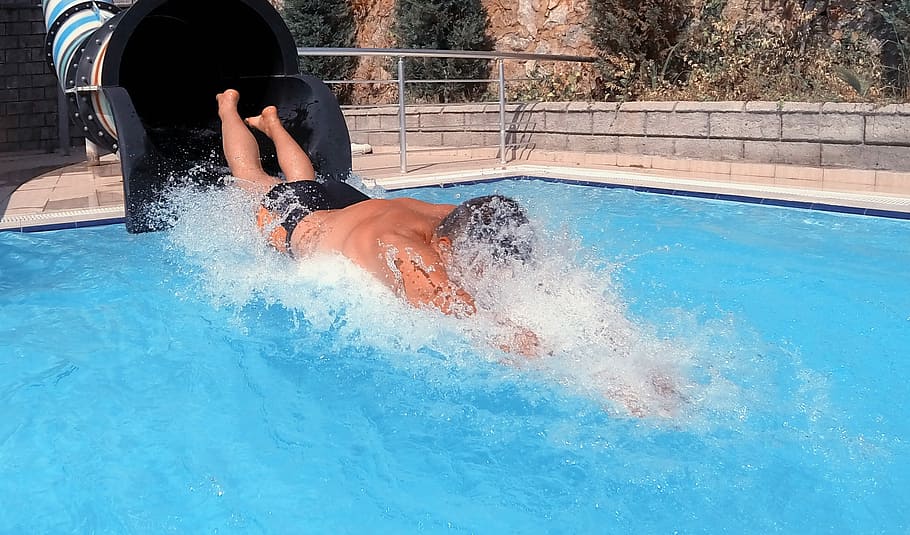 Whether you have kids or you're a kid at heart, having a slide or diving board will provide endless hours of fun when you're not relaxing on a float. Most in-ground pool slides range from $100-$4000 depending on how tall, what material, and which shape you choose. Diving boards run between $300 and $600 on average (but your pool must be at least 7.5-feet deep to have one). In addition to adding to the cost to build a pool, diving boards in particular can lead to serious injury.
Pool Decking
Constructing a deck around your pool not only enhances its aesthetic value but also adds safety by preventing slip-and-fall accidents around the pool. It doesn't come cheap though. A pool deck runs about $2,000-$10,000.
Pool
Heating
The heater required to maintain your pool's temperature could add an extra $1,500-$5,000 to your costs.
Pool
Landscaping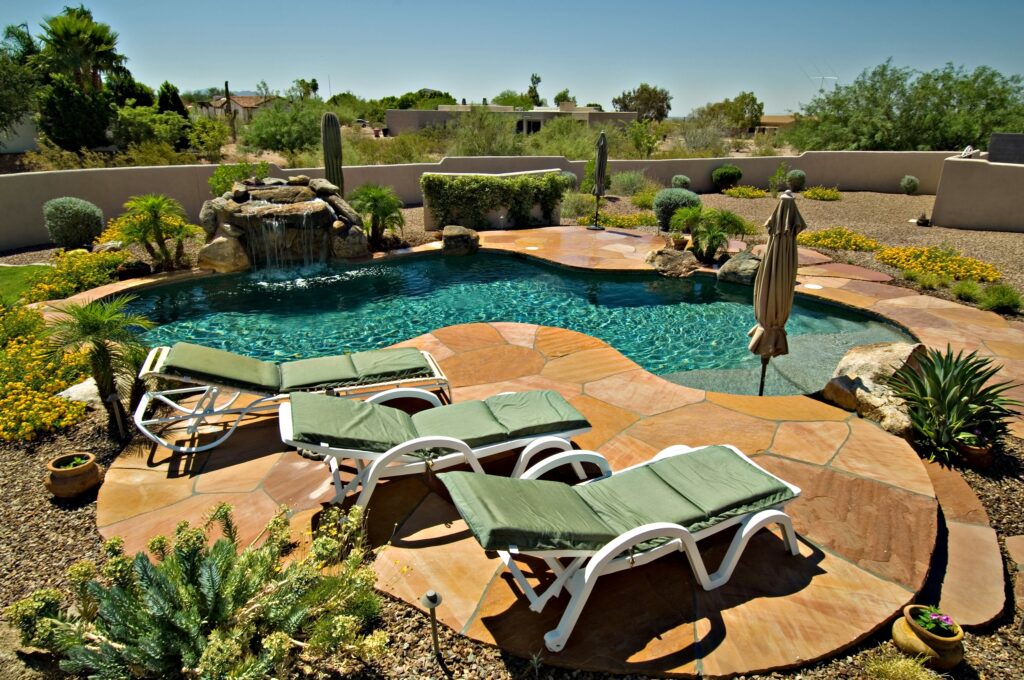 Immaculate landscaping and lighting can significantly enhance your yard's ambiance, though costs vary based on your preferences.
Cost of Pool Covers and Fences
A pool cover and fence are essential safety measures, especially with small children around. The average cost for a pool cover is between $800 and $2,500, with automatic covers fetching a higher price of up to $12,000. Pool covers help keep debris out and ensure that no unwelcome guests or critters fall in.
Drowning due to lack of pool fencing is a leading cause of death for young children. Properly designed pool fencing is the most effective way to keep children safe around pools and has specific requirements that differ from standard fencing.
First, the fence height should be at least 48 with gate latches mounted at least 42 off the ground. Spacing between chain links should be only one-and-one-quarter inches to prevent climbers from getting a toe hold. And most importantly, be sure all pool fences have self closing hinges to prevent gates from accidentally being left open.
When selecting fencing, keep in mind that the fence must either surround all 4 sides of the pool. If the rear wall of the home provides a barrier to the pool, it is also essential that all windows and doors on the home be alarmed to detect children that may open the door or even to remind parents that those doors must be kept closed to keep kids safe.
Cost of Pool Maintenance
After your pool installation, the costs for your new aquatic oasis will continue to mount. Maintaining a pool brings several expenses, including increased electric bills, pool repairs, and monthly upkeep. Monthly swimming pool maintenance costs can range from $80 to $150.
In regions where there are multiple seasons and pools need to be closed every winter, the opening and closing costs can range from $150 to $400 per season. The budget for chemicals, filters, and cleaning equipment could add another $500 to $1,500 annually. Also, remember to account for the insurance policy necessary when owning a pool.
Will a Pool Add Value to My Home?
While building a pool is pretty costly and can significantly dent your wallet, it's important to weigh the cost to build a pool against the value it will add to your property, which is currently around 7%. While the initial costs are steep, a swimming pool on your property can bring you much joy, relaxation, and lots of memories with your family.