LESLIE: Well, there's a new trend in alternative swimming pools and it's not the saltwater pool, either. It's called the "natural swimming pool" and it's a kind of high-end pond in your backyard.
TOM: Yep. Rather than chlorine, these pools use a living ecosystem to actually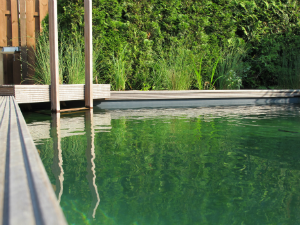 clean the water and keep it healthy for swimming. It's sustainable and eco-friendly and it's very popular in Europe where it originated about 30 years ago. Here to tell us more is This Old House landscaping contractor Roger Cook.
So Roger, how exactly do these pools work?
ROGER: They work naturally. That's the whole key to these pools is you're actually using plants and water to clean the water for the main pool.
TOM: So kind of the way nature cleans its water, you're basically creating that same sort of functionality in your pool.
ROGER: Exactly. Think about it as having a water feature. When a water feature or water pond is perfectly balanced, there's no algae, there's no smell, there's no nothing. It's all natural. Now we're using that principle to clean the water in a swimming pool.
LESLIE: So if you have to have some sort of filtration system, if you will – so maybe it's like a waterfall that comes down a couple of natural rock steps with the plants and everything to sort of help clean that, you still need to put a recirculating pump in it to get it back up to your filtration system.
ROGER: Right. You're going to complete a loop so that the water goes from the swimming pool into the natural area where it's cleaned and then pump back up to the pool again.
TOM: So there's really two zones here. There's sort of a regeneration zone, which is sort of the shallow water garden where the cleaning happens, and then there's the swimming pool itself, right?
ROGER: Right, exactly. And what we're doing is we're eliminating the chlorine. We're using the natural biotics of this pond to clean the water and pump it back up again.
LESLIE: So you don't have to worry about too much rainfall or snowfall or anything sort of throwing things off balance?
ROGER: No. You have to monitor the water level. There'll be evaporation, especially if you have a waterfall, so you have to have what's called an "auto-fill" in place, which keeps the water level at the perfect amount.
But no. This is a natural area that, as long as there's enough water in it, it should be fine. It should be cleaning itself and your pool.
TOM: That's a really cool idea. So what's the construction and sort of maintenance cost of this? It's got to be more expensive than a traditional pool. Is it?
ROGER: Well, the construction end is you need two ponds, ideally: one to swim in and one to clean the water with.
TOM: Clean it, yeah.
ROGER: So you're going to have about the same or a little more initial cost. But when it comes to the maintenance, all that pumping and chlorine is all eliminated. And if this is balanced properly, it shouldn't cost you anything.
TOM: Wow.
LESLIE: What do you do for the winter months? Do you cover it?
ROGER: You cover it, you keep it clean like you would any water feature. You want to put a net over it to keep the leaves from getting in it. You want to cut back vegetation and just set it, get it all cleaned out so that in the spring you're ready to go. And the same thing with the swimming area itself: you want to vacuum that out and get any debris out of that before you go into winter.
TOM: We're talking to Roger Cook, the landscaping contractor on TV's This Old House, about building a natural swimming pool. So, if this really is like nature, aren't we going to have insects, like dragonflies or mosquitoes or things like that, to contend with?
LESLIE: Frogs.
TOM: Frogs.
ROGER: That's so cool, though, you know?
LESLIE: I think so.
ROGER: I love when you hear croaking on there in the middle of the night and a big bullfrog in the pond. It makes it feel natural. But again, think that all the mosquitoes that are coming in and stuff will be eaten up by the dragonflies and by the frogs you have in the pond.
TOM: The dragonflies eat the mosquitoes and the frogs eat the dragonflies.
LESLIE: Now, I think we skipped over this, because I'm so fascinated by the idea of it being like a pond-like scenario. In the swimming side, are we lining it? Is it like gunite? What is the …?
ROGER: It can be anything you want it to be.
LESLIE: Interesting.
ROGER: It's a regular pool. It's a regular pool. It could be lined, it could be cement. But even the same thing with your water feature: it could be lined or cement, depending on which way you want to go.
LESLIE: True. This sounds lovely.
TOM: So it's a really the filtration system that the natural part sort of replaces. Instead of having the pumps and the filters and the chlorine, you have sort of a second pool where it all happens naturally.
ROGER: Yeah. Right. So it's a cycle. We're taking water that we deem is dirty – which isn't really that dirty, anyway – and running it through this natural filter and then pumping it back up to the pool again.
LESLIE: You know what? I think to better clarify this, Roger Cook, you're going to have to come to my house and build one so that I can really understand how it works and speak more clearly to it.
ROGER: And build one? Yeah, that's a …
TOM: There you go.
ROGER: And you are not the first one to suggest that.
TOM: Roger Cook, the landscaping contractor on TV's This Old House, thank you so much for stopping by The Money Pit and filling us in on natural pools. And you don't have to stop by Leslie's house. It's OK.
LESLIE: You can go to Tom's.
ROGER: I can go to Tom's instead?
LESLIE: Alright, guys. You can catch the current season of This Old House andAsk This Old House on PBS. For local listings and step-by-step videos of many common home improvement projects, visit ThisOldHouse.com.
TOM: And This Old House and Ask This Old House are brought to you on PBS by The Home Depot. More saving, more doing.