Bedrooms are often the last room in the house to get some decorating love. But with the right planning and bedroom decorating ideas, this space can become a personal sanctuary that calms, centers and energizes.
Davis Remignanti, Furniture.com's lead design consultant, offers these easy design tips and bedroom decorating ideas to help transform even the most traditional "sleep space" into a dreamy haven:
Personalize it. Start by thinking of your boudoir as a sanctuary and begin designing your the room as a true retreat with a focus on your favorite pastime. Whether you love to paint, read, exercise, or listen to music, dedicate a space in your bedroom to doing what you love best.
Give your activity some uncrowded room by providing the desk space, storage, or comfy seating that it requires. Let the rest of your room design flow from your interest center. Sketch your concepts online at Furniture.com's Room Planner.
Savor your zzzzzzzz's. At the end of the day (literally), the bedroom is about sleeping, and your bed is where you likely spend approximately 1/3 of each day. Since a good night's sleep will make all the difference tomorrow, consider upgrading your mattress to a pillow top style, or simply adding fresh new bedding. Then, stretch out and relax on your cozy bed.
Shun the distractions. Use your bedroom to escape from the world by hiding away your larger electronics – television, stereo components and computer – in an armoire that provides easy access to your media channels (and the outside world) when you want them, but is even easier on the eyes when you don't.
Showcase your passion. When planning your decor, consider this bedroom decorating idea: resist the impulse to pack away your mementos. Instead, look for opportunities to showcase souvenirs and photos of what you love to do and the people you love to be with. A true retreat is not just a getaway, but also a celebration of your passions, so let these interests show in your bedroom.
Look up. Don't forget the vertical space your bedroom offers. Carry your retreat design theme into the third dimension by updating your bedroom walls with a fresh new color or border. Since bedroom walls tend to be an underutilized resource, you can put the bedroom walls to work by examining where you can add much-needed shelving and storage options. Finish by adding a new piece of artwork to the bedroom wall to complete your theme.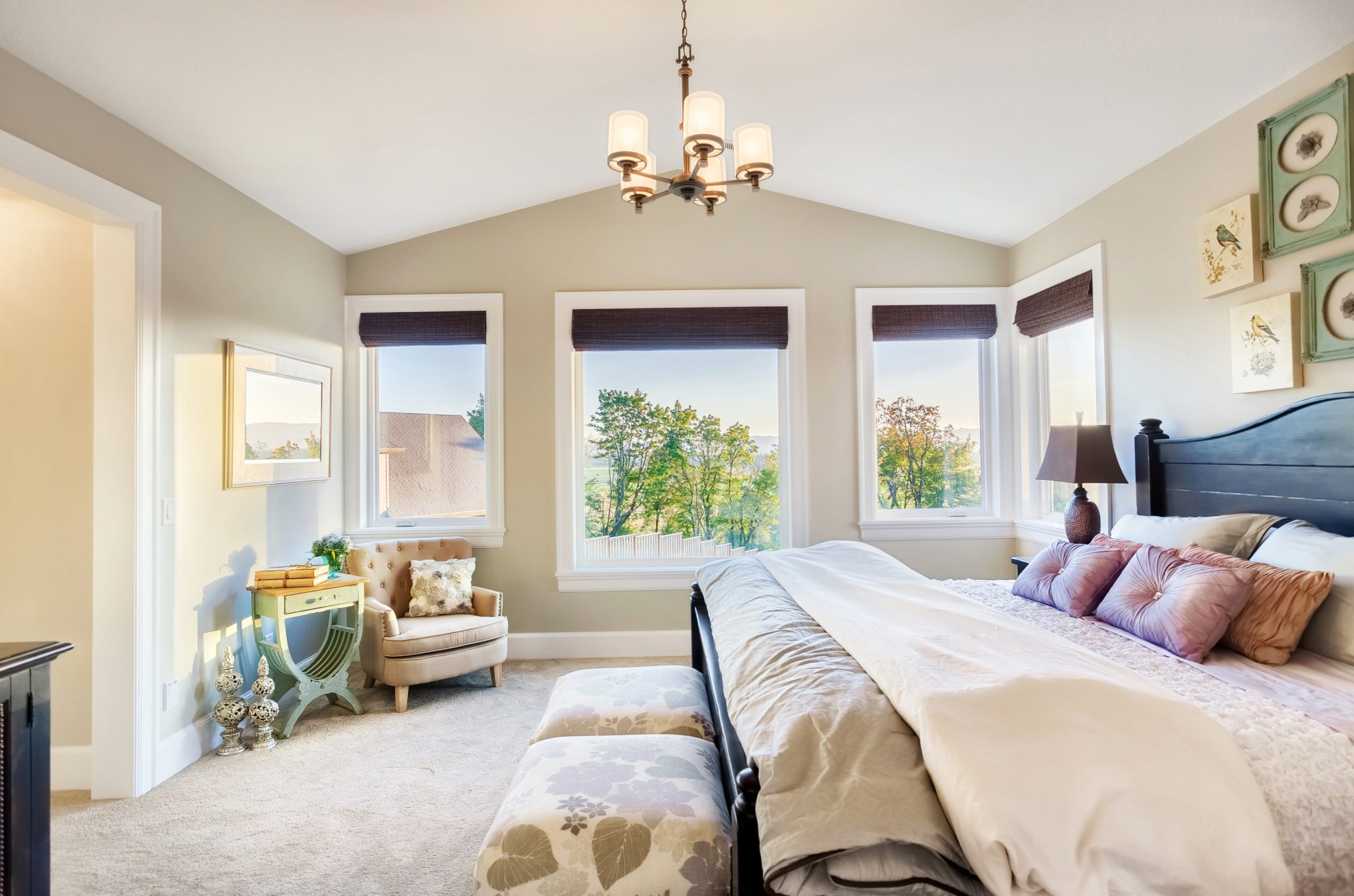 Lighten your outlook. Any room makeover calls for a fresh look at lighting. Survey the bedroom as a whole, as well as specific task needs. The lighting requirements in your new activity area will differ greatly from your dressing and your sleeping areas. For extra convenience and added ambiance in your bedroom retreat, consider putting your primary bedroom lights on a dimmer switch.
Feel groovy. When accessorizing your bedroom retreat, feel the energy of Feng Shui and ensure good health by following the practice originated in China, honoring the indoor environment. Where possible, introduce water, wind chimes, color and crystals into your bedroom decorating design. Read more about history and practice of Feng Shui decorating ideas.
Browse the possibilities. Review the decorating ideas advice, product information, and interactive design tools at Furniture.com for more ideas on completing your bedroom decor project. Furniture.com merges the convenience, accessibility and ease of online shopping with the local customer service and fast, in-home delivery of national retail furniture chains.