The country kitchen: it's classic and comfy, but it can be practical too. If you're thinking of going country in your kitchen, here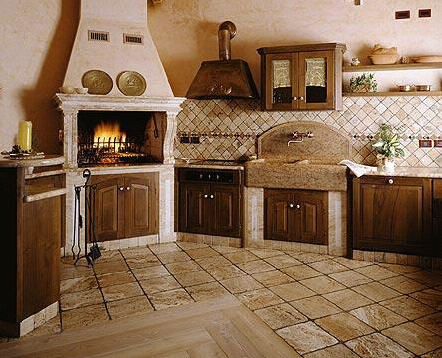 are some tips for keeping it real, and real convenient.
When choosing the materials for your country kitchen, keep everything as natural as possible. Hardwood flooring is a classic look, but an alternative can be a stone tiled floor contrasted with wooden cabinetry. This combination has an old South-of-France farm cottage feel, and will really bring the room to life. With kitchen cabinets, a painted finish is a great country look, especially if you use a pale color that allows the wood grain to show through, for a "washed" look.
An island is a great feature for any kitchen, but it fits in particularly well with the country style. Open shelving on that island is a great way to display country themed accessories like wicker baskets or ceramic tea kettles, or glass canning jars filled with anything from pasta to buttons to seashells.
Country colors and fabrics can include everything from blues to yellows, to gingham and toile patterns for fabrics. Or go with a modern country look and use these traditional colors and patterns in different ways. For example, paint a gingham-checked focal wall or stencil a toile pattern on cabinets!
Cook up your own country kitchen and you'll have a warm spot to gather for years to come.