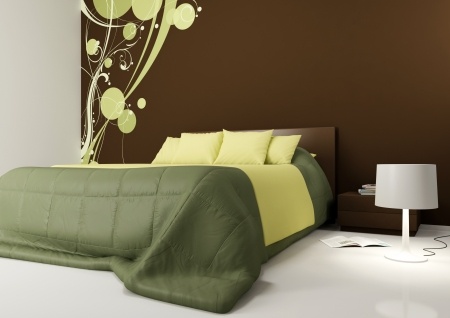 Wall coverings can make a major impact on a room's décor, but they don't have to drain your design budget to do it. Get creative with traditional products and new wall covering solutions to create a custom look for a lot less.
Work with wallpaper: For impact and a long-lasting look, choose the best-quality wallpaper you can afford and use it sparingly. Apply it to a single wall in a living area, paper the bottom half of walls under a chair rail, or place wallpaper within a series of squares trimmed out in molding to create a gallery-style look.
Create a focal point with paint: Choose a bold hue and brush it onto a focal wall within a space. Or try using a stencil to create a pattern on an existing or newly painted wall. Play with paint sheen to create dimension and layered effect. You can also multitask by combining a design feature and your to-do list with a wall finished in chalkboard paint.
Design with decals: Easy-to-apply decals come in a range of formats, from individual design elements to tiles. Add a tree, a favorite character or an allover pattern, then reposition or remove when it's time for another room redesign.
Choose a mural masterpiece: Use a wall as your canvas for a natural vista, floor-to-ceiling pattern, Renaissance masterwork, or even a larger-than-life reproduction of a family photo or child's artwork.
Build interest with wallboard: Install architectural detail with wallboard mimicking beadboard, leather, metal or stone. Wainscot and full-height designs are possible, and moisture-proof formulations are available for kitchens, baths and laundry zones.
Any of these options can help you refresh a room while preserving your budget. The possibilities are endless and affordable!