Painting the interior of your home can be one of the most rewarding and cost-effective ways to completely transform your living space. By following a few simple interior painting tips, you'll maximize your time and efforts, while ensuring the end result will look as if you hired a costly professional.
Don't skip the prep step
One of the biggest mistakes with painting is skipping the surface preparation that makes for a beautiful, durable finish. It's not as much fun as slathering your walls in a brand new color, but it's important to take the time to first clean, patch and prepare your walls. You'll be making the most of the paint you've purchased and increasing your satisfaction with the finished product.
Start out by scrubbing away accumulations of smoke, oil and grime that can keep your new finish from adhering. Use liquid sandpaper to remove buildup from trim, and wash down walls with a TSP (trisodium phosphate) solution, available at most home centers and hardware stores. You can add efficiency to this chore and remove the risk of a ladder-and-liquid mishap by employing a sponge-head floor mop for application.
Once cleaned surfaces are completely dry, smooth them out. Take time to fill all holes and cracks, following with a thorough allover sanding and removal of the resulting dust. Repair cracks by applying fiberglass wall tape followed by a few topcoats of spackle applied and smoothed with progressively wider spackle knives. You'll also need to fix any nail pops that you see.
Nail pops are pesky problems that frequently pop up in the first few years after a home is built. As the framing lumber dries out, it expands and contracts and sort of "spits" the nail back out of the hole it was originally driven into.Though unsightly and annoying, nail pops are normal and don't indicate a structural problem. To fix them, drive another nail next to the loose nail, being sure to overlap the heads. If the nail is really loose, remove it and replace it with a drywall screw, and respackle the wall.
Once you think you're done making all the necessary repairs to the wall, grab a really strong flashlight and hold it against and parallel to the wall. As the light bounces over the repaired area, you'll be able to see exactly how the surface will look when the sunshine hits it in that typically unflattering direction. If this test reveals rough patches, go back and smooth them before packing up the sander.
Key paint tools and tips
Create a clean, open working space
If large furniture items can't be removed from the room, be certain to cover them and the floors with a canvas drop cloth or plastic sheeting. Avoid using sheets or newspaper, as they can allow paint to soak through and could be a slip hazard.
Tape it off
A good tip before starting your interior painting project is to use painter's tape to keep paint off the trim and windows will help provide clean, straight lines. Be sure to press the tape down well along the edge to prevent paint from bleeding under.
Strive for sharp stripes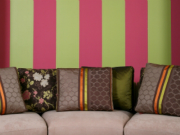 If stripes or patterns are what you're creating with tape, here's a trick-of-the-trade to make sure it comes out great. First, paint your base color. Then, after that coat has dried, apply the tape to outline your desired effect. Next, paint over the tape again using the first color. This allows the first color of paint to bleed under the tape and seal the edge. Lastly and only after the first color is thoroughly dry; apply the accent color or sheen into the masked areas. Follow these steps and you'll have sharp, crisp lines when you remove the tape!
Choose high-quality paint, brushes and rollers
High-quality paint and tools perform better and make the job last longer. For example, better paint has more titanium dioxide in it, which improves the paints ability to hide the ld colors, and provides for a smoother finish free of paint brush strokes and roller marks.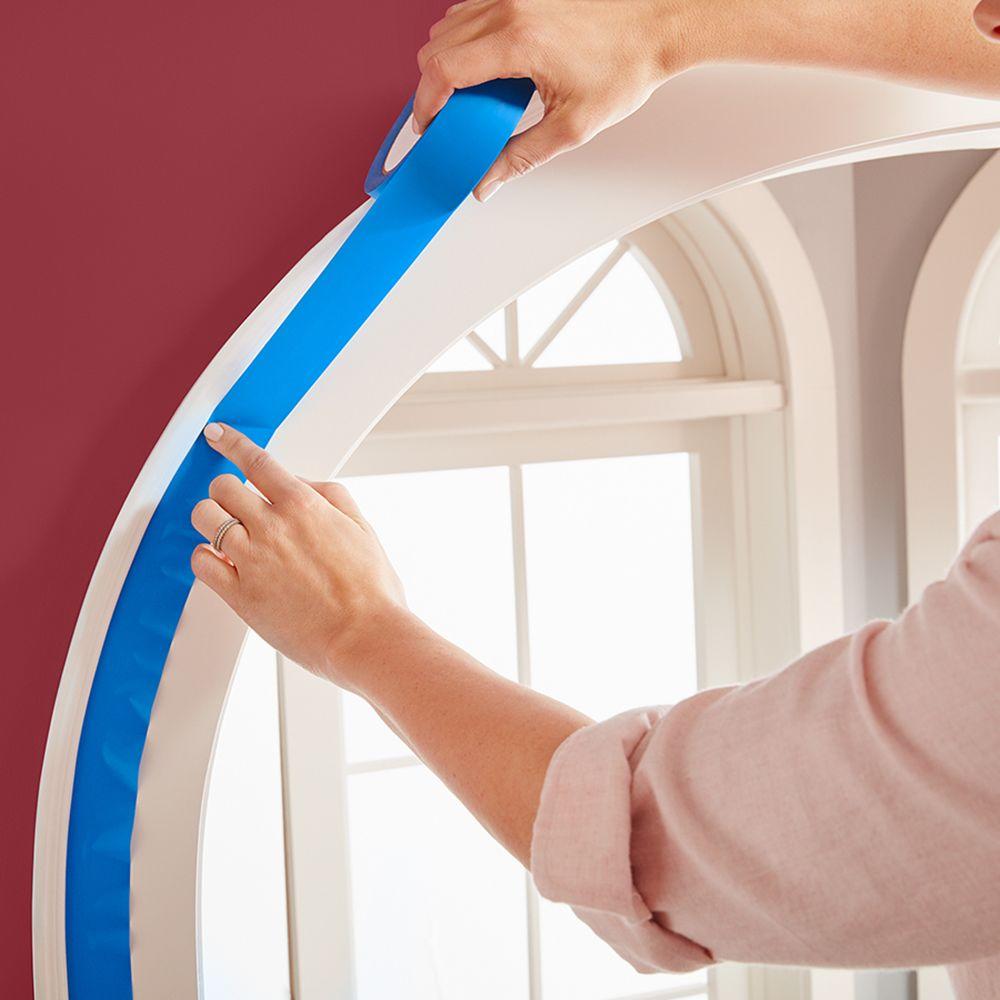 Have a painting strategy
A base coat of primer should always be used to protect bare, unfinished drywall. Those interior walls that were previously painted can also benefit from a primer if they're stained, previously painted with a dark color, or in general disrepair.
Start with ceilings
The ceiling should be painted first, followed by the walls, then paint the trim, doors and windows, and lastly the baseboards. After painting the ceiling, paint the edges of the walls where it meets the ceilings. It's important when cutting in ceilings or walls to feather out the paint to avoid a common painting problem known as hat banding, where the paint you cut in dries before the paint your roll onto the walls. Painting one wall at a time will also help eliminate the problem of hat banding.
When you're ready to swing that paint brush into action, do the edges first, then fill in with a roller using a "w" motion, always maintaining a wet edge. After the primer has thoroughly dried, apply your new paint shade in two rounds using the same technique for a durable, beautiful finish.
Break in your roller cover
A tip to get that smooth finished appearance is to take your roller frame (with roller cover on) and roll into your paint tray. Using a piece of cardboard or newspaper, roll out the paint until the excess is removed. This will help assure that you will not get any skip marks while rolling your walls. Reload your roller cover and paint.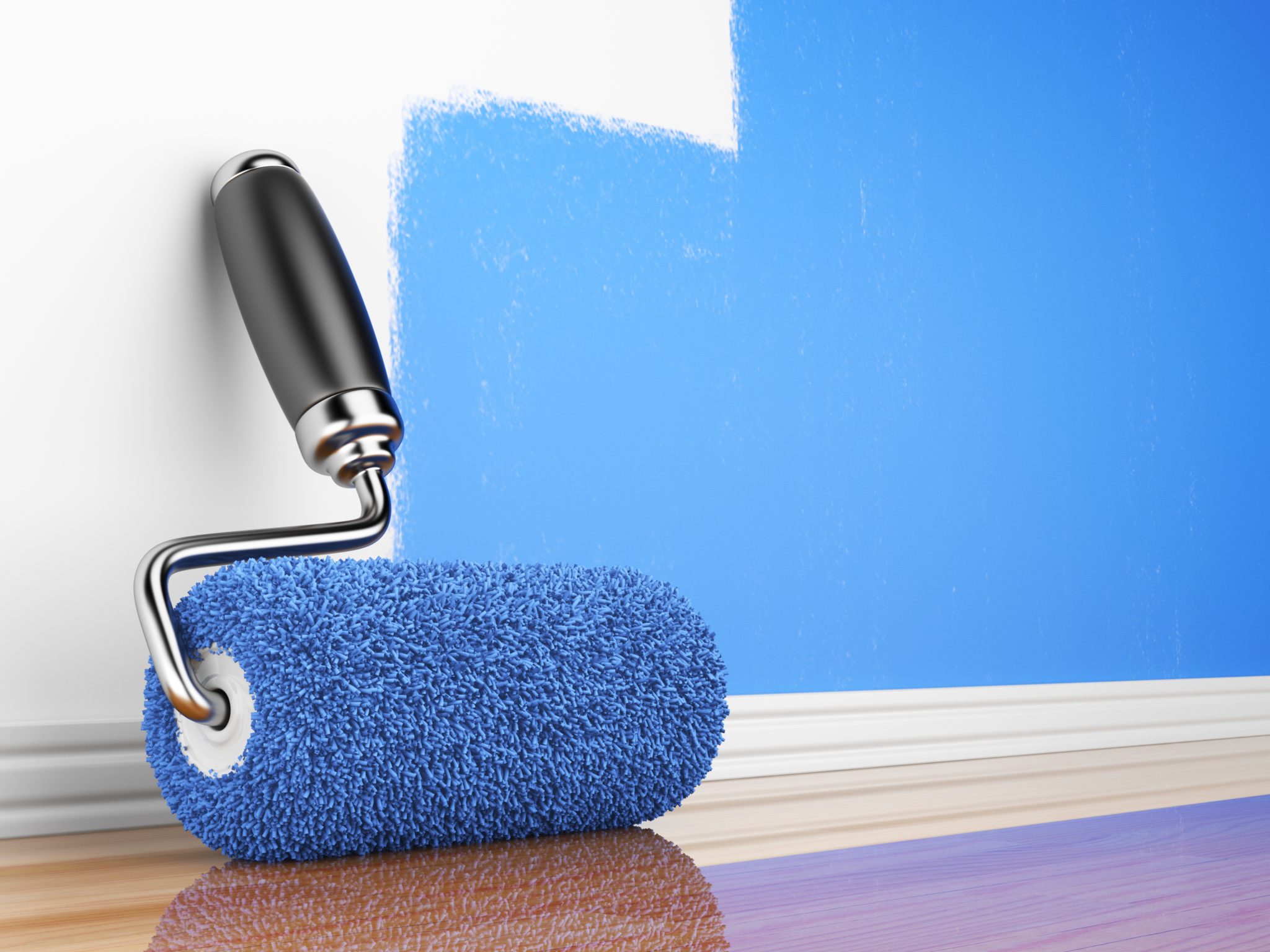 Apply two coats of paint
Don't rush the process by applying a second coat too soon. If you're using latex paint, wait at least four hours before you apply a second coat. Wait at least 24 hours between coats with oil paint. Allow freshly painted surfaces to cure for 30 days before washing with a mild, non-abrasive cleaner and water.
Clean it up
If you're only taking an overnight break on your interior painting project, don't bother to clean the brush, just squeeze the excess paint out and wrap it tightly in aluminum foil. Use a rubber band to secure the foil at the base of the handle. If it will be a few days before you resume your project, toss the wrapped brush into the freezer. But, don't forget to defrost the brush for an hour before you start painting again.
Your excitement at the prospect of a brand new color for your room might tempt you to pick up the paint brush or roller before your walls are really ready. But when it comes to room painting, it does not pay to be impatient. Skipping painting prep only sets you up for messy edges, bumpy finishes and peeling layers. The key to a successful paint job is taking your time and attending to every aspect of proper wall preparation and paint application so that the project gets done right the first time.