What you put on your walls can have the biggest impact in a room's décor scheme. There's a wide range of products and treatments out there, with selection tied into the way a room is used, what moisture and other environmental factors are involved, and the existing condition of the walls themselves.
Not sure which type of wall covering to choose? Keep reading to learn the pros and cons of each option, including whether they will work in moisture-prone environments, such as kitchens, bathrooms, basements and laundry rooms; and whether the material is a good choice for someone who wants the flexibility to be able to easily remove it in the future if desired.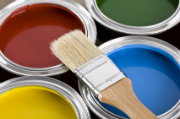 Paint is one of the most affordable wall covering solutions, offered in a wide range of colors and sheens. Moisture-resistant and easy-clean formulations are widely available. However, painting requires meticulous surface preparation, and the fumes generated during and after application can be harmful (although greatly reduced if a low-VOC paint formulation is used).
Faux finishing creates a custom look that adds texture and dimension to wall surfaces. However, some faux finishing effects are hard to achieve, and it can be difficult to remove them in preparation for a new finish.
Wood paneling is a durable material that adds texture and scale to a space, and can be painted or stained. However, wood paneling can be difficult to remove or resurface, and is not very moisture resistant.
Synthetic paneling has the properties of wood paneling, but with added benefits. Like wood paneling, it is durable and can be painted. Unlike wood paneling, it is moisture-resistant, and other looks such as metal, stone and leather are available. However, it can also be difficult to remove.
Wallpaper and borders are available in a wide range of patterns, colors and textures, and are reasonably easy to install and clean. However, they are not always moisture-resistant (except for vinyl wall coverings) and can be time-consuming to remove.
Tile and stone provide a rich, luxurious look combined with durability and moisture resistance. However, they can be difficult to remove or repair and require periodic sealing and re-grouting.
Choosing a wall covering for a room is an important decision that must be weighed carefully because it is one of the most visible and prominent elements of a room's decor. But in addition to visual concerns, making a successful wall covering selection is also a matter of finding a material that fits the room's purpose and moisture level. By considering the pros and cons of each wall covering option, you'll be able to settle on a solution that fits your needs.