LESLIE: Well, hardwood flooring has long been a popular choice for homes because of the natural beauty of wood. Today, there are many new colors and finishes that help keep this traditional flooring style looking fresh.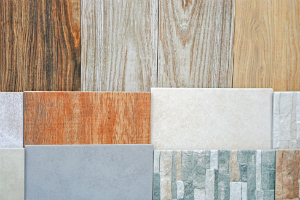 TOM: With a look at the latest in floor trends on tap for 2015, we welcome This Old House host Kevin O'Connor.
Welcome, Kevin.
KEVIN: Hi, guys. Great to be here.
TOM: So, hardwoods are not going out of style anytime soon but there are some new colors and wood finishes that are making their mark this year.
KEVIN: No, they are definitely not going out of style. It's definitely my favorite choice. I think it's a classic choice but it can also be a very contemporary and a very modern-looking choice. And nowadays, people are thinking about hardwoods and they're thinking about color.
Gray is actually one of the trending colors. We're seeing it in every aspect, not just floors. We're seeing it on the wall paint, cabinets, fixtures and such but also in the floors. And when you think gray, you might be shaking your head. "On floors?" Well, there's a sort of a gray-washed look in hardwoods. There are great tiles that are made out of ceramics, that look like wood planks so that it gives the appearance of a floor tile. And so there's a lot of things that you can play with in terms of color and these days, in terms of gray color.
TOM: And even very dark woods, we're seeing some of that. Almost the opposites are attracting …
LESLIE: Like ebonized, even.
TOM: Right, yeah.
KEVIN: Yeah, I mean I think it kind of grounds the rooms.
TOM: Yeah.
KEVIN: Sometimes it can actually make a room feel more intimate. But it also gives sort of an exotic feel because those darker woods, I think, we associate with exotic wood species, like Brazilian walnut and such like that. And so people are choosing those as options, as well.
And again, it's a style and a color choice.
TOM: Now, it used to be that hardwood was pretty much only oak and red oak or white oak, right? And now there's just so many hardwoods to choose from.
KEVIN: There are so many different hardwoods to choose from, not just the oaks. You've got the maples, you've got the walnuts and you've even got some things that technically aren't wood.
You guys know that bamboo is very popular. People may think of it as wood but it is actually a very fast-growing grass. It gives a contemporary look. People who are environmentally-conscious love it because it's so fast-growing. It's very renewable and there are a whole bunch of choices out there when it comes to bamboo.
I would say, however, that bamboo can span a very broad range in terms of its durability. How hard a surface is is probably the number one indicator of how durable a surface is. And bamboo, it can be as soft as pine or as hard as maple. It all depends on when it's been harvested and how it's been manufactured.
TOM: It's really amazing material. They're making fabrics out of bamboo today.
KEVIN: They are making a lot of things out of bamboo today. And it's something that's been around for thousands of years and used all over the world. It is now coming to the United States and into our homes in a big way.
LESLIE: And I think with the fabric, it's important because they've been using it a lot in fitness wear because it's so moisture-wicking and it wears very well.
KEVIN: Wow.
LESLIE: So I've seen a lot of that there.
Now, I think it's important to look at tile because tile is still a very popular choice when it comes to flooring. And we're seeing a lot of sort of changes in how you would traditionally think about tile.
KEVIN: Tile is extremely durable, it's great for cleanup. If you have got a mudroom, boy, it is an ideal choice. And in fact, on the project that we're working on currently for This Old House, we are using a tile in the mudroom. It is actually a gray tone.
LESLIE: Of course.
TOM: There you go.
KEVIN: And it is made to look like wood. So when you actually look at it, it's in that sort of long, rectangular shape to make it look like plank wood. But it has all the benefits of tile: that sort of durability, easy cleanup. The other thing that we're seeing – in addition to the colors and the different trends, in terms of faux wood – are sizes. People seem to be using much bigger tiles. At least they're coming back.
TOM: Yeah, used to think small room, small tile but now it's – I'm seeing small rooms where you have about four tiles in it, you know?
KEVIN: Well, it's a style thing, so people are making the choices for that. But if you think about the larger tile, a couple things are going on. More tile, fewer grout lines.
TOM: Yeah.
KEVIN: So you get a different look there.
There are a couple things to think about when you're using large tiles, other than just styles and trends, and it's performance.
TOM: They don't bend.
KEVIN: They don't bend.
TOM: You want to have a good base.
KEVIN: You really do want to have a good base, because the last thing you want is a cracked tile. And a larger tile without a good base is going to be more prone to crack than a smaller one.
LESLIE: I mean all of this really sort of makes carpeting seem obsolete. Has it kind of gone away completely?
KEVIN: Oh, it definitely has not gone away completely. We have a lot of carpet up on second floors because it's very cozy, at least the wall-to-wall. We're seeing a lot of that put in houses and projects that we're working on. And also used downstairs in terms of accent rugs. There's different colors that you could bring, in different textures. So I don't think it's getting rid pf carpet but I think we're using it in combination with these hardwoods and tiles, as opposed to just using carpet from corner to corner, wall-to-wall in a room.
LESLIE: Mm-hmm. And you know what I love as a trend with area rugs is layering area rugs. That just makes me so happy. Why have one when you can have two or three in the same spot?
KEVIN: If you could see the smile on Leslie's face right now.
TOM: More is better, right?
Kevin O'Connor, the host of TV's This Old House, thank you so much for stopping by The Money Pit and stepping up our trend knowledge.
KEVIN: Thank you for having me. It's my pleasure.
LESLIE: Alright. Catch the current season of This Old House andAsk This Old House on PBS. For local listings and step-by-step videos of many common home improvement projects, visit ThisOldHouse.com.
TOM: And This Old House is brought to you on PBS by State Farm. Like a good neighbor, State Farm is there.