Do-it-yourself flooring options are growing in number as technologies change and manufacturers get smart about making products that any consumer can install for a low-hassle, high-impact room design. Consider these DIY-friendly flooring options for your own flooring makeover.
The beauty of hardwood in a snap. Hardwood has always been a favorite flooring choice for its natural beauty, durability, and positive impact on a home's value, but its messy installation and complicated finishing requirements have often kept it beyond the reach of the typical do-it-yourselfer. With today's pre-finished, snap-together hardwood products, however, favorite finish styles meet DIY installation ease.
Alt=do it yourself flooring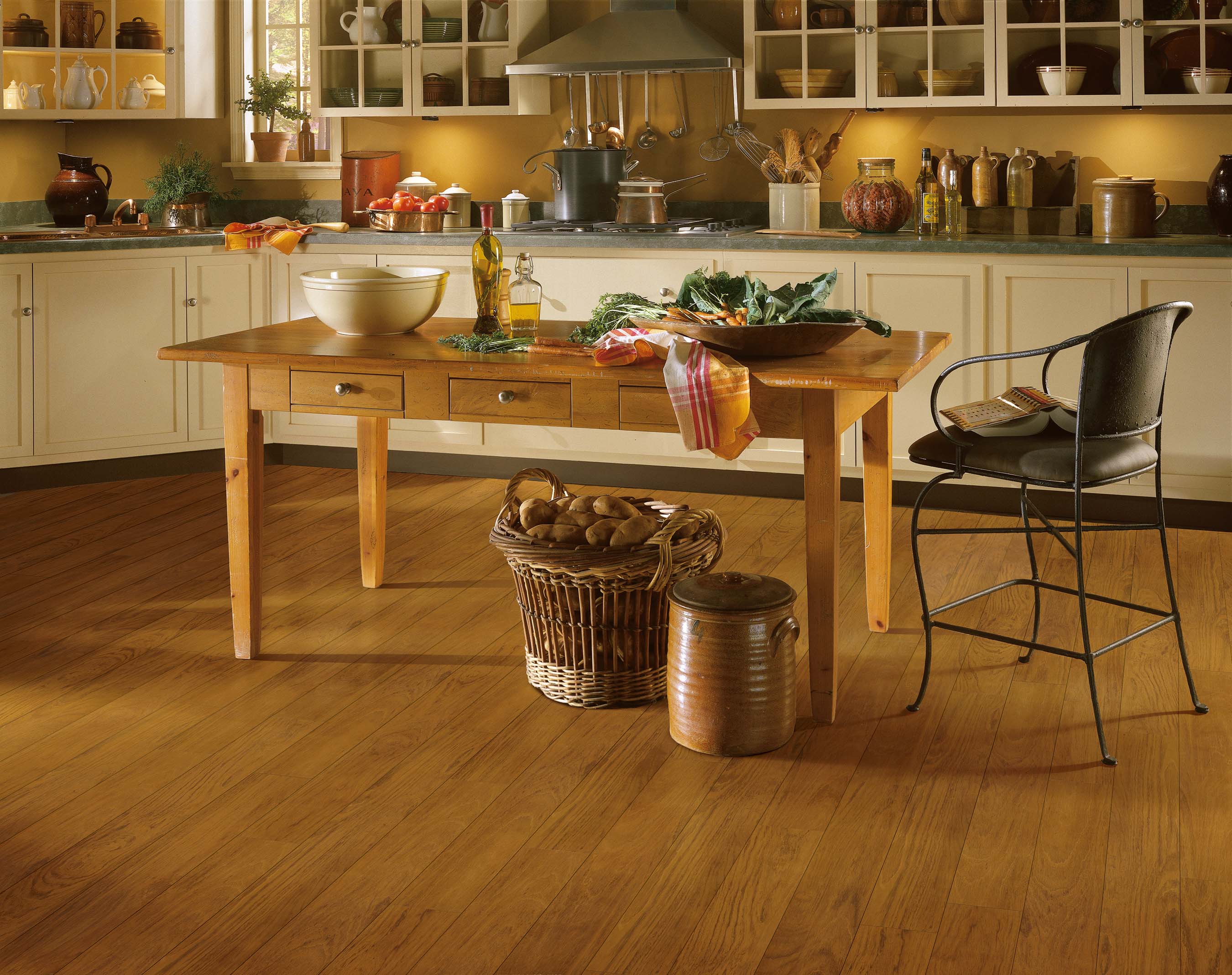 One great innovation in this category is Armstrong Engineered Hardwoods. Its patented NextGen technology takes the usual work out of installation by replacing the need for glue, nails and staples with tongue-and-groove panels that simply fit together, fold down and lock into place. A variety of domestic wood species, colors and widths are available in the Lock & Fold collection, all pre-finished with a tough Dura-Luster Plus urethane finish containing aluminum oxide to repel spots, spills and stains. Providing more design flexibility than standard hardwood, its cross-ply engineered construction allows it to be installed in any level of the home, including the basement.
Lovely laminates. Providing the look of wood, stone or ceramic at a lower cost, laminate is one of the most popular DIY flooring products around. This high-tech material is constructed by taking a photograph of the natural material it mimics, laminating that image to fiberboard, and sealing the elements with an incredibly durable protective coating. The result is a tough but beautiful floor that resists scratches and stands up to spills. The installation process is also attractive: a glueless locking system allows it to float above the subfloor, and its thin profile makes for smooth and safe transitions between rooms. Want another reason to love laminate? Most contemporary offerings are made of recycled natural and synthetic materials, showing a little love to Mother Earth as well as your home's interior.
Designing with vinyl tile. Luxury vinyl tile continues to stick around as one of the most versatile DIY flooring options, and can step up the style quotient for those looking to design a unique, colorful floor plan. Luxury vinyl tile designs mimic everything from natural stone and marble to retro-styled linoleum, and the easy installation method allows homeowners to update floors according to their changing tastes. Armstrong's MODe collection includes a range of looks that can be mixed and matched to a designer's delight, all including a nylon-infused wear layer with the tough technology of aluminum oxide that resists scratches and improves gloss retention.
Green trends underfoot. Consumer awareness of green building is driving the development of a range of smart DIY flooring solutions, and retailers are responding with products combining sustainable materials and consumer-friendly technologies. The folks at Lumber Liquidators have been hip to this green scene from their very beginnings and hold suppliers to strict standards, requiring that all wood products come from managed forests. In addition to the wide array of domestic and exotic wood products they offer to the DIY set, they're seeing a growing demand for such renewables as cork and bamboo. These pre-finished materials are beautiful ways to bring a little green into your home, and Lumber Liquidators has expanded the popular bamboo spectrum to include in-demand designer shades of gold, red and black, among other do-it-yourself flooring options.