The mudroom is the most trafficked area of your home. Usually acting as a utilitarian foyer inside your back door or the entrance from your garage, the mudroom was never designed to be glamorous – but it is your family's everyday entrance into the home. When it's chaotic, it can make life itself chaotic. When it's bleak, it can make you feel the same way. That's why it's worth it to make your mudroom as organized and cheerful as possible, for everyone in the family.
But where to start? Easy. Start by making a list of everything that needs a place in the mudroom.
The first part of your list should include seasonal items. Like snow boots and beach towels.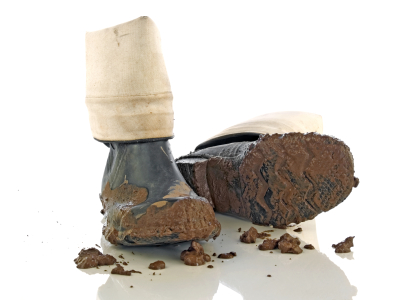 Next, list everyday items that will land there. Try to resist editing out things you wish didn't land there, but instead, be realistic. Think of each member of the household and what they're most likely to drop there on their way in and out. Think book bags, coats, hats, briefcases, umbrellas, shoes.
Now think about how best to store your listed items. Try to imagine what's needed – Hooks? Bins? Boot trays? Baskets?
If your mudroom is big enough, consider adding a sturdy bench so everyone has a place to sit and lace up or pull off their boots. It helps to confine tracked-in dirt and snow to the mud room, too.
The mudroom is also an ideal place for the family recycling center. Dedicate a space for your recycling bins, keeping in mind they should be easy to roll out the door on recycling day.
The mudroom needs to be tough to stand up to moisture and the sometimes clumsy transport of sports equipment and bulky school projects. Think about synthetic wainscoting and other durable surfaces that resist scratches and dings, but also wipe clean easily.
Glazed ceramic tile and laminate flooring make durable choices for mudrooms. Consider adding an indoor/outdoor rug that will trap dirt and mud, and which can be hosed off in a jiffy outside.
Just because the mudroom is utilitarian doesn't mean it has to be short on style. When choosing that indoor/outdoor rug, go for one with bright colors or a stylish pattern. Shop around for a particularly fetching umbrella holder to stand near the door. Think about how a row of beautiful oversized baskets can serve as catch-alls for gym bags, boots and soccer balls.