If you are thinking of putting in a new floor today, there is a wide array of new floor options with inspiring looks that range from genuine materials such as hardwood and ceramic to the great pretenders like laminate and vinyl. Never underestimate the power of a new floor it helps set the tone for the character of your entire room. Before you decide which new floor is right for you, think about the lifestyle and performance needs of the areas in your home it will serve.
First, consider the warranty. Different floor types are warranted for different physical aspects, and for different lengths of time. Also consider the new floor's life expectancy. Some floors, such as hardwood and ceramic, may last a lifetime if properly maintained; others such as laminate may last for 15 – 30 years; while still others, such as peel-and-stick vinyl tile may only last for a few years.
Second, look at the activity level of your household. Some floor types are better than others at standing up to traffic, resisting pet scratches and liquid spills. Vinyl sheet and vinyl tile are excellent choices for homes with kids and critters.
You should also think about the care and maintenance of the new floor. Most new floors offer easy maintenance to keep them good-looking over time. Some are easier to care for than others with nothing more than simple vacuuming and mopping, while others require periodic refinishing. Laminate and vinyl sheet are two of the easiest floors to care for.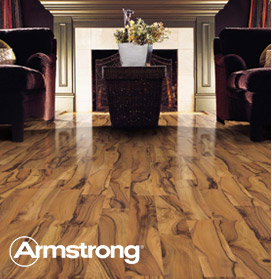 Another thing to consider is the location of your new floor. If the new floor will be for a full bathroom, you need a floor that can stand up to temperature and humidity fluctuations, and pooling liquids. Vinyl sheet floors are perfect for these rooms, while options like hardwood, may not be as perfect a choice. On the other hand, many floors may be used successfully in half baths since the risk against pooling liquids is less, which can damage the floors or their seams.
Finally, you should consider the grade of the new floor. While many floors can be installed on any grade level, others are not usually recommended for installation below grade, where moisture can be a problem. Solid wood, for example, is generally not recommended for below grade installations. However, laminates and engineered hardwoods can work well in basements, as long as moisture levels are not excessive.
If you've decided on a new hardwood floor, you're among millions of Americans who are going with this look that is as popular as ever. Hardwoods are a natural, long-lasting, cost effective choice for your home, whether your style is classic or contemporary. But how do you choose from hundreds of beautiful options and wood species?
Today, there are dozens of hardwood species to choose from. It's not just Oak anymore. The species impacts the look of your floor and its durability. For example, traditional Oak species have pronounced variations in grain and shade, while Maple's wood grain is cleaner and more understated. And not all species of hardwood are equally hard: Brazilian Cherry, Hickory and Pecan are some of the hardest species; Oak, Beech, Birch and Ash are in the middle; while Teak, Cherry and Pine are the softest.
The floor's finish can affect its durability. Today's pre-finished hardwood floors have it all over site finished. Why? Pre-finished floors, stains and high performance aluminum oxide urethane coatings are applied and dried in a controlled factory environment using specialized equipment not available for site finishing. The result is a much more durable finish, a uniform stain application and a cleaner environment.

Engineered hardwood is also 100% wood, but can not always be sanded and refinished. It is manufactured by permanently bonding
together multiple layers of solid wood in a cross-ply construction. The result is superior strength and moisture/humidity resistance. A basement, where you would normally avoid hardwood, is a perfect candidate for engineered hardwood.
The good thing about hardwood floors is that they do add value to your home, and that value can actually increase the longer you have them. Of all the flooring choices, hardwood floors can last the longest. Plus, by reacting with air and sunlight, their appearance actually improves over time as they fade to a very desirable patina. Hardwood floors can also be refinished and they are generally easy to maintain. Just sweep or dust mop once a week using soft fabrics like cotton or terry cloth. Clean up spills and tracked-in dirt immediately. And, regularly use recommended hardwood floor cleaners.
When it comes time to sell your home, hardwood floors are a major selling point and will increase the perceived value of your home substantially. According to realtors, hardwood adds 8% to 10% to the price of a house. In a $200,000 house, that means $16,000 to $20,000 more on the selling price.
Laminate for Less
If you want the look of hardwood but not the cost, there is an inexpensive option: laminate floors. Many homeowners aren't sure what a laminate floor is actually constructed of – wood or plastic? They also want to know if it's as tough as a real hardwood floor. Laminate floors can look just like real hardwood, real stone or even real ceramic, but they're not. This high tech material is actually constructed by taking a photograph of the real thing, and then laminating that on to fiberboard and sealed in with an incredibly durable protective coating. The result is flooring that LOOKS like the real thing – but in some ways is even better. For example, research done by the folks at Consumer Reports showed that certain laminate floors that look like hardwoods were sometimes even tougher than the real hardwoods themselves.
The best part is that laminate provides this realistic look at a lower cost. And, hot new flooring looks in laminate are reflecting the design trends of their natural counterparts, including exotic woods, weathered stone and traditional brick with floors that are more convincing than ever. At the same time, new technology is making them more realistic, easier to install, and tougher for active households. Besides being less expensive, laminate is extremely durable and far less apt to scratch than wood. It is also exceptionally easy to install because interlocking pieces "float" over, rather than attach to, a subfloor. It like putting together an easy puzzle!
Another benefit of laminate floor is the transitions between rooms. Because laminate floor is only a little more than a ¼ inch thick, it makes transitions to the flooring in adjoining rooms in your home easy and safe. It's also very child and pet friendly because it cleans up quickly. And, it is made of recycled materials so it is an environmentally responsible material to use! A very good place to learn more about laminate flooring is the
Complete Guide to Flooring
.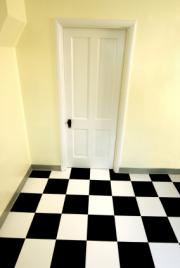 Laminate flooring has come very far in the colors and the patterns and the options, it's really indistinguishable from the real thing. But, If you want to mimic the look and texture of natural materials such as hardwood, stone or ceramic, or if you prefer a visual that's only possible with modern print technology, vinyl flooring offers you the widest array of designs and colors in any one flooring category. Armstrong's award-winning Natural Fusion luxury vinyl not only tricks the experts with its realistic look and textures, but brings affordable luxury into the home. Natural Fusion is a good example of how technology can really come together to create a product that delivers the Old World luxury with modern-day durability.
Vinyl Flooring Options
Vinyl sheet is one of the best buys in flooring, compared to other new floor coverings. Vinyl is also very comfortable. Compared with other hard surface flooring, it is easier to stand on for long periods of time and it's more forgiving on dropped glasses or other objects. Vinyl's cushy construction is toddler-friendly and easier on elderly joints, too.
Vinyl requires minimal maintenance much less than any other flooring category and it is water resistant. Vinyl sheet doesn't absorb liquids, so it's suitable for any room of the house, especially bathrooms and kitchens. It also has fewer seams than vinyl tile, for less places water or dirt can accumulate. Vinyl can also be installed anywhere, including below grade areas like a basement. And, it can be seamless. Most vinyl products come in 6′ or 12′ feet wide, and create a very uniform-looking installation.
Options for your new floor are practically endless. So consider where your new floor will be, how much use it will get and what look and feeling you want to convey and you will soon be able to decide which new floor option works best for you.