LESLIE: Well, we are big fans of doing it yourself but truth be told, some projects are best left to the pros, pretty much to make sure they come out exactly as planned.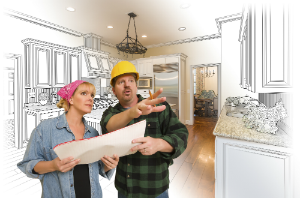 TOM: Well, from contractors to tradesmen to designers, these folks can bring big value to your project if you find the right pros for the job. This Old House host Kevin O'Connor gets to work with the best pros all the time and joins us now with tips to find pros for your projects.
Welcome, Kevin.
KEVIN: Hi, guys. A pleasure to be here.
TOM: So pros really bring a lot of value to the project. But what's the most important thing to keep in mind when working with them?
KEVIN: Well, you've got to pick the right one.
TOM: Yeah.
KEVIN: We are definitely fans of doing it yourself, as well. But that pro who you bring in – a person who is an architect or an engineer, a licensed plumber – they can bring a certain level of experience and know-how to the project that you could never bring yourself if you're a do-it-yourselfer.
And so it's critical that you find someone who you can work with and who has a great reputation, because they can help you save money by bringing that project in on budget. They can help you save time by making the right decisions and executing them correctly. So, like you guys, we are big fans of bringing the pros in when the time is right.
TOM: Now, the cost of not having a pro can far exceed the cost of having a pro, especially when it comes to mistakes. I think a lot of folks don't recognize that.
KEVIN: I think they don't. If you're going to hire a plumber and you're going to pay them by the hour – and you are making decisions about where the old plumbing has to be disconnected and the new plumbing has to be put in and those aren't thought through in advance?
The cheapest place and time to think about those is on paper before you start opening up the walls. And that's what a pro could do for you. An architect, a general contractor, they can make sure that all of that stuff is thought through and coordinated, because you could really lose your shirt if you don't have a good plan for your construction project.
LESLIE: Yeah. And I think another thing that people tend to not think of is bringing an engineer onto the project. You know, so many times you're looking at something structural and maybe just chatting with a contractor directly when you really have to get a diagnosis first.
KEVIN: You need to understand the roles of different pros and how they can serve you. And so if you go through a list of some of these things – to your point, an engineer is great. If you have these structural things that have to happen to the house, oftentimes, with your building permit, those engineering decisions need to be stamped by a licensed engineer.
Someone has to look at those things. So you're probably going to get into a relationship with an engineer anyway. Why not get him into the project early on so you can make those decisions at the right time as opposed to at the wrong time?
And architects, they're going to help you with structural changes, they'll help you interface with engineers and general contractors. But you've got to get permits. You might have to go in front of the zoning board. They can actually walk you through all of that process and help you expedite all of those decisions that have to be made.
LESLIE: Many architects even go in on those zoning meetings.
KEVIN: Absolutely.
LESLIE: They have to be there to present.
KEVIN: Happens to us all the time. We just did a project in Boston. We wanted to add a dormer to our brick row house and we had to go, we had to get variances and approval. And who do you want to do that? You want the person who's done it before, who knows the players, who knows the rules and get that thing done. And our architect was able to get the approval in a very fast turnaround for us.
TOM: Alright. So you're fortunate because the architects are literally coming to your door with their projects to be built. But for the rest of us that need to find these pros, any tips for finding the best in your particular area?
KEVIN: Well, I sympathize with the sense that it can be overwhelming, because there are a lot of them out there and it's a big decision and you're going to be in a pretty intimate relationship with this person.
LESLIE: And varying skill level.
KEVIN: Varying skill level. Absolutely.
The number one thing that I would recommend is to get references. Talk to friends and neighbors, people who have used these people and say, "Who do you like and why do you like them?" And those sort of personal references are going to be the first place to put you on the right track.
And then once you start interviewing these people, you ask the tough questions. Ask them about their licenses, ask to see their work. Talk about the tough issues up front. What is it going to cost? How are we going to get paid? Address all of that before you enter into this very important relationship.
TOM: I like to ask for references from the contractor or the architect that are both recent and older.
KEVIN: Absolutely.
TOM: I like to talk to somebody they did work with a year or two or ago to make sure they're still happy.
KEVIN: And go to try and find some on your own. Obviously, if you're a contractor you're going to give up the names of the people who you had the best relationship with and the best experiences.
LESLIE: Right.
KEVIN: Do a little digging. Ask around. These people have got their signs up in the neighborhood, they work locally. If you do your homework, it shouldn't be that hard to actually find the right contractor to help you out.
LESLIE: Yeah. And I think another thing that you should be asking, because it sometimes gets overlooked, is rubbish removal. Who's in charge of it? Who's in charge of certain prep aspects of the project? Because you don't want to assume something and then it be completely the opposite.
KEVIN: The more detail of a quote or a bid that the contractor puts in front of you so that you can work out those specifics, the better off you're going to be as the project goes along.
TOM: Let's talk about designers, another very important pro of the project. I know you work with these folks all the time. Leslie has got plenty of projects she does on her own as a designer. I think a lot of consumers don't understand what a designer brings to the project. What's your experience been?
KEVIN: Well, dare I say, Leslie, that some people often think that the designer is frivolous and they don't want to spend money on it? Do you find that at times? And it's probably a misconception. It is a misconception.
LESLIE: Oh, yeah. I mean I think people sort of overlook the fact that we have inside connections with the manufacturers directly, so therefore your price point is going to be much more value than going retail directly. We're able to get more hard-to-find items, we know better about placement and layout of items in the room to help create flow, to maximize the use of the space. We're good with colors and putting things together. I think people forget that and then sort of bring you in last minute or not at all when it could have just been beneficial and time-saving.
KEVIN: The other thing that I think people don't appreciate is just how many decisions they have to make.
LESLIE: Tons.
KEVIN: Even the smallest project. What size are the tiles? What color? What about the countertops? What sort of edge do you want? What sort of trim detail? Before you know it, you have literally hundreds, if not thousands, of decisions to make. And relying on a designer who's been there before, it can actually help you make those decisions. It's going to help you sleep better at night and get you through that project on a quicker, more cost-effective way.
TOM: I feel like they think of the things you're not going to consider until you're much farther along on the project.
KEVIN: Everybody wants a new stove put into the kitchen and then, all of a sudden, you go on the website and you find out there's 400 different kinds of stoves and 45 different measurements.
LESLIE: Right.
KEVIN: And then you – why do you want to weed through that for the first time and try to make a decision, as opposed to turning to somebody who's done this dozens of times?
LESLIE: Who says, "Here are three options. Pick."
KEVIN: Here are three options. These go.
TOM: These will work. Go.
Kevin O'Connor, thank you so much for your advice. We appreciate you stopping by The Money Pit.
KEVIN: Always a pleasure. Thank you for having me.
LESLIE: OK. You can catch the current season of This Old House and Ask This Old House on PBS. For local listings and step-by-step videos of many common home improvement projects, visit ThisOldHouse.com.
TOM: And This Old House and Ask This Old House are brought to you on PBS by The Home Depot. More saving, more doing.