LESLIE: Jim in California needs help with a decking project, how to restore color to weathered deck. What can we do for you today?
JIM: I've got two decks that I rebuilt approximately three summers ago and had never treated them. Did a real nice job: mitered corners, rounded everything, routed everything. And of course, not treating them, they have weathered and I need to clean them.
LESLIE: OK. And so your issue is you're seeing some wear and tear but the big problem is discoloration?
JIM: Yes. The oxidization.
LESLIE: Mm-hmm. So everything looks a little gray and just weathered?
JIM: Right.
LESLIE: Now, with the discoloration, I mean that's normal wear and tear of any type of wood surface. And if you were to just, say, put a sealer on there, yes, you're going to protect the wood from any further cracking or checking and you may help it, depending on the kind that you use, from further damage from, say, the sun. But if you want to restore color to weathered deck, you're going to have to go with a stain that has a color in it.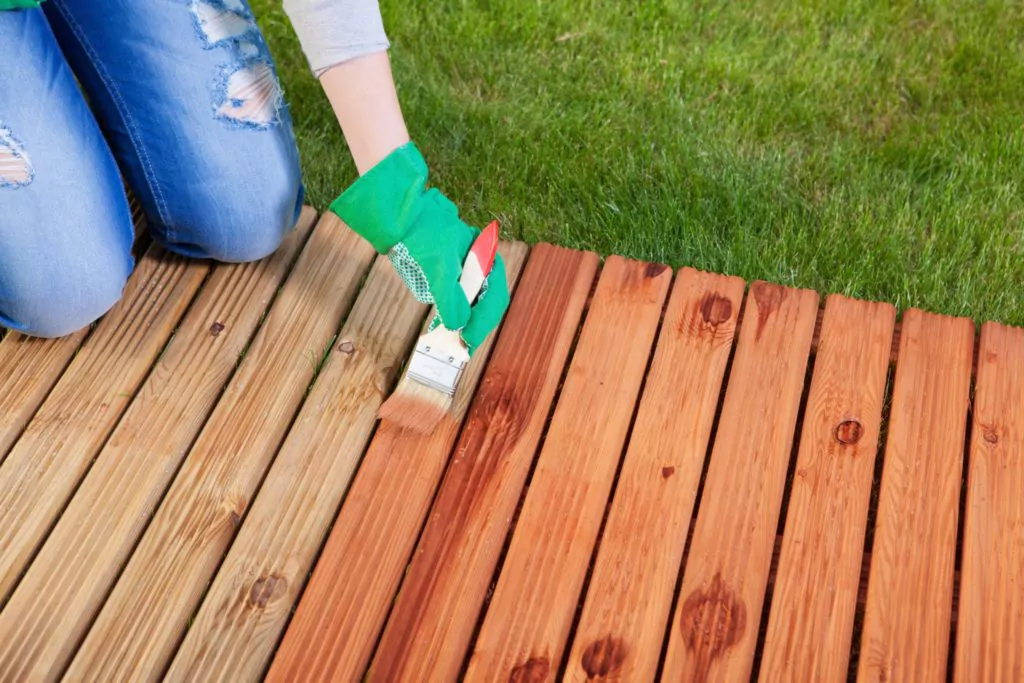 So depending on the condition of that decking, you can go with a semi-transparent, which will deposit color on but still allow you to see the condition of the wood through it, you know, through the stain itself. Or you can go with a solid stain, which gives you a little bit of longer time between having to refinish it, gives you more protection because it is a further saturation of color and a heavier pigmentation of color. So it really depends on what kind of look you want when you try to restore color to weathered deck and really, the condition of the wood itself.
JIM: Yes. Well, my wife wants me to bring the color back.
TOM: That color is long gone, my friend. You can't bring it back once it grays out like that but you can restore it if you stain it, like Leslie suggested. And you can use semi-transparent or solid color and it will look really good and you'll still see the grain. So you're not going to lose the grain of the wood. But once it turns gray like that, you're not going to be able to restore it unless you sand it and that's really pretty much a waste of effort.