Exposure to the elements over time can take quite a toll on a wooden deck. Depending on the amount of wear and damage, the solution might be to clean, refinish, repair or even replace parts of your deck. Whether your deck just needs some surface-level TLC, or more serious attention, these tips will help you restore your deck to a safe, sound and beautiful state.
If your wooden deck is in pretty rough shape, you might be wondering if you should try to save it or start fresh. The question of whether to repair or replace a wooden deck depends on the deck's condition both above and below the floor boards. Extreme, pervasive rot and/or a structural design that literally doesn't hold up means it's time for a reconstruction.
Starting from scratch means you can revisit the design and determine if it's been working for you or time for a change. It's also a good time to consider building the deck as a free-standing structure, a construction method that is gaining in popularity. It is safer to double the main beams so that you have one beam close to the house and one at the opposite end. The deck doesn't "hang" off the house, structurally speaking, which can cause it to be prone to failure and even collapse if it's not properly built and maintained.
If rot damage and wear are limited to the surfaces you see and touch, a deck "makeover" may work. Most decks built within the last 20 years have structures built from pressure-treated wood. If that's the case for you and you're confident the connection points to the home are structurally sound, you can leave that portion of the deck in place and simply replace the deck boards, stair treads and railings with new material. Those options could include not only new pressure-treated wood, but also one of the long-lasting, great-looking composite products.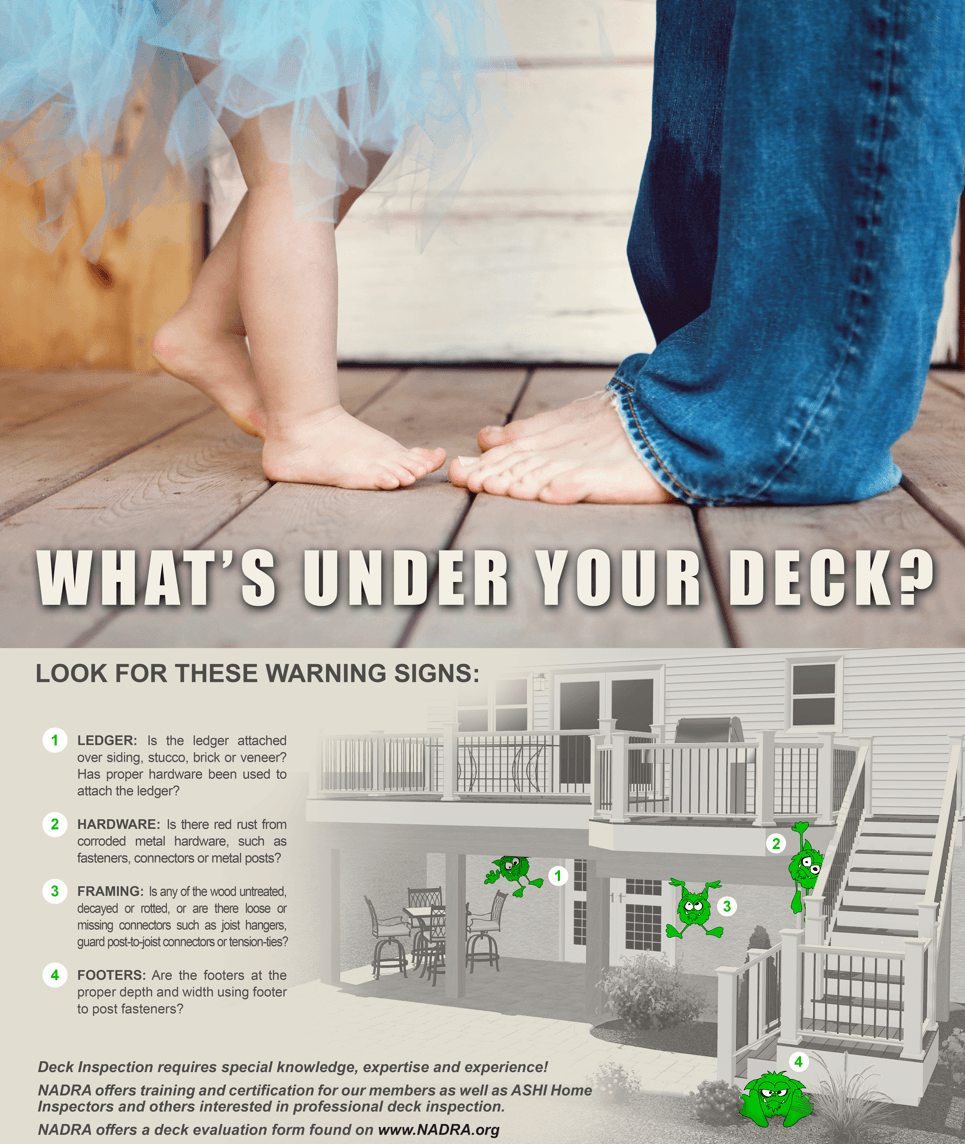 Refinishing a natural wood deck can also extend its life and good looks if it's otherwise structurally sound. Take a good look at your deck's surface and check for any splintering, blistering, or cracking. If you see those signs of wear, strip the existing finish so you can start from scratch. If you try to apply a stain over an existing finish that's in bad shape, you're not going to get proper adhesion and will find yourself in the exact same situation next year. Use a good stripper to remove acrylic and oil-based semi-transparent and solid stains which gets you back to the raw surface, where you can apply the finish of your choice.
If your deck is in good condition, you can go for a natural look or semi-transparent stain, which adds color and highlights the grain. If the lumber has seen better days, give it full coverage with a solid stain. If your deck is good condition but looks weathered, just give it a good cleaning with a cleanser to restore and freshen up its look, leaving it looking bright and vibrant.
Start with a good sweeping, being careful to remove any debris that has collected between deck boards and around the bottoms of railing posts. Then mix a simple, effective cleaning solution in a five-gallon bucket by combining three quarts of water, one quart of bleach and a half cup of detergent (make sure the detergent is ammonia-free, as mixing ammonia and bleach can form a dangerous gas). Apply the mixture to the deck using a stiff floor brush and let it sit for a few minutes, then rinse thoroughly. When planning this cleaning project, schedule your work for the cooler hours of the early morning or late afternoon, as the cleaning solution may dry before it has a chance to work when applied to a hot deck.
For an even more effective cleaning, you can bring a power washer into the loop. Just be sure you're educated on and comfortable with its application, because too much power can definitely be a bad thing here, causing damage to your decking and leaving behind a fuzzy, slightly splintered surface that's difficult to smooth over. The basic light-duty pressure washer (1300-2000 PSI) is 30 times as powerful as a garden hose, so proceed with care.
Homeowners love wooden decks for their naturally beautiful looks, but they are also vulnerable to the ravages of the weather. Regular care and maintenance of the deck, paired with repair or replacement when needed, will ensure a solid and attractive setting for outdoor living.