Staining a wood deck is one of the most common outdoor projects that homeowners take on during the summer months. A deck is a valuable asset to any home, and to keep it looking good all year long, take a few minutes to make sure the deck is in good condition.
Inspect the Deck Structure
To make certain your wood deck is ready for summer entertaining, look for loose or corroded fasteners, and check for split or cracked boards. Check railings and banisters for movement, and ensure there aren't any missing pieces. This is an important first step as in the worst case scenario, decks that are not firmly built of secured can collapse.
Clean & Prep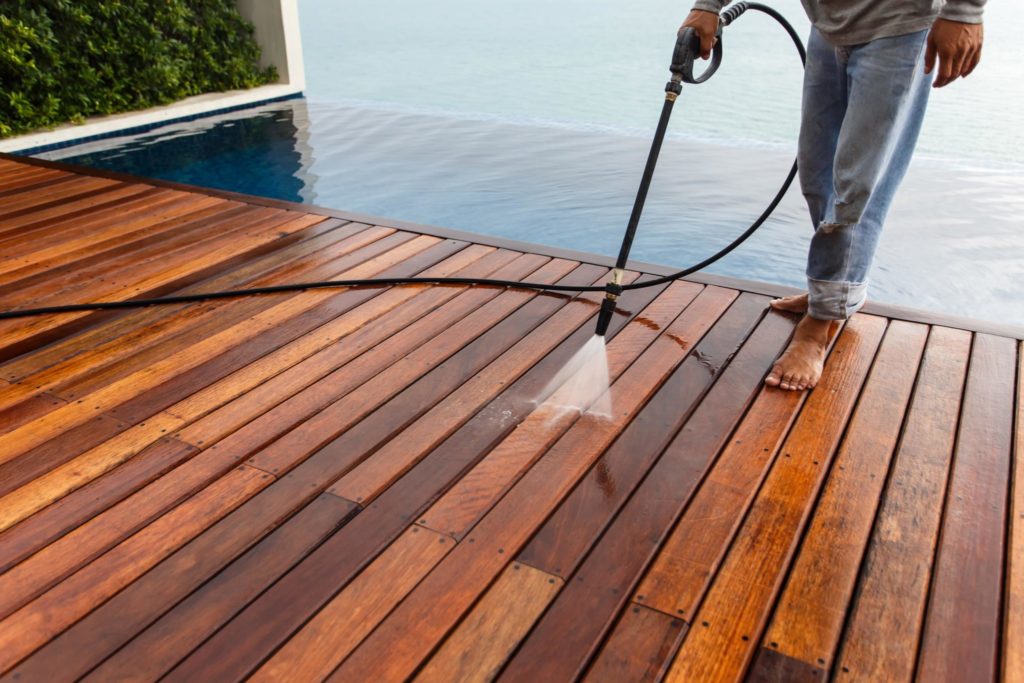 After you have checked the deck and made any necessary repairs, remove any loose paint or deck stain. To remove paint or stain chips, you can scrape and sand the deck, or use a commercial deck conditioner followed by careful power washing with plain water.
Clean the deck to ready it for new stain. You can use a commercial cleaner, or make your own cleaning solution by mixing a cup of household bleach and a splash of soap with a gallon of warm water. After scrubbing the deck surface, rinse it thoroughly by using a garden hose to remove any cleaning solution.
If any mildew stains remain after you have cleaned the deck, apply a mix of three parts water to one part bleach, and allow the solution to sit on the surface for 20 minutes. Scrub off the mildew and rinse the deck thoroughly.
Once the deck is completely clean and repaired, it's time to decide on the stain you will use. Deck stains come in both solvent-based and water-based formulas. Water-based stains offer better resistance to weathering, they dry more quickly, are relatively odor-free, and are easy to clean with soap and water.
Selecting the Best Stain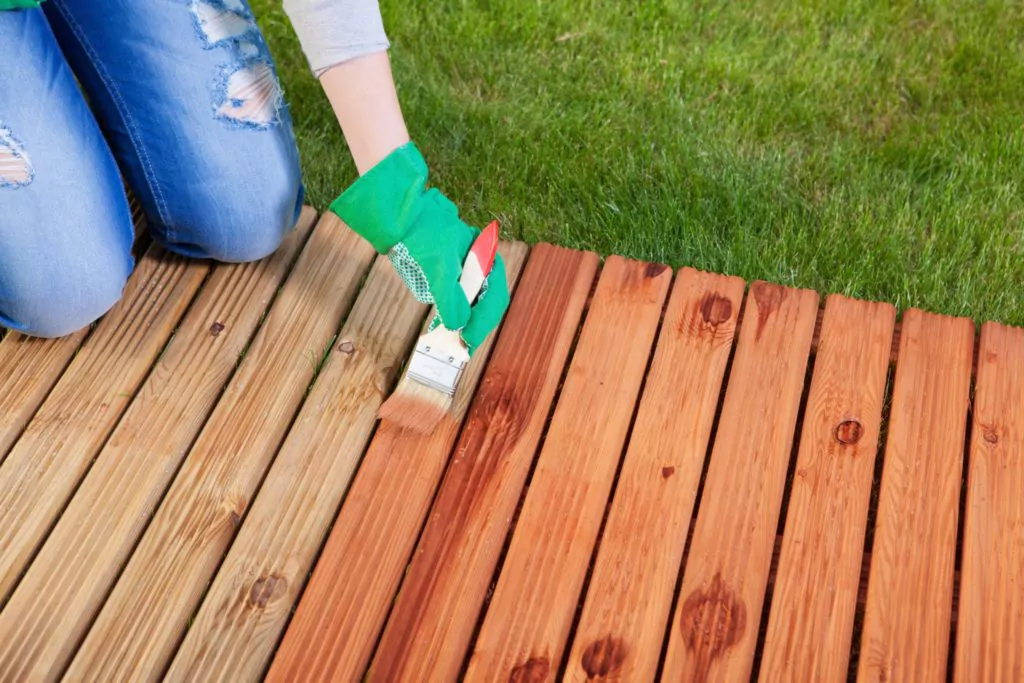 When deciding on a deck stain, keep in mind the condition and color of the wood, and how durable the stain will be. Clear finishes provide limited protection from the sun's UV rays, and will need to be reapplied every 12 months, while pigmented deck stains will last longer with more UV protection.
There are two types of pigmented stains to choose from when re-staining your deck. Semi-transparent coatings help protect the wood without hiding the wood grain or texture. Solid color stains show texture but hide the grain of the wood. Semi-transparent coating needs to be reapplied every 12 to 18 months. Solid color deck stains can last anywhere from three to 5 years.
"Whatever type of stain you use on your deck, you should always, always use a top quality there," says Debbie Zimmer, spokesperson for the Paint Quality Institute. "Consider the stress that the deck is exposed to – not only is there standing water, and snow and ice in many parts of the country, but decks are subjected to foot traffic, abrasion from patio furniture, and direct sun. You need a great coating to stand up to that abuse."
Top quality 100 % acrylic latex stains, solid color or semi-transparent, are the best options for restoring a wood deck. These stains are tough and durable, and many of the stains that are available contain extra ingredients to help prevent mildew.
How to Apply Deck Stain
Deck stains can be applied with spray equipment, a long-handled roller, or by brush. If applying deck stain with a sprayer or a roller, brushing the stain while it is still wet will help the stain to better penetrate the wood.
Repairing, restoring, staining and refinishing a wood deck can be an inexpensive and a relatively simple project that virtually anyone can do in a weekend.