Every summer season, decks become the living and entertaining space of choice for many homeowners. But wood decks take lots of punishment from the elements and painting your deck to maintain it's structural integrity is important. Before you pull out that table and umbrella, you should consider how to restore your deck with a fresh coat of paint or stain.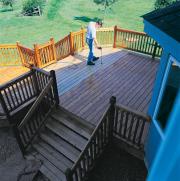 According to Debbie Zimmer, color and paint expert with the Rohm and Haas Paint Quality Institute, not only will this step in painting your deck enhance this often-used exterior room , but it can also protect the actual wood surface allowing the deck last longer.
Zimmer says that while brown and grey shades continue to be favorite color selections when painting or staining a deck, homeowners are increasingly choosing combinations that suit their home or decorating style. If you're not quite ready to add multiple hues to the entire space, add a punch of color by incorporating complementary colors onto planter boxes, built-in benches or even deck trellises, she says.
When it comes to painting your deck, you have plenty of options to harmonize or complement your outdoor surroundings:
A coat of semi-transparent paint or stain can be a great way to spruce up a wooden deck. It lets you add some color to the wood without hiding its grain or texture.
If viewing the wood grain is not a high priority when painting your deck, an opaque deck stain can be a better choice. These products, which can be oil based or latex, are more like paints in their pigmentation and so typically hold up longer than a semi transparent stain.
If you don't want to show either the grain or the texture of the wood, a quality porch and deck paint or enamel may be the way to go. It will last longer than any type of stain although you may need to use a primer for best results.
Painting your deck can improve and enhance the appearance of the wood, and creat a more inviting outdoor space for you to entertain this summer.