Changing a lamp bulb is no sweat, but it can be a total hassle when a light bulb burns out in a hard-to-reach lighting fixture in your home. Replacing the bulb can involve a hair-raising climb to the top of a ladder if the fixture is on a high ceiling or above your stairs. But now, thanks to long-lasting LED lights, you can forget what it's like to change a bulb.
LED technology is now being integrated right into light fixtures, so you'll never have to install or change a bulb in those fixtures again – because there isn't even a bulb to change!
Prices for these durable fixtures have come way down, saving you money on the initial purchase, as well as in the cost of energy needed to operate the light. For example, it's not uncommon for a fixture to be designed to last for 50,000 hours of use, which equates to 45 years of use! When compared to the cost to power a 100-watt bulb, you'd realize almost $500 in savings.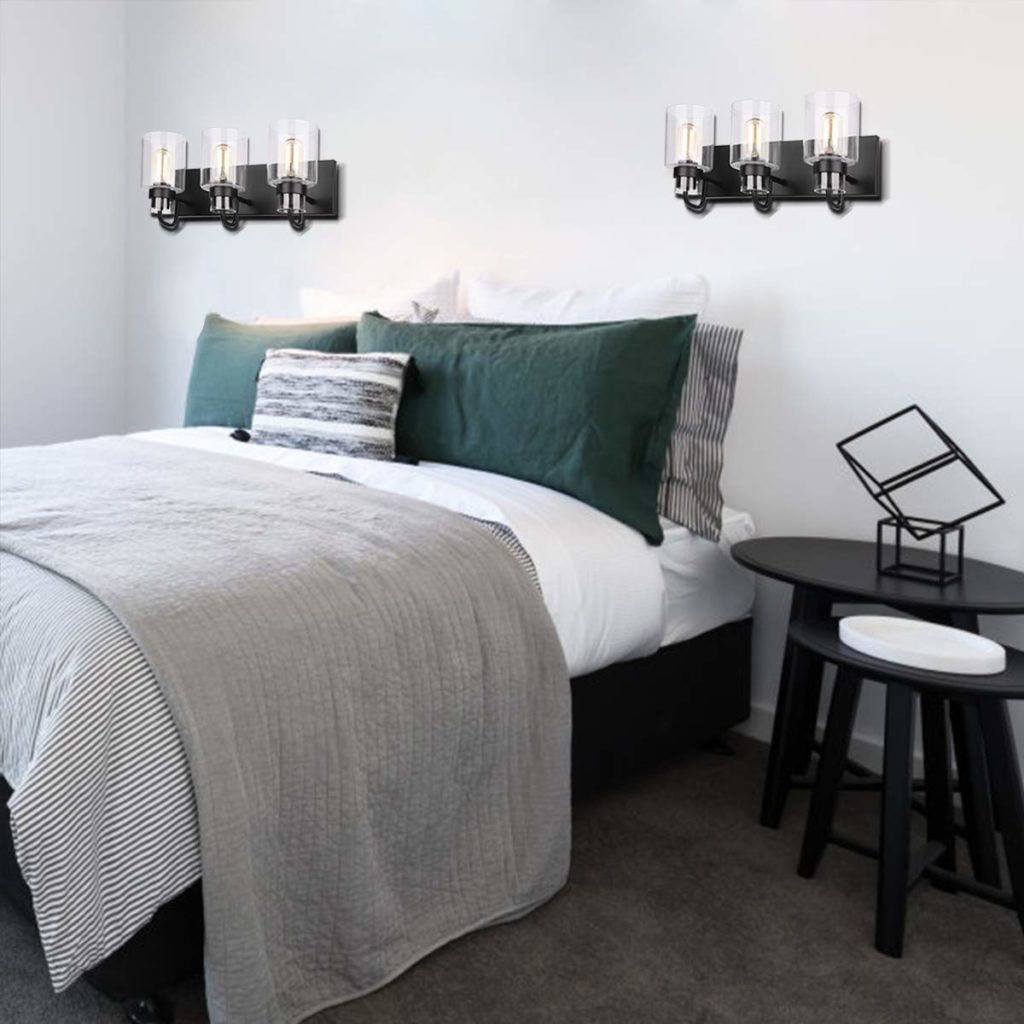 Plus, we're not just talking about plain looking lighting. Today's integrated LED fixtures are available in a wide variety of beautiful, functional and energy saving designs perfect for every area of your home, from basements to bathrooms, indoors and out.
Here's a sample of the styles of integrated LED light fixtures available today. These lighting examples were sourced from Amazon but similar fixtures can be found in retailers nationwide:
Bewamf Modern Mini Island Pendant Light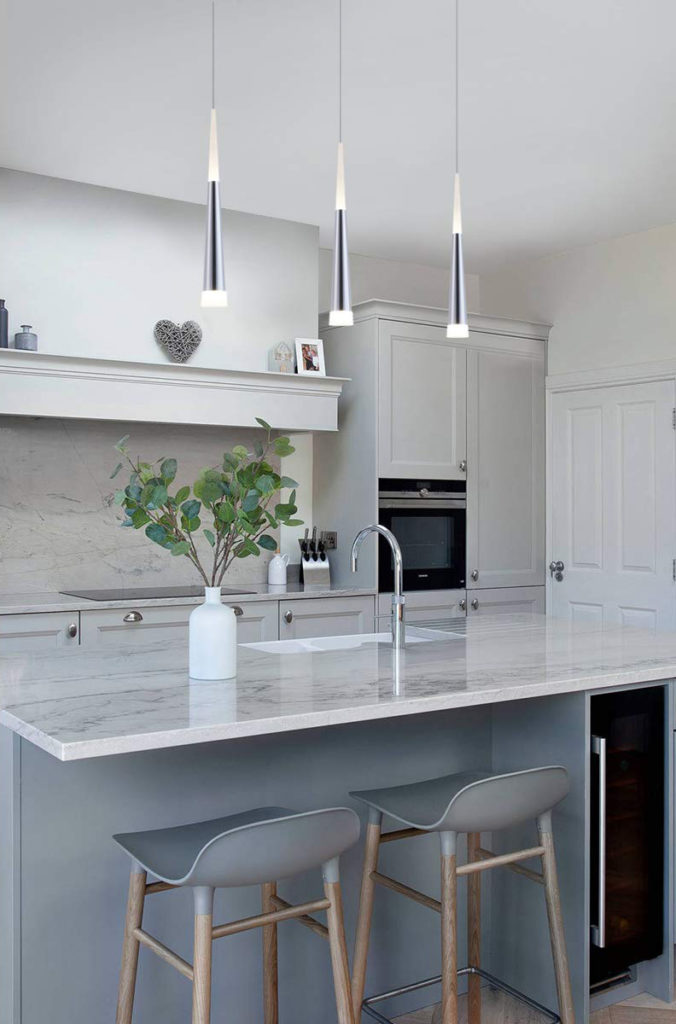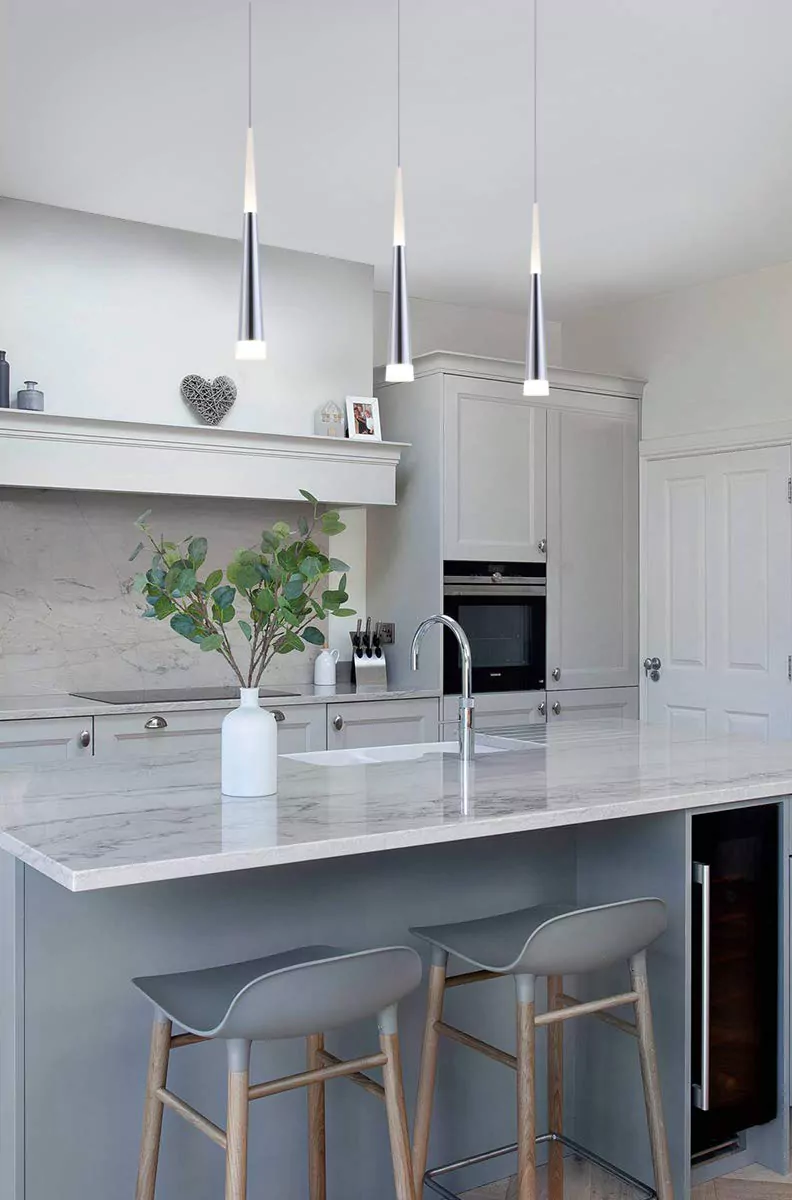 This Contemporary Pendant Lighting is perfect for a kitchen island or over a dining room table. It casts a warm upward and downward light that creates a better lighting effect. Using only 9 watts, it delivers light equivalent to that of a 60 watt incandescent bulb.
Globe Electric 4″ LED Integrated Ultra Slim Recessed Lighting Kit
Recessed lights, which are installed flush into the ceiling, are one of the more wasteful lighting fixtures ever developed. This is because not only to do they generate a lot of heat, requiring them to be either sealed in a special housing, or installers are cautioned to not cover them with ceiling insulation for fear they could overheat and cause a fire!
These integrated LED recessed lights are a much better alternative and can take the place of traditional incandescent designs. Energy Star certified and IC rated for direct contact with insulation, they won't overheat, do not require a bulky can and will last for years to come – 50 000 hours or approximately 45 years if used for 3 hours per day to be exact.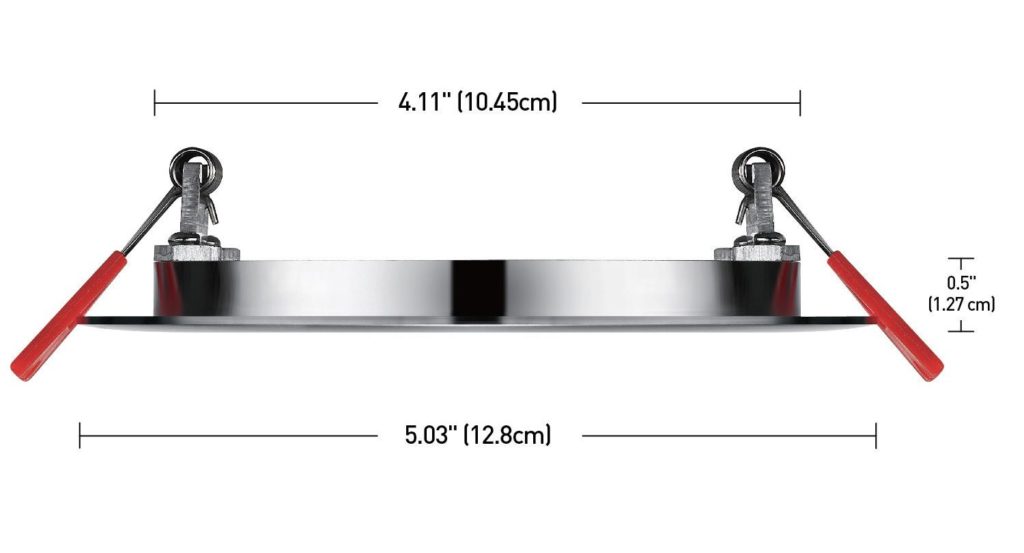 Each fixture is less than ½" thick meaning they are ideal for locations where height clearance is limited such as beams or ductwork. They're perfect for your bathroom, drop ceilings, outdoor soffits and all general lighting applications
Brushed Nickel Integrated LED Flush Mount with Frosted Glass Shade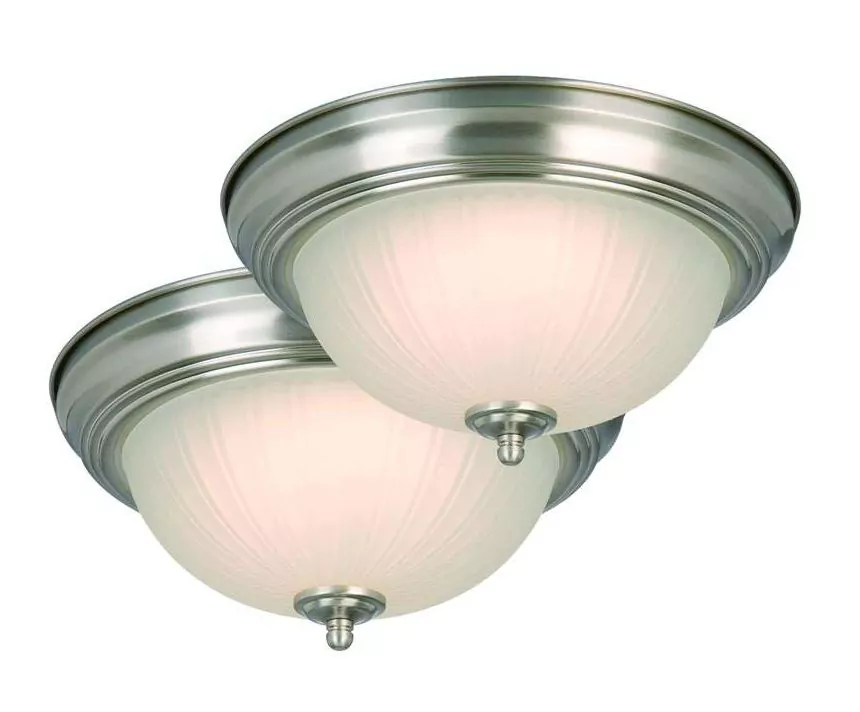 You can bring a stylish, bright glow anywhere you need additional lighting with this pair of 11 in. LED flush mount with a brushed nickel finish. The finish contrasts beautifully with a frosted melon glass shade, adding eye-catching beauty to your dining room, bedroom or kitchen. Long-lasting LED technology makes the lights hassle-free, with a traditional look that complements any design scheme. Each fixture has an equivalent light output to one 100-Watt bulb
Flush Mount Modern Outdoor Wall Sconce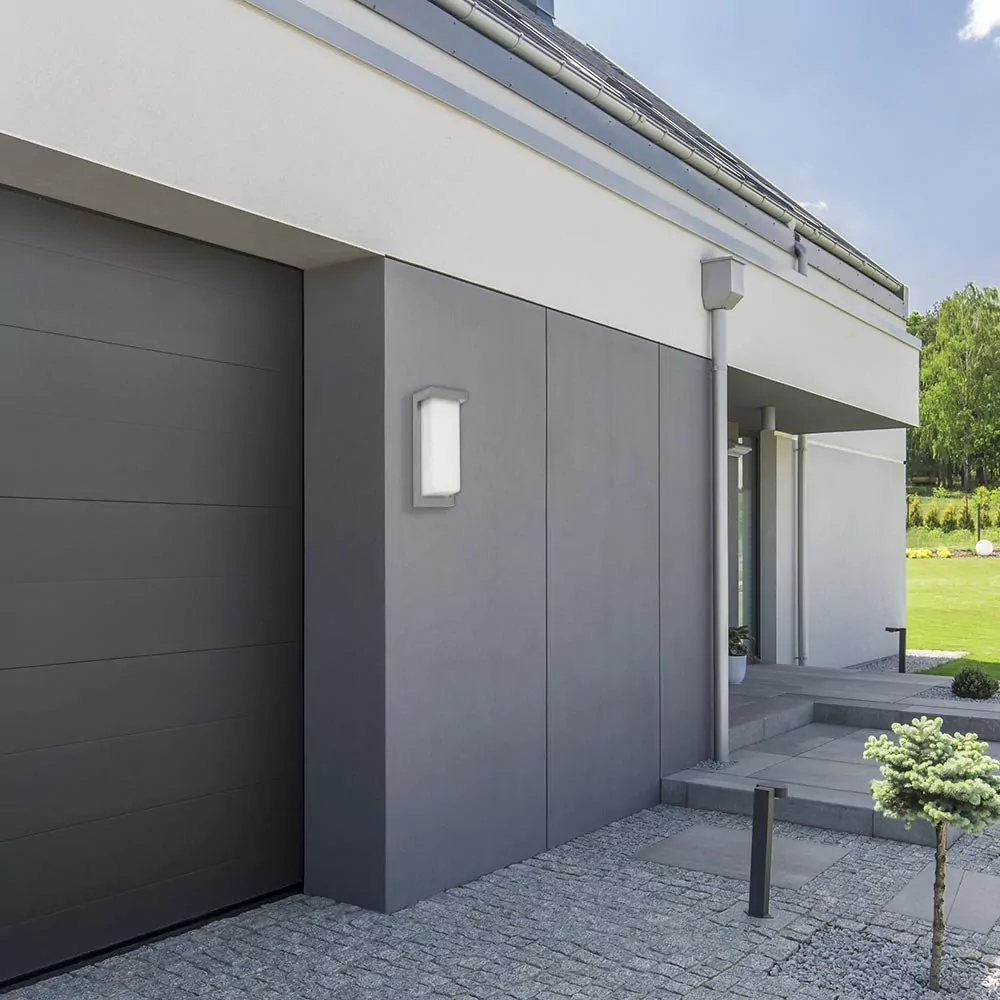 Integrated LED lights are not just limited to indoor use, this wall mounted sconce offers sophisticated look. The silver colored stainless frame is powder coated to protect it from the elements and prolong its life. A light diffuser covers the integrated LED fixture with no bulbs required. This sconce is perfect for indoor or outdoor hallways or paired around a garage or front door and the bright 1500 lumen fixture delivers the equivalent
14in. Black Gooseneck Barn Light LED Fixture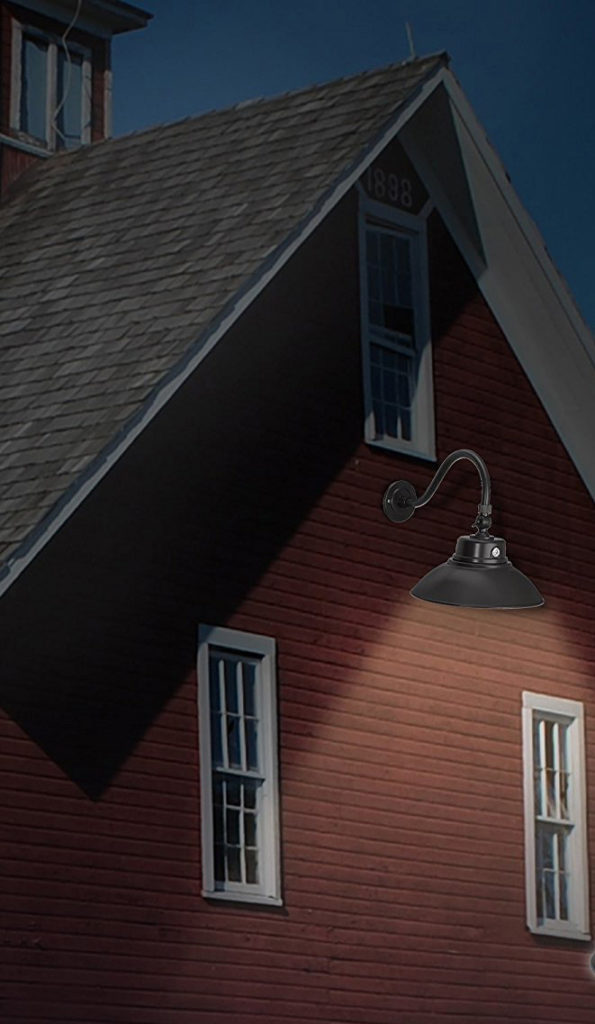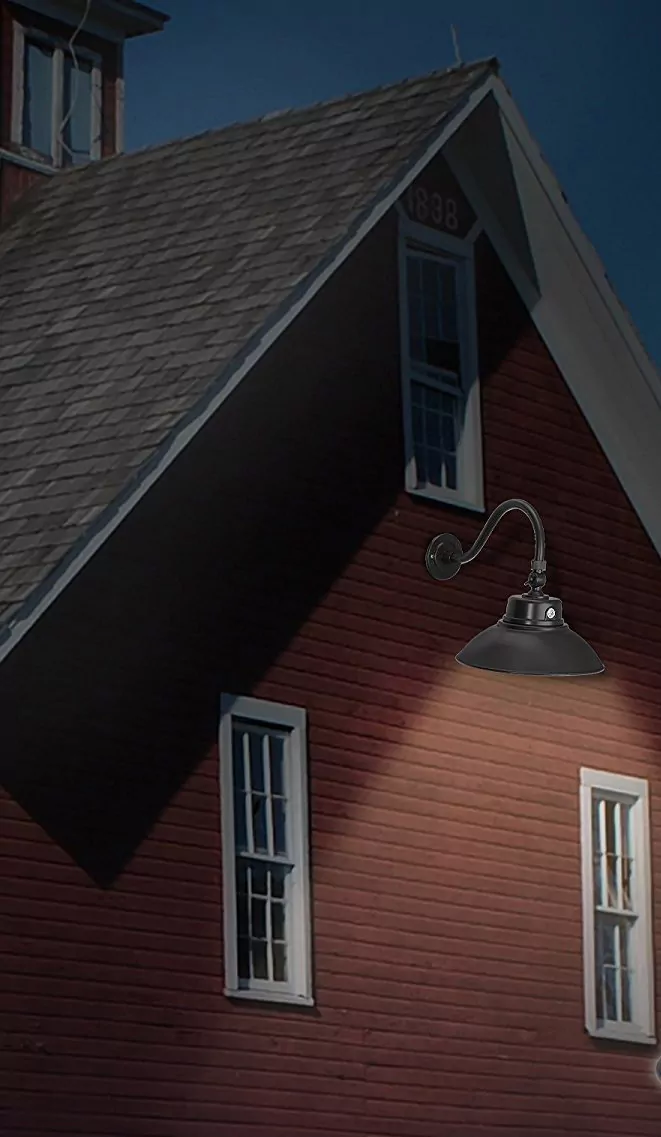 Of all the lights you'd rather not have to change a bulb for, one that requires a 2-story ladder is at the top of the list! This beautiful redesigned gooseneck sign light fixture is a perfect solution indoor and outdoor use comes with a photocell, and swivel head, and is extremely simple to install with the outdoor rated mounting plate.
The swivel located on top of the 14 in. shade will enable you to angle the fixture up and down, to optimize the light and the dusk to dawn photocell will enable the fixture to turn on and off, so you don't have to worry about reminding yourself to do it! The 42-watt fixture delivers the equivalent of 200-watts of light and has a design life of 50,000 hours.
Artika Essence Spiral 5-Pendants Indoor Light Fixture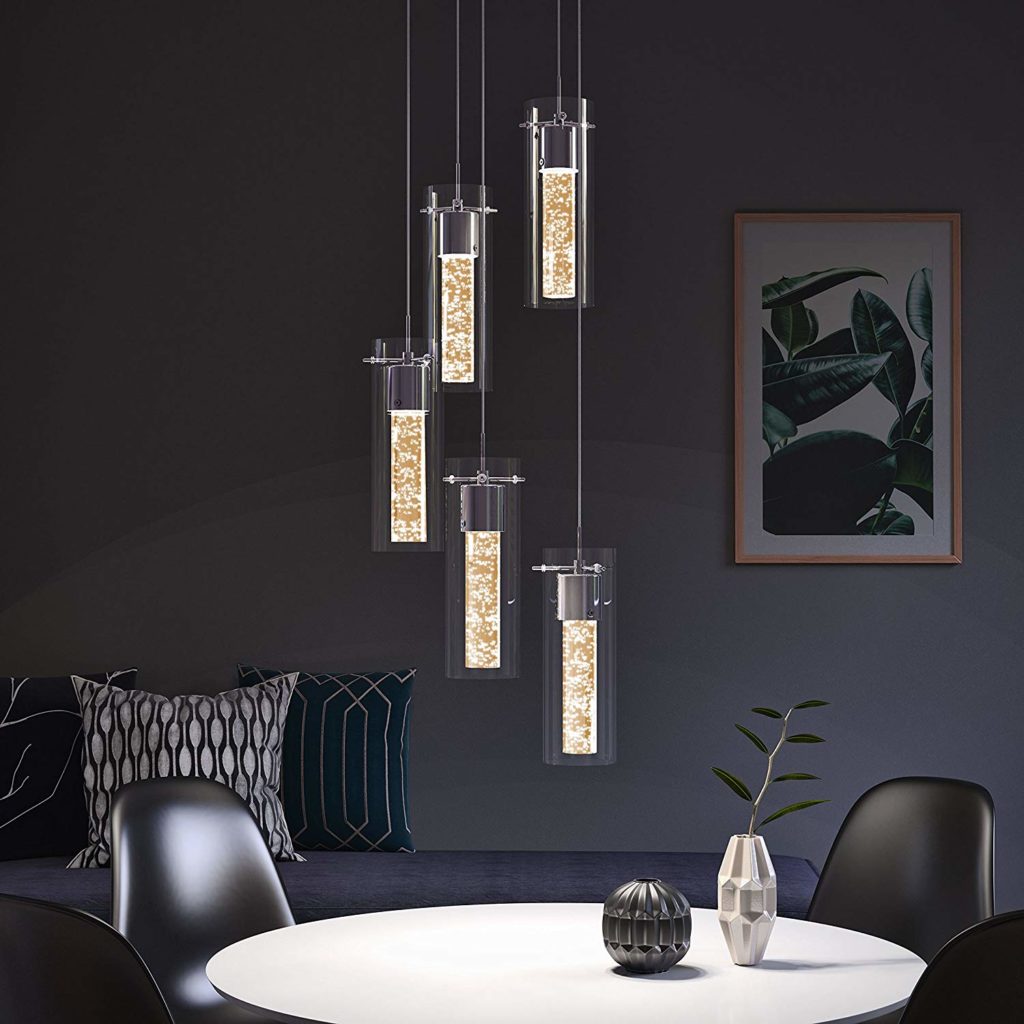 You can easily add a touch of contemporary design with this 5-pendant integrated LED light. This is the perfect light fixture to enhance the beauty of room and blends easily with a variety of home interior style. It's ideal for hallways, bedrooms, foyer, kitchen, dining room living room or every space in your home. It's also easy for DIYr's to install and includes all mounting hardware for quick and easy installation.
Cloudy Bay LED Bathroom Vanity Lighting Fixture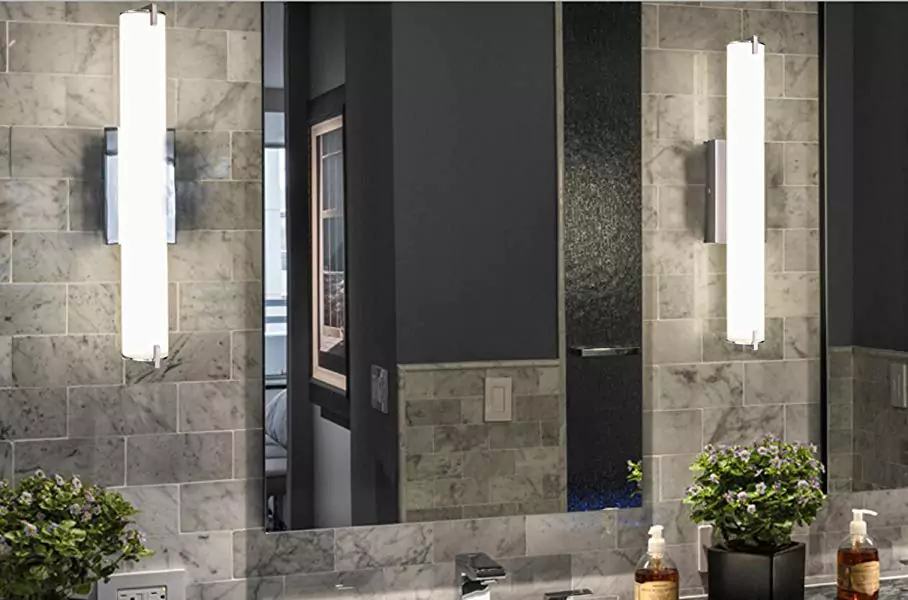 The Cloudy Bay LED Vanity fixture brightens any room with its modern and elegant design that features an acrylic cylinder shade gracefully nestled into a brushed nickel housing. For baths its perfect – just mount two lights on each side of the mirror for perfect illuminating reflection of your face from forehead down to chin. The light output is greater than a 120 watt bulb and the fixture is dimmable
Keonjinn Dimmable LED Bathroom Vanity Mirror with Light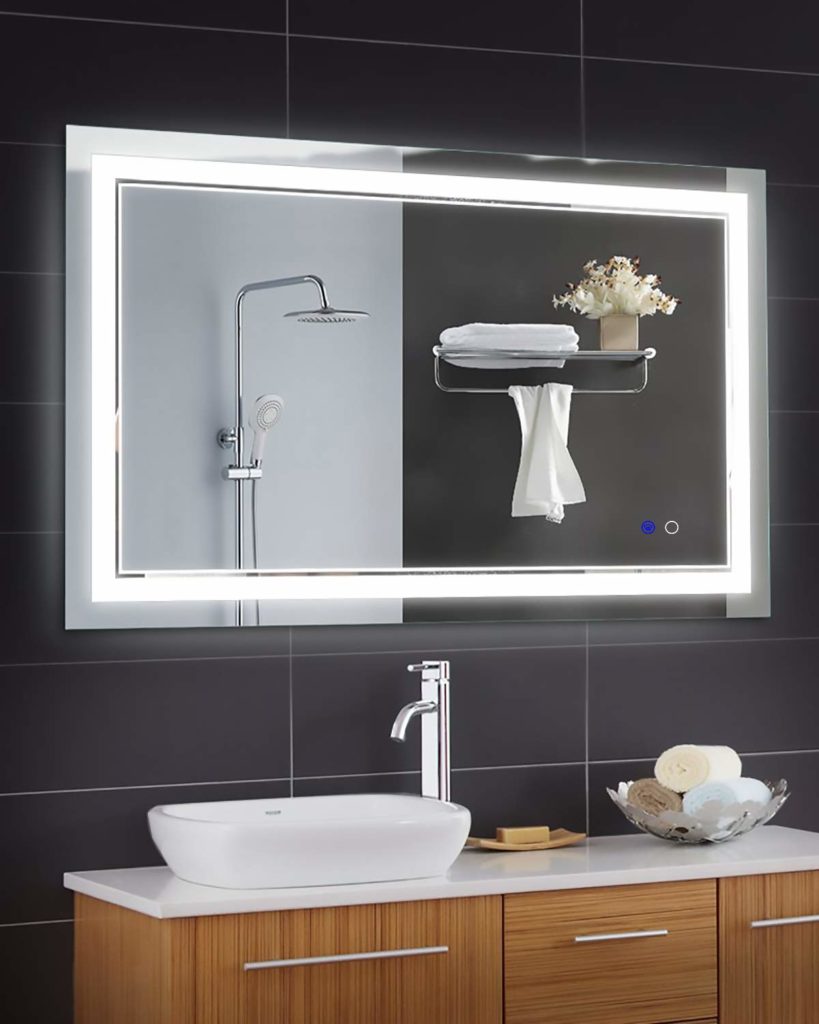 This stylish bathroom mirror and light offers convenience and energy savings. This brightness of this integrated LED mirror is adjustable, allowing users to change light intensity from normal to brightest in 3 seconds. The mirror also features an anti-fogging function which means no need to constantly treat your mirrors with fog free spray or wipe them multiple times per shower.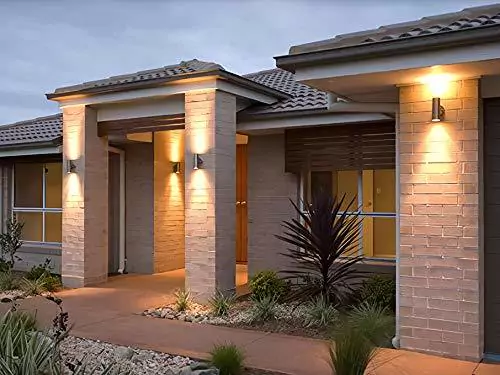 So rather than going to all the trouble to replace a burned-out bulb in a hard-to-reach fixture, only to have it burn out again in the future, consider replacing your entire fixture with an integrated LED light fixture. By upgrading to an LED fixture, you'll save money and energy and enjoy the convenience of never having to change a bulb again.