See what light can do for your home's energy efficiency, ambience and comfort with Philips LED bulbs. Philips LED lighting can improve ambience, energy-efficiency and comfort in your home while delivering performance you can count on. Switching to higher efficiency LED lighting can help reduce your electric bill, preserve our environment and create the perfect lighting for your home:
Lower operating costs means reduced energy bills.
Longer life reduces the hassle of replacing bulbs so often.
Better for the environment because they reduce greenhouse gases and shrink your carbon footprint.
Easy to use because they are designed in traditional bulb shapes and fit easily into existing fixtures.
Philips LED bulbs provide dimmable soft-white light that lasts over 22 years, on a fraction of the energy used by incandescents. They're available in a range of bulb shapes like PARs, R, MR16 spots and floods, A-shapes, candles and specialty bulbs, all reducing your electric bill while they preserve the environment and beautify your home.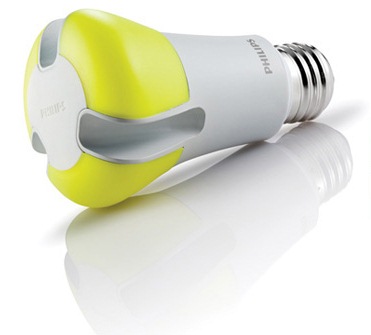 Philips Ambient bulbs come in a range of wattages that are easy to match to your current lighting fixtures, including a 12.5-watt LED bulb to replace a traditional 60-watt A19 bulb, and a 17-watt LED bulb that's equivalent to a standard 75-watt A19 bulb. All Philips LED bulbs provide instant-on light and are mercury-free.
Philips LPrize bulb was also recognized as the most energy efficient 60W incandescent replacement bulb by the U.S. DOE, this bulb is an answer to our energy future that's here today.
Learn more about Philips AmbientLED bulbs at www.philips.com/beautifullight.