If your approach to saving energy with home lighting is limited to shutting off the switch as you leave a room, you've made a good start. But there's much more you can do to help the environment and your electric bill.
From the comfort of our homes, we're all contributing to greenhouse gases through the energy we expend. Making green adjustments to your lighting plan is a small step that can deliver a big energy saving impact, without sacrificing style.
Today, savvy manufacturers and utilities offer a wide array of energy efficient, attractive lighting options that make it easy to give the green light to energy-saving illumination. LED bulbs are now available in a variety of lighting looks and strengths. Energy Star qualified fixtures are available everywhere, and traditional solutions like dimmer switches are smarter than ever.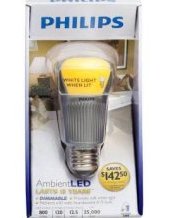 The new generation of LED bulbs also offer big efficiencies and major energy savings. LEDs use 85 percent less energy than incandescents and last 20 years longer. Plus, LEDs generate an appealingly high level of brightness on far less power. In fact, if you switched on an LED bulb for eight hours a day, that bulb would illuminate your life for the equivalent of 50,000 hours or a staggering 17.1 years!
During the life of an LED light bulb, you'll enjoy full brightness, instantly, with no CFL-like warm-up time. LEDs also take sustainability to the next level with long life that keeps them out of landfills, and mercury-free construction. They don't put off UV rays, so you won't have to worry about fading furniture or floors.
And if you thought LEDs only give off one, un-natural looking color – you're wrong. LED bulbs come in a wide range of color temperatures making it easy to find the color that works for you.
The Home Depot carries a huge selection of LED bulbs – including the Philips 12.5-Watt Ambient LED A19 Light Bulb. This is an excellent replacement for the 60W light bulb you might be using in your table lamp or ceiling fan. It provides soft white light when lit – just like an incandescent bulb. It saves $130 in energy costs over a regular bulb and it lasts more than TWENTY years! The Philips 12.5 watt Ambient LED A19 is fully dimmable, making it ideal for pendant and ceiling fixtures. It's got a very rugged design – no fragile filament or glass that could easily break AND it's Energy Star certified. Visit your local Home Depot today to check out the Philips A19.