When finding ways to go green at home, small changes can have a big impact. Upgrading to LED light bulbs around your house is a great and easy way to save money. They use significantly less energy and can last for decades, good news for both your wallet and the environment.
Start with lights that you use most often – the ones that stay on the most. Replacing these first should have the biggest impact on your energy savings. From there, go with fixtures that have multiple bulbs. These expend quite a bit of power and energy when in use, so switching to LEDs will help curb that.
In fact, according to EnergyStar.gov, if every American home replaced their five most frequently used light fixtures or bulbs with Energy Star products, the reduction in greenhouse gas emissions from their combined energy savings would be the same as taking 5 million cars off the road.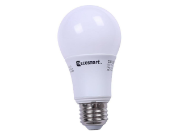 Try the EcoSmart 60-watt equivalent LED light bulb, which is available right now at the Home Depot in a four pack for $19.97. These bulbs are dimmable and Energy Star rated. Their estimated energy cost is $1.08 per year and they will last more than 22 years (based on 3 hours per day).
To make sure you get the best results from your new LED bulbs, if you are replacing the bulbs in an enclosed fixture, look for a bulb that is rated for that application. And if you are using a dimmable LED bulb, make sure your dimmer works with LED bulbs (like the Lutron C-L dimmer). It is easy to change a dimmer if you are comfortable doing it and take the necessary safety precautions, or you can call an electrician.
Energy-efficient home improvements are eco-friendly and also help lower your power bill. LED light bulbs cost much less per year to use than traditional incandescents, and also last much longer. Replacing your most-used and multiple-bulb light fixtures with LEDs is a smart move that will pay off for many years to come.